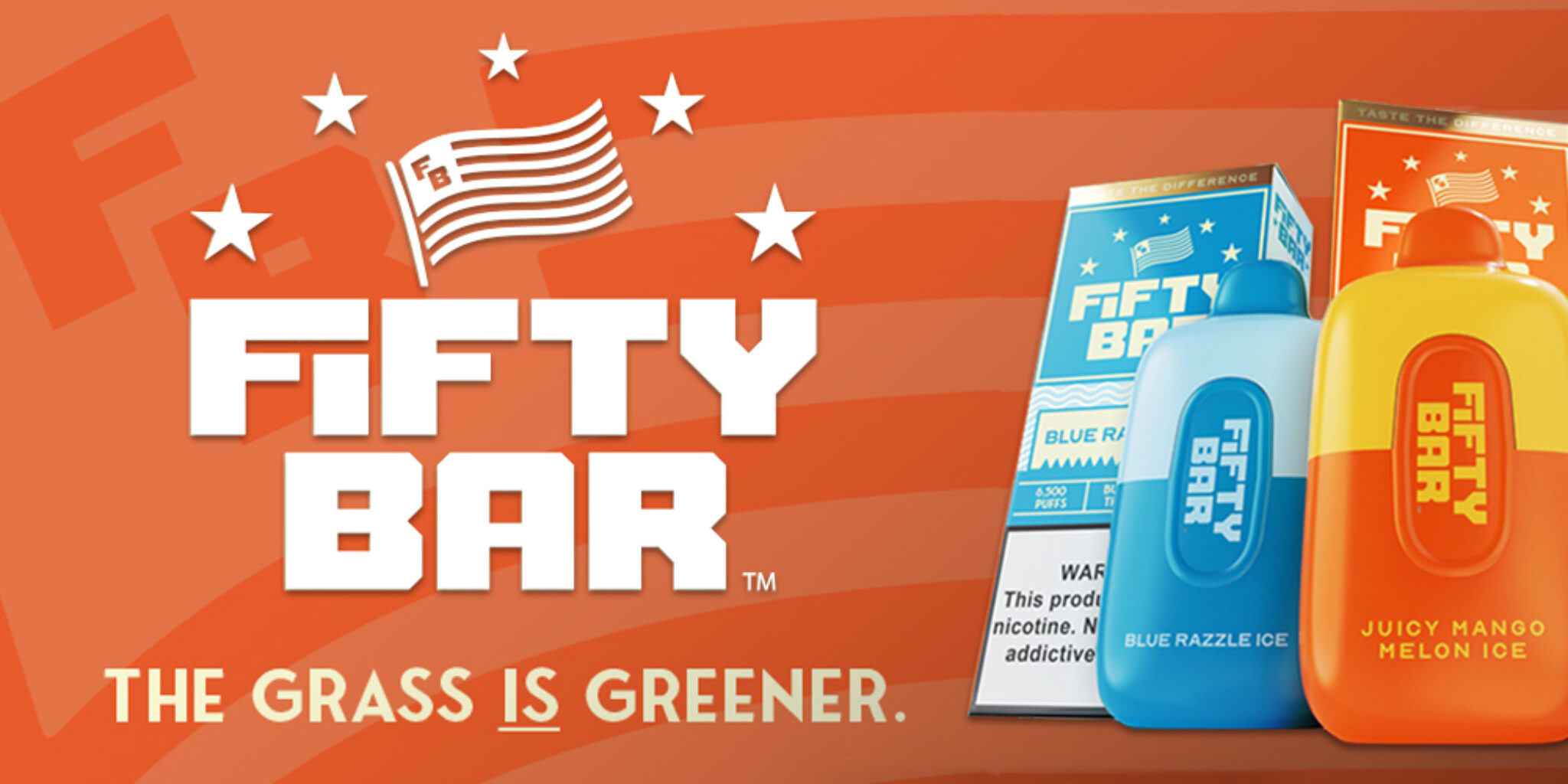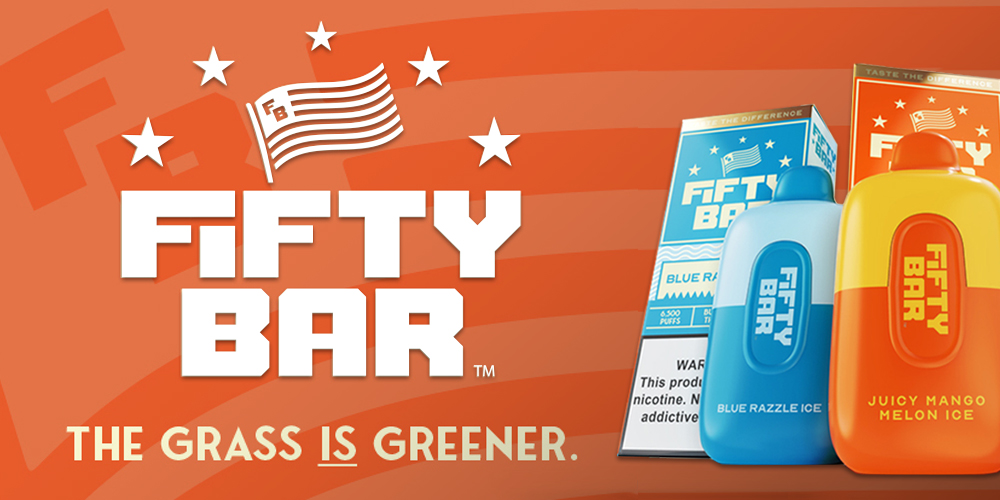 The Fifty Bar Disposable Vape is a compact, USB-C rechargeable, draw-activated disposable that is loaded with smooth nic salts and generates approximately 6500 puffs. These features will sound familiar to any adult vaper who has tried a modern disposable, but the Fifty Bar stands out in a crowded market for a couple of attributes that are far less common.
Assembled in America, the delicious flavors of the Fifty Bar Disposable Vape Collection are
American-made e-liquids developed by American master formulators for American palates.
These include several of the most popular fruit-ice fusion flavors that adult vapers love and a
selection of unique dessert vapes inspired by award-winning Beard Vape Co. flavors.
Fifty Bar Disposable Vape Specifications
Anti-Burn Coil Technology
Mesh Coil
5% Nicotine Strength
6500+ Puff Count
14ml e-Liquid Capacity
400mAh Battery
Draw-Activated
79mm x 41mm x 19mm
Fifty Bar Review
The Fifty Bar Disposable is an ergonomic design with a few unique traits. Unlike most modern
disposables, the mouthpiece is centered rather than offset, this was done to improve the airflow through the device. It also allows for a somewhat bigger mouthpiece without increasing the size of the Fifty Bar.
In fact, the Fifty Bar is extremely compact even for a modern disposable vape. It is shorter than a Lost Mary OS5000, despite possessing a higher e-liquid capacity, and provides a significantly greater puff count. It achieves this at the expense of battery size. Whilst it kicks out the same 3.7v output as a Lost Mary, and every disposable on the market for that matter, the 400mAh battery won't last as long between charges.
The internal components of disposable vapes are generally quite similar, but the anti-burn
technology on the Fifty Bar is top-notch. Nothing is less pleasant than a coil that starts to fade in flavor quality long before the tank has run dry. Worse still is a burnt hit. The mesh coil in the Fifty Bar is designed to provide optimal satisfaction and precise flavor as it cuts through its 14ml e-liquid capacity.
Fifty Bar Flavors
Powered by Beard Vape Co, the Fifty Bar has been crafted to meet the demands of the US
market. Naturally, it has the usual collection of super-star flavors that any disposable
manufacturer worth their salt will offer, such as Blue Razz or Mint, but it also has unique and
delicious options that draw heavily Beard Vape Co.'s legacy as a premium e-liquid
manufacturer. These are supercharged, flavor-heavy, disposable vape-ready versions of
some of vaping's greatest hits.
According to its website, Fifty Bar plans on expanding their selection of American-formulated
flavors. Many disposable vape manufacturers do great with fruit and menthol fusions but
struggle when it is time to make more complex dessert vapes. It is exactly in this area that Fifty
Bar has its biggest edge.
Strawberry Cereal Donut Milk
Blueberry Cereal Donut Milk
Vanilla Custard
Cinnamon Funnel Cake
Tobaccocino
Blue Razzle Ice
Mint
Juicy Mango Melon Ice
Aloe Grape Watermelon
Strawberry Cereal Donut Milk Fifty Bar
Drawing inspiration from Beard Vape Co.'s The One Strawberry Donut Milk, the Strawberry
Cereal Donut Milk Fifty Bar has an even heavier dose of strawberry and cream flavor than the
original.
Blueberry Cereal Donut Milk Fifty Bar
Another one of Beard's The One flavors. The Blueberry Cereal Donut Milk Fifty Bar is a bright
flavor with deep and complex blueberry notes that permeate the donut and milk-inspired
flavors.
Vanilla Custard Fifty Bar
Disposable vape flavors are almost always stronger and more assertive than their bottled
counterparts. This is the case with the Vanilla Custard Fifty Bar, which explodes with creamy
sweetness and vanilla bean flavors. It is a true dessert flavor and a worthy counterpart to The
One Vanilla Custard Donut by Beard Vape Co.
Cinnamon Funnel Cake Fifty Bar
The Cinnamon Funnel Cake Fifty Bar is a jacked-to-the-gills version of the Beard Vape Co. No. 32. The warmth of cinnamon flavor is satisfying but is not overwhelming or harsh, it tastes
suspiciously like an actual funnel cake. Flavors like this are often not executed that well in
disposable vapes and Fifty Bar hits this one out of the park.
Tobaccocino Fifty Bar
Tobacco and coffee have been a popular vape flavoring pairing for over a decade. This
traditional combination lives on in the Tobaccocino Fifty Bar, which matches sweet cappuccino-inspired notes with a robust tobacco finish. A similar medley of complementary flavors can be found in No. 00 Cappuccino Tobacco by Beard Vape Co., which served as the template for this unique and authentic disposable vape.
Blue Razzle Ice Fifty Bar
Having pushed through Fifty Bar versions of Beard Vape Co. classics, it is time to look at how
Fifty Bar does more typical disposable vape flavor offerings. The answer is quite well. A
pinch of lemon tartness cuts the sweetness of any icy and delightful blue raspberry vape. The
Blue Razzle Ice Fifty Bar is right near the top in a market crowded with blue razz disposables.
Mint Fifty Bar
If you don't have a great mint disposable it is hard to compete. Considerable effort was put into perfecting the Mint Fifty Bar, which is described as their signature flavor. Sweet mint notes are present in a white-out of chilly ice. This refreshing and relaxing flavor is the quintessential all-day vape.
Juicy Mango Melon Fifty Bar
Dating back to the days of flavored pre-filled pods, mango has always been a highly popular nic salt. The essence of honeydew melon has also been a surprisingly compelling addition to many popular e-liquids. Combined, they have all the bold tastes that adult vapers love. The Juicy Mango Melon Fifty Bar is never too sweet or too icy to enjoy. It is a solid tropical fruit vape with a blast of delightful melon.
Aloe Grape Watermelon
Just about every nic salt disposable flavor has some level of coolness, and for several years aloe has been tagged to serve this role in select flavors. The concept of aloe in a vape may sound off-putting or even bitter to initiates, like a dusty plant in your den or a salve for sunburn. The reality is that aloe vera is a cool, refreshing, and sweet flavor.
Aloe is also found in and has inspired many beverages. But aloe's true calling is being added
to grape vapes. The Aloe Grape Watermelon Fifty Bar is a true delight. The Concord grape confection and fruit flavors really shine. The addition of watermelon is huge, cutting through
some of the more artificial notes associated with purple grape nic salts. Sweet aloe fuses the
watermelon and grape elements together into a cohesive whole.
Conclusion
Any adult vaper who uses disposable devices is aware of the overlap in performance between
brands and devices. While not identical in form, disposables are close to identical in function.
Every popular disposable vape relies on high-potency nic salts, 3.7v lithium-ion batteries, and
approximately 1.0ohm resistance coils to provide a satisfying mouth-to-lung vaping experience.
The reason for these similarities is that disposable vapes have reached a nearly perfect form. Generating thousands of puffs from a device that fits in the palm of your hand, they are draw-activated, rechargeable, reliable, incredibly easy to use, delicious, and satisfying.
Even with these similarities, improved airflow and coil design can deliver bolder flavors and
more vapor from units that might be indistinguishable on paper. The Fifty Bar really hit it out of
the park with these subtleties, which is crucial as the devil is in the details when it comes to
disposables. The anti-burn technology coil is great in concept and practice. The use of more
robust hardware did not impact performance out of the box and allowed for great sustained
flavor through thousands of puffs.
If the Fifty Bar has one weakness, it is the size of the battery. One of the biggest determinants
of your disposable vape experience is the level of charge in the battery. If flavors and vapor
seem weak, usually a stop at the charging dock will fix what ails it. While the 6500 puffs of the
Fifty Bar is near the sharp end of the market, the 400mAh battery will need an extra charge
during its life cycle compared to the more common 600mAh batteries.
But there are advantages to the smaller battery. It should still have plenty of power to get you
through the day and it allows more compact packaging. It also will quickly charge thanks to
USB-C technology. Even with its requirement of an extra charge during its 6500-puff life, the Fifty Bar is one of the best disposable vapes. The tolerances and quality of this Thousand Oaks, CA assembled product are top-notch. The standard disposable vape flavors are some of the best renditions of these beloved classics. The unique Beard Vape Co. dessert flavors cannot be beaten.