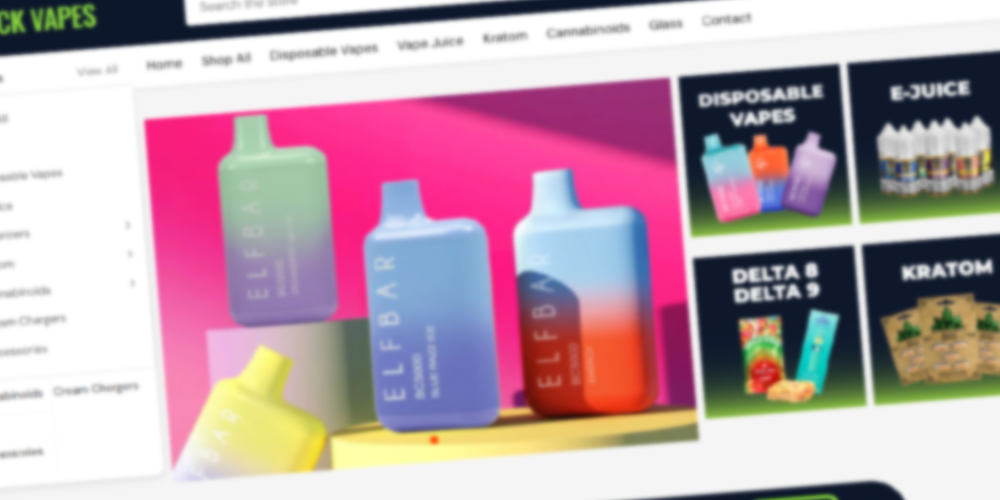 Vape enthusiasts in Los Angeles can now rest easy, knowing all their vaping needs are sorted. Quick Vapes is a premium smoke shop with a reputation for stocking trendy, high-quality, affordable vape products. The store has over 100 locations across the USA, several within Los Angeles. Quick Vapes has been in business for a long time, meaning it understands the vaping scene dynamics and exactly what vapers want/need. This piece explores seven reasons why Quick Vapes is the best smoke shop in Los Angeles and highlights some of the top vape products the store stocks.
Comprehensive arsenal of products from reputable brands
Quick Vape partners with multiple top brands to provide you with a vast collection of vape products. Its products range from disposable vapes to vape mods, vape juice, and replacement coils/pods. Whether you are looking for a device for short-term or long-term use, Quick Vapes has what you need in store.
The store stocks products from popular brands like Elf Bar, Steam Engine, Flum Vapor, HYPPE, Vapetasia, Twist, Pod Juice, Juice Head, Red's Apple, Smok, and Vaporesso. These high-rated brands have gained traction over the years thanks to their adherence to quality.
Top-tier quality products
The vaping industry has grown tremendously in the last decade, primarily because it provides a safer alternative to smoking. Quick Vapes is passionate about making vaping products accessible to everyone. With so many products on the market, it can be hard to distinguish between high-quality and substandard varieties, and that's where Quick Vapes comes in.
The company has been in the vape business for years, making it best suited to identify reputable brands that produce top-tier products. The store tests each product for quality and safety before adding it to its catalog. You can access each product's Certificate of Analysis on the website. Consequently, you can be assured that each vaping product you purchase from Quick Vapes delivers as claimed. 
Best prices on the market
Developing excellent and consistent relationships with vape brands has allowed Quick Vapes to acquire goods at discounted prices. As a result, the vape store can retail the products at highly competitive prices. This is an excellent vape store for anyone looking to purchase high-performing, top-quality products without leaving a dent in the pocket. For example, you can get high-capacity disposable vapes (5000+ puffs) for $19.99. 
Exceptional customer service
Customer experience is something Quick Vapes takes seriously. A seamless experience keeps customers coming back – and who doesn't like that? The vape store provides a toll-free number ( (949) 365-7882) to call or text for any queries, suggestions, or complaints. If you are new to the vaping scene or need assistance, the person on the other side of the phone is trained to assist.
You can also communicate via email, Facebook, Instagram, Or Twitter. Additionally, Quick Vapes is open throughout the week during selected hours (Monday to Saturday, 9:00 a.m. to 10:00 p.m., and Sunday, 10:00 a.m. to 6:00 p.m.). 
Quick delivery and exciting shipping deals
Los Angeles residents can now enjoy fast and efficient vape delivery. Quick Vapes delivers your order in record time to your doorstep. This is next-level convenience as you can get your favorite vape device or juice from the comfort of your home. To save you some bucks, Quick Vapes offers free shipping for orders above $99.
One-stop shop for multiple alternative products
Besides the comprehensive collection of vape products, Quick Vapes stocks Kratom, Cannabinoid, and glass products. This makes it a one-stop shop for alternative products. A shop that provides multiple products makes shopping convenient and easy for consumers.
Easy-to-use website
The Quick Vapes website is easy to use and optimized for both PC and mobile, making it easy to access and make orders despite the device in use. The products are well arranged, which makes it easy to find your preferred product. The website is also ADA-compliant, making it accessible to anyone with disabilities. This inclusivity separates the website from others and makes it easy for individuals with dyslexia and eyesight issues, among others.
Take away
If you are looking for a customer-oriented smoke shop in LA, look no further than Quick Vapes. The store provides high-quality products at the most affordable prices. Its comprehensive collection of alternative products ensures there is always a product to suit your needs. Visit the site today and get your preferred disposables, vape juice, box mod, or accessories.