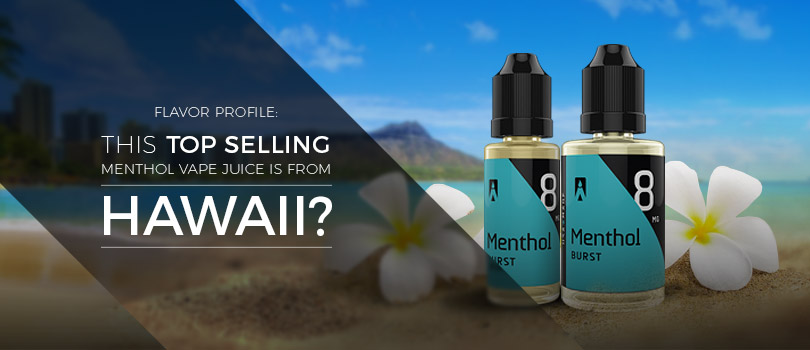 Menthol tops the list as one of the most sought-after vape juice flavors that vapers tend to favor, especially those who have recently made the switch to vaping. Ranging from fruit-menthol, to tobacco-menthol, and to just straight icy menthol flavors–there are many options to suit the exact tastes of any vaper.
What Makes A Great Menthol Vape Juice?
Preferences vary from vaper to vaper, and what makes a certain vape juice blend stand out from the crowd is its versatility. None is more versatile than Menthol Burst by VOLCANO eCigs, which is one of the most excellently crafted menthol vape juice blends available in the vapor industry.
Menthol Burst features a tantalizing icy inhale, refreshing and cool on the palate with a tingling minty sensation like that of a freshly unwrapped breath mint. Its intense and full-bodied, bold menthol flavor lingers throughout its brilliant glacial exhale.
Masterfully crafted as the ideal mixer flavor, Menthol Burst's versatile flavor profile can be added to any vape juice under the sun. From fruit flavors, dessert, and even robust tobacco blends, just a few drops of Menthol Burst to any other e-liquid vibrantly lights up the e-liquid into a unique icy vape experience.
It will also come as no surprise that many vapers choose to vape Menthol Burst on its own. Those who love the intense icy and minty taste and feel of a breath mint will not be able to get enough of Menthol Burst.
Menthol Burst is one of VOLCANO eCig's first vape juice creations and has been a #1 best seller since day one. Since then, over 2 million bottles of this remarkable vape juice blend has been sold and as they always say, the numbers never lie. But don't take our word for it. Try Menthol Burst for yourself!
Use Coupon: 10PCT FOR 10% off your first order over $19.99. Free US domestic shipping on all orders over $29.99. Additional restrictions may apply.