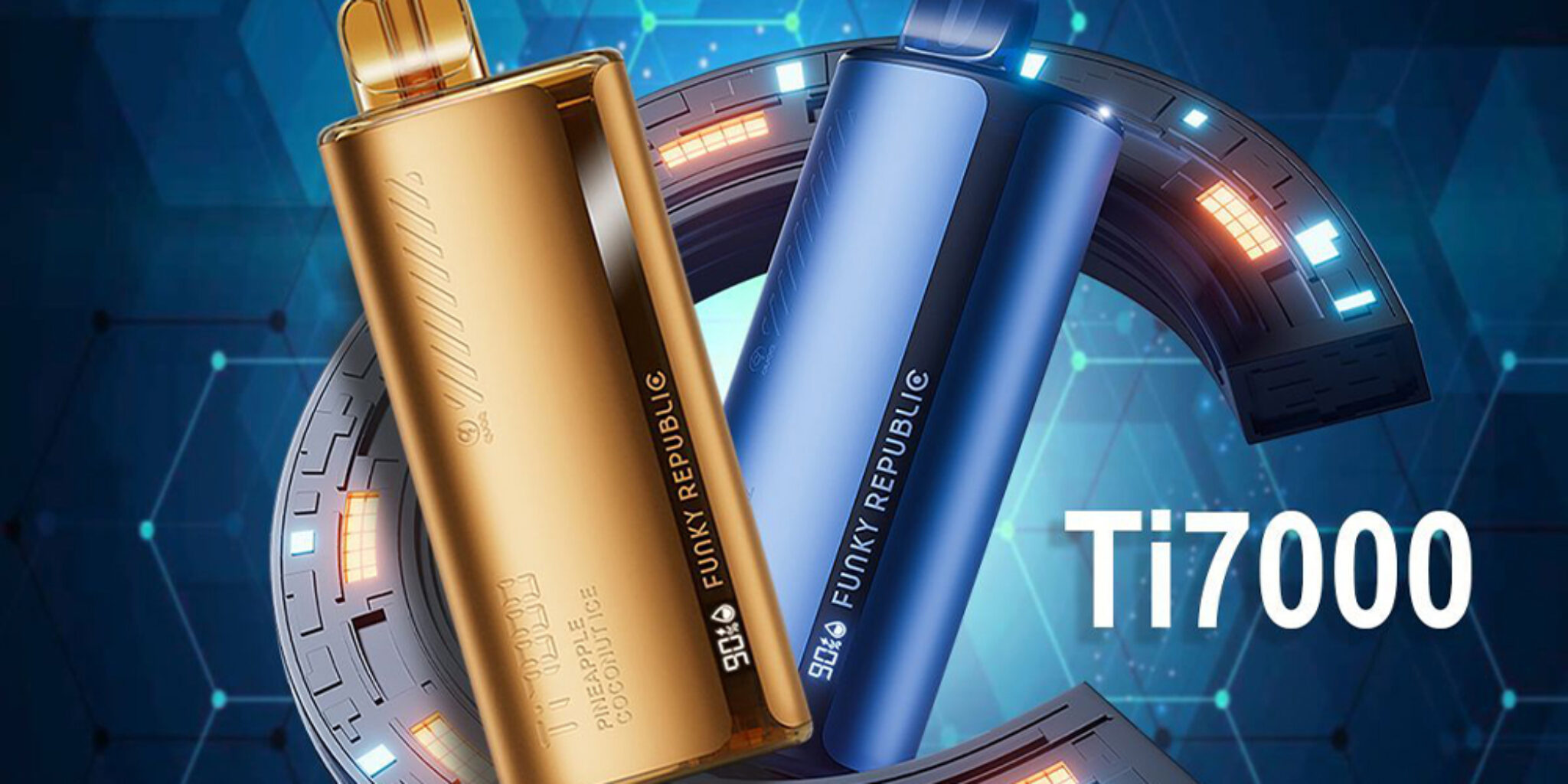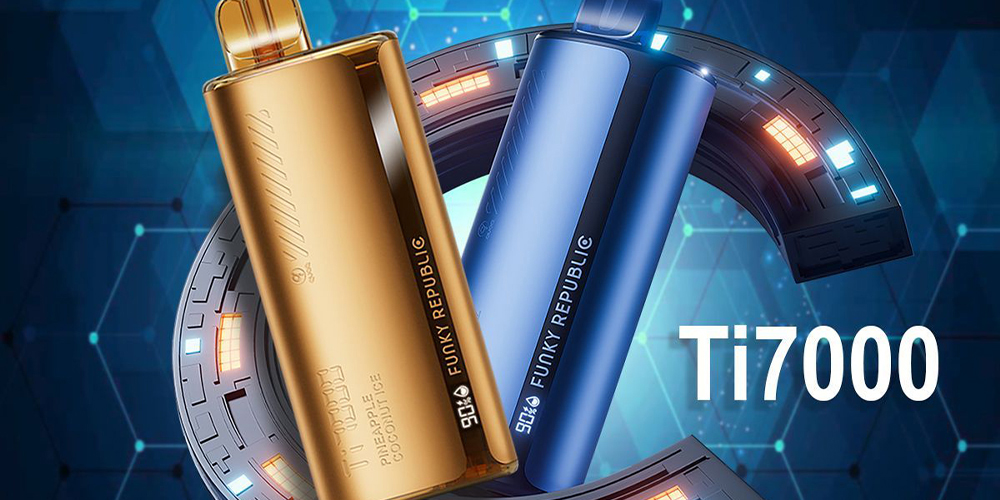 The Funky Republic Ti7000 Disposable Vape is the latest addition to the ELF BAR vape family. It offers a great vaping experience due to its unique features and larger capacity. This disposable vape can hold a whopping 17ml of e-juice, which should give you around 7000 puffs. This review will cover the first impressions, features, how it works, performance, and what you get in the package.
Initial Thoughts
The Funky Republic Ti7000 Disposable Vape has a modern and futuristic design that sets it apart from other disposable vapes. It comes with a smart power screen display that shows real-time information about your e-juice level and battery life. This is a useful feature not often found in disposable vapes. It helps you avoid surprises like running out of battery or e-juice. The Funky Republic vape, which you can see here, not only looks good but is also easy to use thanks to its attractive design.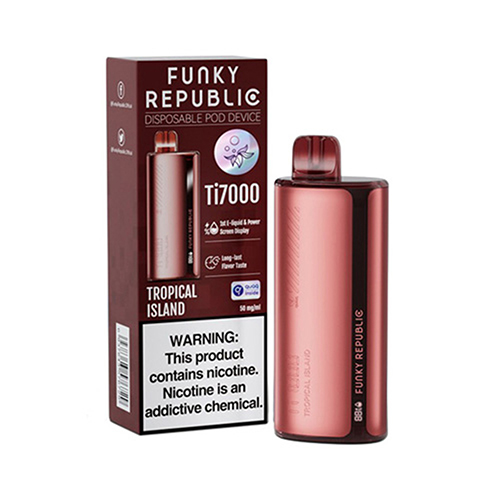 What's Included
You'll receive one Ti7000 disposable vape device.
Device Specs and Features
Holds 17ml of e-liquid
Contains 5% nicotine
Offers 7000 puffs
Powered by a 600 mAh battery
Has a screen display
Available in 15 flavors
Dimensions: 100mm x 38 x 24mm
Features and Functions
The Funky Republic Ti7000 Disposable Vape comes with a rechargeable 600mAh built-in battery. You can easily charge it using the USB Type-C port at the bottom of the device. This type of charging is faster, reducing the time you need to wait. Considering the vape's size, the 600mAh battery should last a decent amount of time. The device is draw-activated, meaning you don't need buttons to use it.
Innovative Quaq Mesh Coil
Funky Republic has introduced a new mesh coil technology for a better vaping experience. The Quaq mesh coil is made from food-grade silicone, which ensures its safety and extends your puffs by 30% while enhancing flavor by 45%. This coil's continuous operation makes the device reliable and long-lasting. With the Quaq mesh coil, you'll enjoy smooth vapor and rich flavor as soon as you start vaping.
Informative LED Screen
The Ti7000 comes with a built-in LED panel that displays your battery and vape juice levels. This is a great feature absent in many disposables, making it hard to track your consumption. It's easy to use with its automatic activation. No buttons are needed – just inhale from the ergonomic mouthpiece. The screen is sleek and doesn't make the device bulky.
Easy to Use
Operating the Funky Republic Ti7000 is straightforward and beginner-friendly. Simply take a puff to activate the device and start vaping, as long as the battery is charged. The absence of buttons and complex controls makes it perfect for newcomers. However, its operation is similar to other disposable vapes, so there's nothing remarkably different here.
Pros and Cons
Pros
Large Capacity: The Ti7000's impressive 17ml e-juice capacity ensures longer vaping sessions without constant refilling.
Real-time Information Display: The smart power screen constantly shows the e-juice level and battery life, keeping users informed.
Convenient Rechargeability: Its rechargeable 600mAh battery can be easily charged via the USB Type-C port, avoiding frequent battery changes.
Consistent Flavor Delivery: The Quaq Tech Mesh coil maintains smooth, delicious vapor throughout the device's lifespan.
User-friendly Operation: Its simple draw-activated mechanism is beginner-friendly, eliminating the need for buttons.
Hassle-free Design: The disposable nature of the Funky Republic Ti7000 suits on-the-go vapers seeking convenience.
Cons
Limited Flavor Options: While the Ti7000 offers several flavors, the selection might not be as extensive as other devices.
Non-refillable Design: Once the e-juice is used up, the device can't be refilled, which might not suit vapers who prefer customizable e-liquids.
Disposable Nature: Being a disposable vape, the Ti7000 contributes to waste and might not be as environmentally friendly as rechargeable alternatives.
Battery Capacity: Though the 600mAh battery suffices for most users, heavy vapers might find it less adequate compared to high-capacity devices.
Flavors
There are 15 flavors available; let's go over some of them:
Blue Razz Ice: Unlike most Blue Razz Ice vapes that tend to lean towards sweetness, the Blue Razz Ice by Funky Republic offers a unique twist. While it retains the signature blue raspberry essence, it tones down the icy exhale commonly associated with such flavors. Surprisingly, this iteration erupts with a burst of flavor even without the usual cooling effect. The result is a vibrant and lively blue raspberry experience that stands out from the rest.
Cantaloupe Apple: A fusion of tangy apples and succulent cantaloupe characterizes the Cantaloupe Apple flavor. However, it's important to note that the apple element tends to be less sweet, allowing the cantaloupe to shine. While the initial absence of a strong apple flavor might be noticeable, the end result is a delicious blend that brings out the best of both fruits.
Passion Fruit Kiwi Lime: The Passion Fruit Kiwi Lime flavor from Funky Republic introduces a delightful combination of tropical fruits. Passion fruit takes center stage with its distinct sweet and tart profile, allowing its unique essence to shine. The addition of kiwi and lime enhances the overall experience, creating a multi-layered flavor profile that's both refreshing and enjoyable.
Peach Mango Watermelon: This flavor offers a delightful vaping experience. It delivers sweetness and fruity goodness with a hint of ice during each puff. The combination of watermelon sweetness, authentic peach, and a touch of mango creates a well-rounded taste that lingers.
Pineapple Coconut Ice: Standout and unique, the Pineapple Coconut Ice flavor combines pineapple and coconut notes with a moderate icy touch on the exhale. It's not your typical tropical blend – the pineapple and coconut combination is truly refreshing.
Pink Bomb: Perfect for summer vibes, the Pink Bomb flavor bursts with refreshing notes. It brings together grapefruit's tartness, raspberry and cream's sweetness, and a zesty lemon exhale. The layered flavors create a dynamic and invigorating taste.
Pomelo Pearl Grape: This flavor resembles classic grape juice, but with an intriguing twist of other tangy fruits. The taste balances sweetness with a touch of bitterness from red and black grapes, resulting in a complex and satisfying profile.
Rainbow Cloudz: Inspired by sweet candies, Rainbow Cloudz offers a sugary and fruity experience. It has a touch more sweetness and ice compared to others in the series, providing a vibrant and playful flavor.
Strawberry Banana: A true-to-life blend of strawberry and banana, this flavor captures the essence of the fruits. The Ti7000's tight draw, subtle sweetness, and low ice levels contribute to an authentic taste that fans of this classic combination will appreciate.
Tropical Island: As the name suggests, Tropical Island brings the feeling of a paradise getaway. With notes of peaches, lemons, and a hint of mango, this fruity mix is balanced by a light touch of ice, creating a harmonious and refreshing flavor profile.
Verdict
In conclusion, the Funky Republic Ti7000 Disposable Vape, which is available at https://westcoastvapesupply.com/products/funky-republic-ti7000-disposable-vape, offers a convenient and enjoyable vaping experience. Its large e-juice capacity, real-time information display, and user-friendly operation make it appealing to both beginners and experienced vapers. However, potential buyers should consider its limited flavor options, disposable nature's environmental impact, and the battery capacity for their personal preferences. With a range of flavors, including unique options like Pineapple Coconut Ice and Pink Bomb, the Ti7000 caters to various taste preferences. Overall, the Funky Republic Ti7000 Disposable Vape provides a satisfying solution for those seeking simplicity and flavor diversity in their vaping journey.
Funky Republic Ti7000 Disposable Vape
With a slew of great features, the latest tech, a large capacity, convenience, and amazing performance, there isn't another better option. What amplified our review rating was the delicious flavors!
PROS
17ML Capacity
7000 Puff Count
600mAh Rechargeable Battery
Display Screen
15 Flavors
CONS
No Airflow Control
Display Is Small