Introducing the GeekVape Aegis Legend Dual Battery Mod, the new and improved upon version baring the Aegis name. This new Aegis Legend Mod still holds all of the same bells and whistles that gave the original such success, including its waterproof, shockproof, and dustproof housing, along with its rugged and durable feel. GeekVape has put on quite the show with its recent products, and this latest release proves to be consistent, providing a device that features great qualities, a remarkable appeal, and a performance that is to be desired.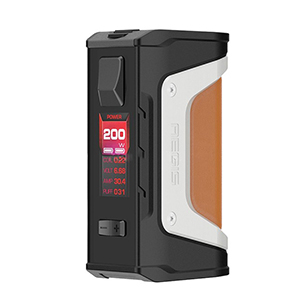 The Aegis Legend Mod by GeekVape and its predecessor is known greatly for their durability and use of high-quality materials. In fact, to achieve its virtually indestructible casing, the Aegis Legend Mod is constructed of an assortment of materials, such as stainless steel powder metallurgy, die-cast aluminum, zinc die casting alloys, carbon steel, leather, and LSR silicone. As a result, it's waterproof, shockproof, dustproof, and can withstand most common outdoor conditions. Not convinced yet? The Legend is able to withstand immersion for up to 30 minutes and at a depth of up to 1 meter — and still, come out in working condition! It's a mod that was truly designed for the outdoorsman… or the vaper that's more accident prone. Whatever the case may be, the GeekVape Aegis Legend has your back!
Using the advanced AS Chipset, you'll find that the GeekVape Aegis Legend Mod's internals is just as gifted as its external perks. Enjoy reaching an output up to 200 watts, several output modes, including temperature control, and many other minor features that go along way in your experience with this mod, such as the puff counter. All of this can be easily controlled with the trigger style firing button that rests towards the top of the device, and the two adjustment buttons that are positioned towards the bottom of the device. In the middle of the controls is a very vibrant and colorful display screen that will allow you to view details, such as power, mode, puff amount, battery level, resistance, and more. None of this wouldn't be possible without the minor expansion in size over the original Aegis, which now allows up to two 18650 batteries. A micro-USB port is also placed securely at the top of the device, which will allow you to both charge the device and upgrade the firmware in the future.