Easily one of the best mods to hit the market in quite a while, the all new GeekVape Aegis Shielded 100W Mod should be on everyone's wishlist. What's special about this mod is simply its appearance, lacking the fancy LED's that other manufacturers are moving towards and focusing primarily on class and durability. Granted, there is one small drawback when it comes to the GeekVape Aegis Shielded Mod, such as only housing a single 18650 battery. However, to make up for its shortcoming you also have an option to use a single 26650 battery. It's a device that somewhat evens itself out. Let me tell you more about it in this GeekVape Aegis Shielded 100W Mod Preview.
---
GET THE GEEKVAPE AEGIS SHIELDED MOD HERE
---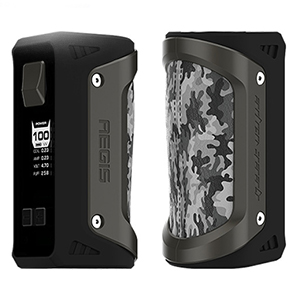 The new Aegis Shielded Mod by GeekVape features a remarkably classy appearance, one boasting various color options and choices between leather backings in several styles. Though its classic and subtle appearance is something worthy of a mention, what's more worthy is its durability, a major focus when it came to creating this spectacular box mod. For example, it's a military standard 810G-516.6 shockproof system, IP67 water proof and dustproof, and it's constructed of zinc and aluminum materials. Need I say more?
Well, I have to continue with the rest of its features, so listen up! Expect a 0.91 inch color display, a threaded battery cover, the capability of holding either a single 18650 battery or 26650 battery, a hidden micro-USB port, a spring-loaded gold-plated 510 connection that has a hexagon shape, and plenty of safety features, including low voltage protection, output short-circuit protection, current protection, load protection, low resistance protection, and overheating protection.
And there's more, like the ability to reach up to 100 watts of vaping power, a total of seven output modes utilizing the GeekVape chip, temperature control that allows you to take advantage of Ni200, titanium, SS316, along with other modes that will support kanthal, power support, VPC support, and a bypass mode.