If you're looking for help with your SMOK T-Priv Mod or just need a bit of guidance on how to operate it, we urge you to read over this complete guide to the SMOK T-Priv Mod. This guide will serve as a detailed user guide and a manual describing all the information you need to know about this product, its features, and how to operate it. When someone is having trouble with their SMOK T-Priv Mod, want to know more about it or looking for the best place to buy one, please refer them to this page. We appreciate all of your support in exchange for this detailed guide to the T-Priv. If you have the spare time, we feel you would enjoy reading about the SMOK T-Priv and other SMOK mods in our top 5 best SMOK vape mods post recently published on this site. Check it out!
Interested in guides for SMOK products? We've created a list of guides including a guide to the SMOK Alien Mod, a guide to the SMOK GX350 Mod, and a guide to the SMOK G-Priv Mod. Feel free to check them out as well! Our most recent guide is a guide to the SMOK X-Priv Mod.
For those of you that are also into the wonderful benefits of cannabidiol, our sister site CBD Manual has recently published a fascinating RoseBud CBD Oil Review, which examines the elegant appeal of RoseBud, along with "the RoseBud difference" that has captured thousands of customers since as early as April 2018. The company was founded by Alexis Rosenbaum, where she set out to create RoseBud CBD utilizing a hemp grown in Oregon. Thereafter, Rosenbaum and her RoseBud CBD have made an extraordinary impact on the market by delivering a full-spectrum CBD oil that is CO2 extracted. While this article is directed at the SMOK T-Priv MOD, we're quite aware of the popularity that has developed for cannabidiol and the calming effects it offers. As it resonates with vaping by improving the lives of everyday people, we felt this was a solid introduction to the world of CBD for our viewers.
SMOK and The New T-Priv Mod
The SMOK T-Priv Mod has come at the height of SMOK's within the vaping market. The brand continues to drop new and creative mods that have changed the game of vaping for years to come. Though its remarkable designs, quality materials, and advanced chipsets are rather fascinating, the performance and affordable cost of these SMOK branded devices are the very reasons why products like the T-Priv have become so popular. It has also helped that the T-Priv features very cool and colorful LED's that light up its housing. In any case, the SMOK T-Priv Mod has been on the sights on many and this guide will help you through the process of learning about it and how to use it. This mod is available as a stand-alone unit or in a kit. We will cover both in this guide.
NOTE: There are several pages in this guide. Please visit each page to learn more about the SMOK T-Priv 220W TC Mod.
---
About The SMOK T-Priv Mod
The SMOK T-Priv Mod is the latest generation of the Priv series developed by the manufacturer and brand, SMOK. It offers an agressive appearance filled with fascinating LED lighting, superior quality and durability, as well as a nice performance output to complete the brilliant addition to the vaping market. The T-Priv is available as a standalone unit or comes as a complete kit. Many vendors are selling the device as a kit due to its low price and included SMOK TFV8 Big Baby Beast Tank.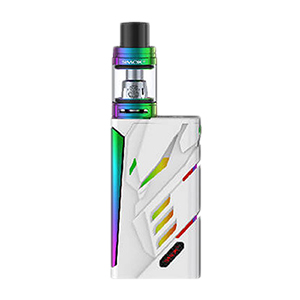 The SMOK T-Priv is constructed of zinc alloy and offers a comfortable and easy to use firing mechanism that allows you to simply squeeze to fire. There are two adjustment buttons that rest just below the top mounted OLED screen. The OLED screen features a vibrant display resolution and comes icon based, meaning it's easy to see and makes navigating its menu even easier than ever. As many are aware, the SMOK T-Priv Mod has an aggressive appearance and that mostly stems from its design and LED lights on the device. There are 9 total colors for you to choose from, as well as different light display styles and various allowed times, like always on, screen on, while vaping, or off (although I couldn't get the "off" to work). Along with several other small features like a stainless steel 510 threaded connection with a gold plated center pin, the SMOK T-Priv also houses two 18650 batteries that are held in by a hinge and lock battery access door (the batteries are sold separately). As for the performance, you're gifted with the capability of reaching up to 220 watts of vaping power, a low 0.1 minimum resistance while in its wattage mode, and then there's also three setting output modes that will allow you to take advantage of Hard, Normal, and Soft settings to customize the output. Lastly, this remarkable mod also offers a full temperature control suite with adjustable initial resistance, adjustable TCR, preheat capability, a low 0.06 minimum resistance while in its TC mode, and the ability to range from 200 to 600 degrees.
The SMOK TFV8 Big Baby Tank is a sub-ohm tank that features a 24.5mm diameter, it's constructed of stainless steel and glass, and offers up a large 5ML e-liquid capacity. It also comes equipped with a hinge and lock top fill system for easily filling the tank, and utilizes dual adjustable airflow control for an enhanced airflow. Lastly, an 8.5mm delrin drip tip is included, along with two coils from the SMOK Baby Turbo Coil Family, which means you get the V8 Baby T8 Coil capable of up to 100 watts and the V8 Baby Q2 Coil capable of up to 80 watts.