One of the latest and most interesting mods to hit the vaping market – the "HΩ" Hohm Wrecker Mod.  Feel free to enjoy this Hohm Wrecker Mod Review in both written and video format.  The Hohm Wrecker has been designed and manufactured in California by Hohm Tech, and sold at Vapor Cube.
Appearance
The Hohm Wrecker'ss packaging that it comes in looks superb.  The box it comes is unique, nothing like anything I've seen a device come in.  The box stands just taller than the device itself and slightly wider as well.  The box is a matte black with gloss male and female symbols throughout the background.  The front of the box says "HΩ Wrecker" in an appealing font.  The back has "HΩ" displayed once again.  Below that is the URL to Hohm Tech, followed by a slew of certifications and then the wording "Designed in California" and "Assembled in China" (Mod was manufactured in the United States, Chip was made in China).  Opening the box you immediately see the device full frontal, while a warranty card, an instructional manual and an information card rests behind it.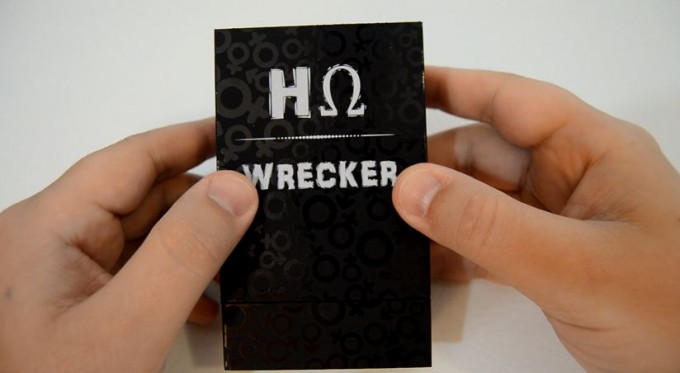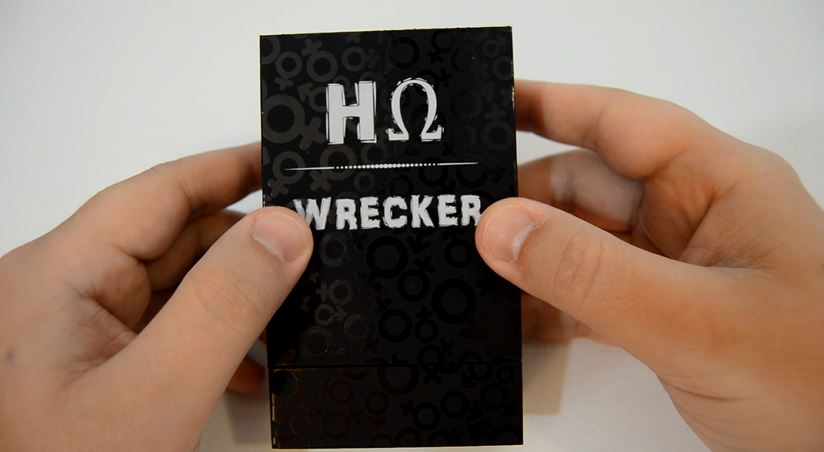 The Hohm Wrecker Mod itself looks great, especially with its mild orange color.  Around the parameter of the device, there are male and female symbols that have been etched into its body.  The front of the device says "HΩ Wrecker" in the same font, the back is a battery compartment door that has nothing on it.  One side of the device is blank, while the other side sports a rectangle button with rounded edges, then a large concave round button, the OLED screen, and towards the bottom of the device sit the plus and minus buttons.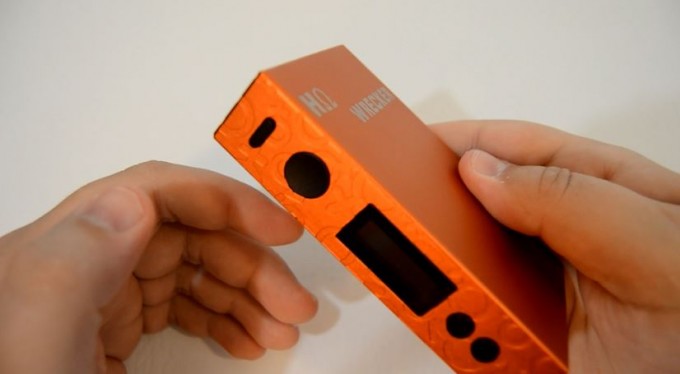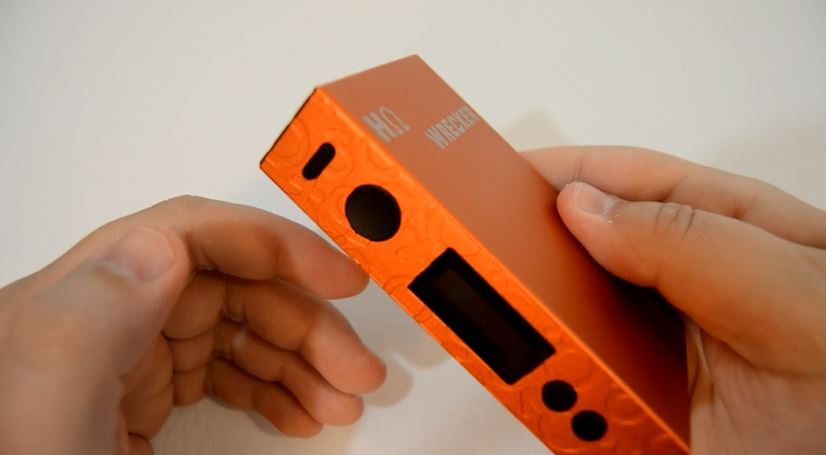 Note:  There is a new "Limited Edition" version of the Hohm Wrecker that is now available.  You can see that version here.
Features
With the Hohm Wrecker, the features are almost endless.  This device is feature packed, so I'll tell you about the basics, then list other additional features.
Starting off, the HohmTech Hohm Wrecker Mod has a full CNC casing made of Aluminum, it has a spring-loaded 510 connection, accepts two 18650 batteries, the shield over the electronics in the battery compartment is also made of Aluminum, and it utilizes the FSK (Flagship Killer) Chip, which has can fire up to 151 watts and able to supports resistances as low as 0.05Ω.  Additionally, the Hohm Wrecker also has temperature control with a temperature range of 200F to 700F and can also fire up to 151 watts.  This device also has a Insane Temps feature, which fires the device instantly to 151W until it reaches your set temperature – basically it has a pre-heat function much like the DNA40/200 chip.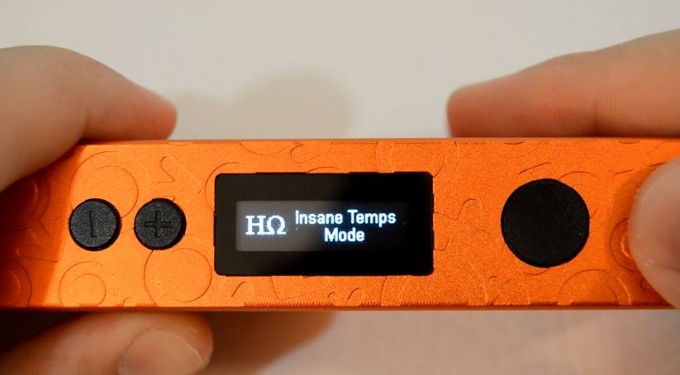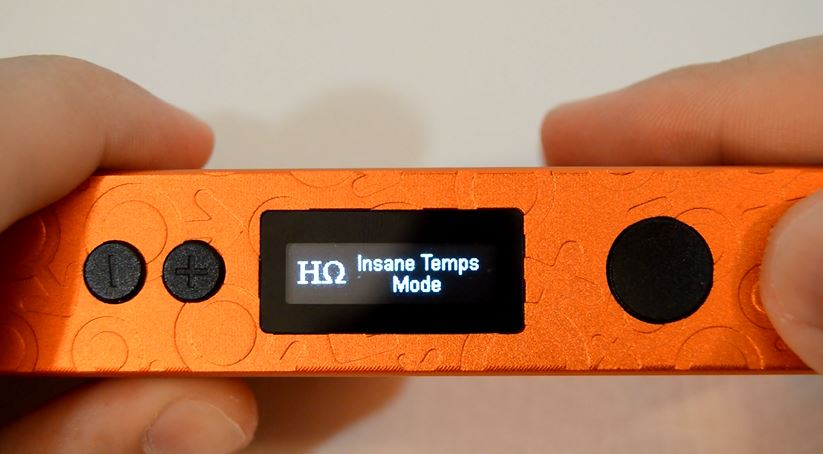 The OLED screen on this bad boy is bright, well set-up and very easy to read.  The back of the device has a battery door that has strong magnets, so replacing the batteries is quick and easy.  The bottom of the device has many ventilation holes, which is good to know since many devices that are being manufactured today overlook proper ventilation.  Being that this device is made of Aluminum, it's very light, even with both 18650's inside.  Being that the device doesn't have too much weight to it, it feels good in the hand, but at the same time, it also feels like it's not so durable – even though I know it is.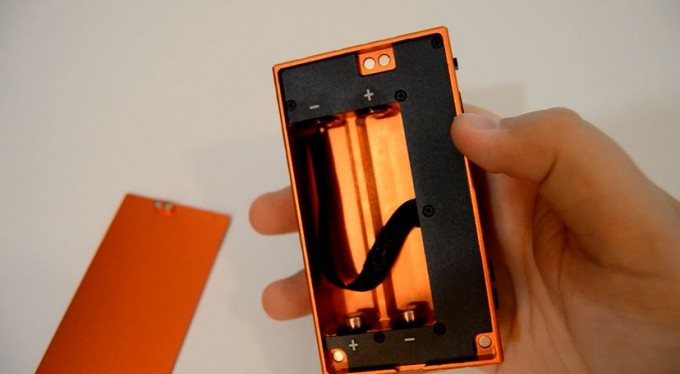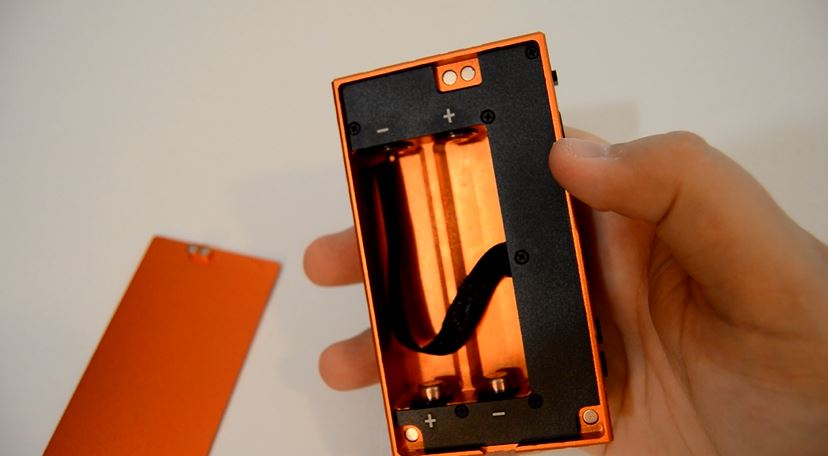 If I were to complain about anything with this device, it has to be that it says "Clock of Insanity" every time you press the fire button to vape in wattage mode.  Now, I have no idea why it does this, and even though it's something unique, it borderlines cool and gimmicky.  When I press my fire button, I want to see exactly what my mod is doing, even if there is no change in what it displays.  It may be that I'm just so used to pressing my fire button to check watts or ohms, but either way, it's something that is annoying if the feature is only for looks and not actually doing something.  However, there is something that makes up for that, that I really like – using this device, switching from temperature mode to wattage mode and adjusting the temperature or watts is very easy.  That's a huge plus in my book for being user-friendly.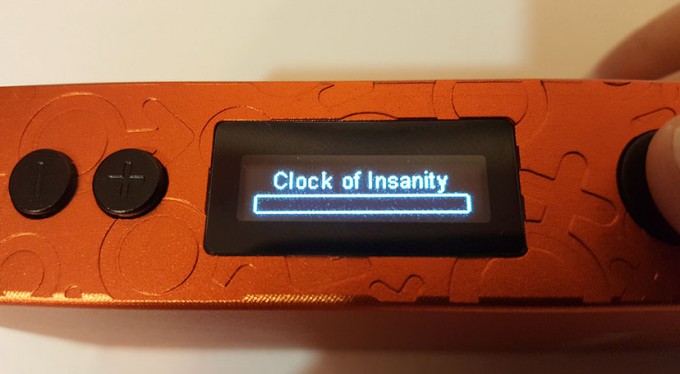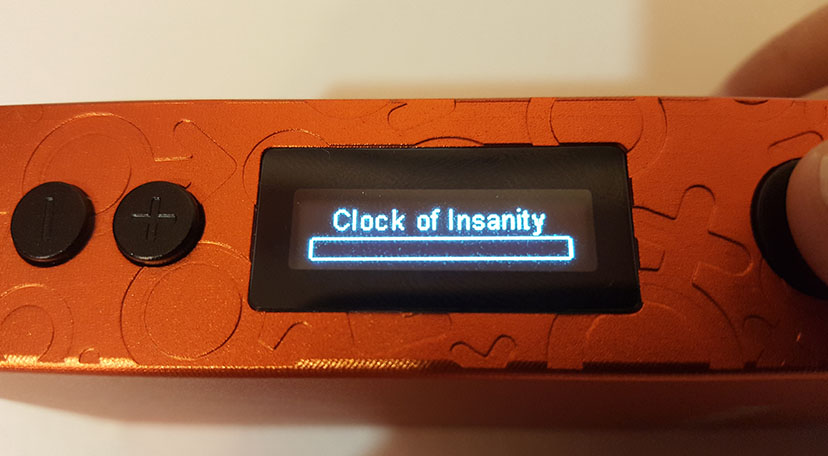 Additional Features
Integrated proprietary Intellichips that execute a multitude of tasks
+  Supports variable output banding on wattage & voltage adjustments so chip does not fluctuate in wide variations
*Result: increased battery life, coil builds, and reduces battery stress
*Result: diminishes power spiking & demand on batteries
+  Runs a self-diagnostic & component initialization during power up
*Result: verifies it is ready for safe operation
+  Executes patent pending TruDegreeTM technology (while using Ni200 wire)
*Result: displays real-world coil temperatures
Double poled circuitry like a multi meter
+  Enables precise ohm metering
Battery contact footprint 25% larger than traditional 150W+ devices average
+   Candidates of measure: Sigelei 150W non TC, Snow Wolf 200W, IPV3-Li 165W, Tesla Metal 160W TC
+  Eliminates battery contact stress, battery power spiking, & heat
Insane Temps feature in Temp Mode
+  Initiates 151W momentarily then switches over to selected watt to establish near instant temp
Sunk tripoint nickel-plated neodymium iron boron magnets
+   Prevent corrosion and/or oxidation to magnets
Top to bottom, inside & out, 100% engineered in America
System menu & instruction manual written by English vapers, in English
Aesthetic design exclusive to represent the unity of all vapers
Concaved FIRE button for finger ergonomics
0.05Ω – 3Ω to the full & true 151W (0.01Ω update coming: ETA 4th qtr '15)
Full-face push pin with high-tension spring
+ ensures safe & pure contact for the energy flow
*Result: eliminates another energy stress point
 FSK chip IC & Intellichips built to handle 200W
+  151W because we are not in a watts war, we're in an efficiency and 'doing it right' world
Additional Specs
With FSK chip technology, runs on (2) 25A+ 18650 batteries
 Size: 4.13 x 2.28 x 0.94 in. (105 x 58 x 24 mm)
Thread Style: 510 connection with full-face push pin & high-tensile spring
Wattage Output: 10W – 151W (also in TC)
Voltage Output: FSK Intellichips automation
Temperature Range: 200 oF – 700 oF (93 oC – 372 oC)
Ohm Resistance Range: 0.05Ω – 3Ω
Temp/Watt Increments:  .1-1 watts (WATTS MODE) : 10 oF (TEMP MODE) : 1 oC (TEMP MODE)
Performance
The Hohm Wrecker, as you would expect, performs great in both wattage and temperature control modes.  Even though I prefer not to use box mods that have a hard squared shape, this device has become my go-to mod when using all of my RDA's.  The truth is, the power is there when you need it, it hits hard and instantly.  While in temperature control, it does exactly as it is supposed to and gives off a consistent vape.  When it comes to performance, the Hohm Wrecker is a beast, so I definitely have no complaints in this category at all.