Imagine Walking Into The Doctors Office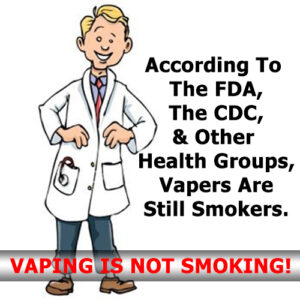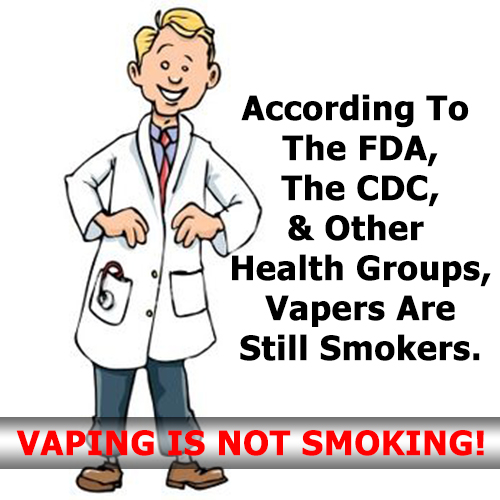 Despite the fact that you haven't touched a cigarette in over 3 years and you have absolutely no nicotine in your system — and haven't for a few weeks — you are told that as far as they are concerned you are still a smoker.  This same doctor, who watched you try and fail repeatedly with the nicotine gums, patches filled with nicotine and pills that made you half loopy that they had prescribed to you, now has the nerve to sit there and tell you that even though you succeeded in your goal of throwing away cigarettes for good that you failed.
You made the decision to get away from cigarettes and chose vaping as your weapon to permanently cut the ties.  You, and millions like you, have set on a path that reduces your nicotine intake over time as well as reducing exposure to the majority of chemicals created when burning Tobacco.  You made a decision based on information from your peers and scientific data that has been released from around the world and this exact same information has been available to your physician.
In The Doctors Head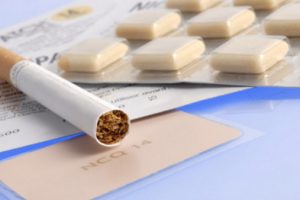 What they've said is perfectly acceptable.  Rather than researching the subject for themselves, they are happy to take guidance from the American Cancer Society, Campaign for Tobacco Free Kids, the Federal Government in the form of the FDA and CDC.  Unfortunately for vapers, those opinions are not in line with the rest of the world.  Rather than seeing vaping as a tool for harm reduction on a grand scale, these organisations see e-cigarettes as no different than lighting up a traditional cigarette, regardless of the amount of nicotine it contains.
The Recent FDA Regulations On Vaping
Declare that vapor products are tobacco products, in their eyes electronic nicotine delivery systems are to be treated as the enemy of public health and as of August 8th, the people selling these products will not be able to tell consumers that they are any different than cigarettes.  Telling people that they contain less harmful chemicals and are, according to the Royal College of Physicians and Public Health England, as well as Cancer Research UK and many other organisations, 95% less harmful than smoking, will be against the law.
 If A Person Uses A Vapor Device
In the eyes of the American Public Health consortium — sounds better than Mafia — they are using a tobacco product.  The fact that these devices may contain absolutely no tobacco, many people who use them don't even have nicotine in them and are just using the device to replicate other rituals they picked up as a smoker, makes no difference.
Harm Reduction Has No Place In Modern Day America
Especially when it comes at the cost of profits to pharmaceutical companies who can no longer sell their patches and gum and State Governments who are losing sin taxes because people no longer smoke.  People can be completely nicotine free and still classed as a smoker because we live in a world where money matters more than the truth, and if they can profit by cooking the books you can be sure they are going to.