If you're new to vaping, you may not know how to put an e-cigarette together.  Whether you are using a cig-a-like from a gas station or a 200 watt box mod with a sub-ohm clearomizer, believe it or not all the parts are basically the same.  We can take the next few minutes talking about the pieces that come together to create the electronic cigarette, how each piece interacts, and its job in relation to the vaping experience.  We will keep it as basic as possible and show you how to assemble your device and get vaping.
The Parts List
The parts list is self-explanatory.  In this example courtesy of  Mistic, you can see that there are only really 2 major components that you, as a user will have to be concerned with.  You can clearly see the cartridge which attaches to the rechargeable lithium-ion battery via the screw threads.  In all honesty, when using this type of device, known as a cig-a-like, life is truly that simple.  Make sure the battery has a charge and the cartridge has liquid in it and you are good to go.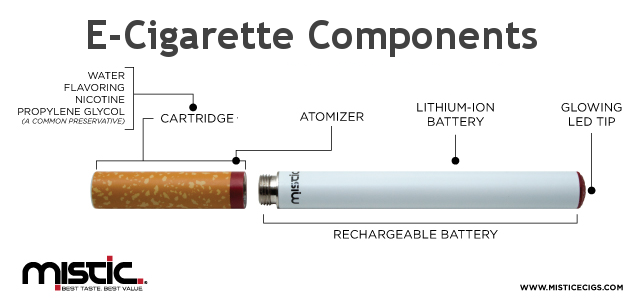 Now if we pay closer attention to the parts of the cartridge, we can quickly advance your knowledge to tank – or clearomizer – based systems.  Inside the pre-filled cartridge, should you ever decide to take one apart you will find a base unit with a coil (wrapped wire) and a wicking material soaked in e-liquid.  This is known as an Atomizer.  When you take a pull on this system, a sensor inside the battery section activates the atomizer, which then heats the e-liquid via the coil, which is what creates the vapor.  What is classified as a lithium-ion battery is actually a battery pack with sensors and other electronic circuitry to create your vaping experience.  These batteries are generally charged via a USB dongle that attaches to the same spot as the cartridge and can be plugged into a USB charger or directly into a personal computer USB port.
How Is This Relevant To Tank Based Systems
Think of the cartridge as your tank…  while it is not refillable, it is still basically a tank system.  It contains a coil, base unit, wicking material and e-liquid, all of which can be found in a refillable tank or even an RDA (Rebuildable Dripping Atomizer).  Everything is based on the same principle.  Power is applied to the coil to heat the e-liquid that is in the wick to create vapor.  The true definition of an electronic cigarette cartridge is a cartomizer, and while they may pale in comparison to some of the newer equipment on the market, they get the job done.  The e-cigarette is the simplest system that we have, but it is the basis of even the most advanced devices you can find.  Every atomizer is attached to the base unit, whether it is a mechanical tube or regulated box, by screwing directly in to the 510 connector.
Conclusion
If you can master the art of attaching this cartridge to the battery unit, you have the basic knowledge to move forward and pick up refillable, and even more powerful devices in the future.  I personally believe it is as simple to operate an electronic cigarette as it was to light up a cigarette – something which I haven't done for over 2 years.
As always, enjoy your vaporizer and vape safe!