The Best of 2015 event held here on GuideToVaping.com has been underway for five consecutive years, and with each new year comes some highly interesting results.  Though many have been able to slip under the caution tape that divides real versus fake, it's still quite apparent how the vaping community feels, what has interested them the most, and ultimately, where their votes finally landed.  These polls can give huge insight into what customers are looking for and who is going above and beyond within the vaping community, and no matter how many of you disagree with it, there's a clear picture into the impact that one forum has made on all of us.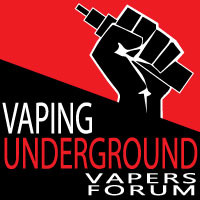 Vaping Underground began as a forum that was looked at as a sanctuary for the beaten, battered, and those tired of being conbobulated with a rule set preventing them from free speech.  It was a place with open doors, taking on the misfits, the disgruntled, and those simply looking for somewhere to voice.  The forum quickly took off, gained quite the immense following, and for the second year in a row has won 1st place during GuideToVaping's Best of event, being crowned this year with The Best of 2015.
Now, there may be many of you wondering exactly how this Underground can dominate the polls effortlessly, and I too was filled with concern a couple of years back.  In fact, there are many sources being voted on during these events that concerned me, making me feel as if they're skewing the system, but let me fill you in on something… your portion of the vaping community is merely a speck of what exists.  Last year during the Best of 2014 event, I wondered how Dr. Crimmy's received so many votes, being that I've never even heard of the company.  I wondered how this year Giant Vapes could gain the amount of votes that they did.  But, let me be the first to tell you, just because you haven't heard of them, doesn't mean they're not a force to be reckoned with.  It took me actually visiting places like Vaping Underground, Mod Envy, Giant Vapes and others to understand quite how huge that sector of the community was.  Giant Vapes alone has a Facebook group that is over 20,000 strong, and we don't even want to get into the numbers that backs Vaping Underground.  My point here is, for whoever is reading this, the Vaping Underground won the Best of 2015 because that is what the vaping community voted on.
With that being said, Vaping Underground we thank you for your participation during GuideToVaping's Best of 2015 event and we congratulate you on your winning!
If any of you are interested in the forum, feel free to visit Vaping Underground here.