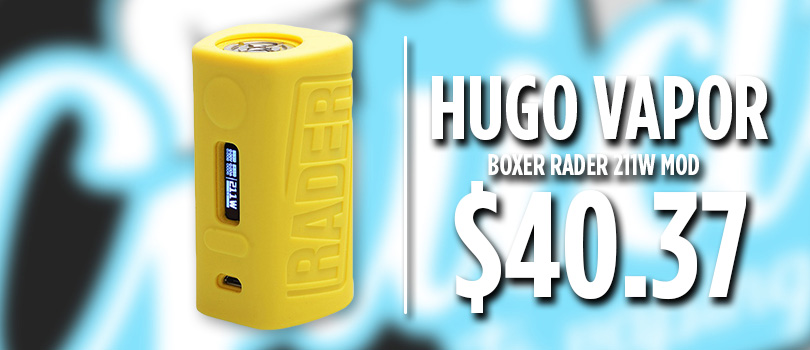 While it shames me to share it, I know there are many of you out there that would want to take advantage of this deal. The 3D printed boxer mod became popular in a short amount of time due to its unique appearance, lightweight design, and high performance. However, its price is stupidly high and the manufacturer is simply trying to get rich quick. What happens to brands that take the get rich quick approach bundled with an outrageous ARP? It gets ripped off. I'm not here to give a rant on this topic but I am here to share a deal where you can get the Hugo Vapor Boxer Rader Mod for $40.37 using coupon code "halloween5off". I bought a Tesla Cigs version, so here's another that you can get at a more reasonable price.
---
[mks_button size="large" title="GET THE BOXER RADER MOD FOR $40.37 HERE" style="rounded" url="http://shareasale.com/r.cfm?b=258881&u=821755&m=29576&urllink=www%2Evaporl%2Ecom%2Fhugo%2Dvapor%2Dboxer%2Drader%2D211w%2Dtc%2Dbox%2Dmod%2Ehtml&afftrack=" target="_blank" bg_color="#000000″ txt_color="#FFFFFF" icon="" icon_type="" nofollow="1″]
---
Use Coupon: halloween5off
Constructed of a high quality Nylon material, the Boxer Rdaer Mod by Hugo Vapor offers a lightweight feel and a pleasing appearance with several color choices, including Black, Yellow, Blue, Red, and Camouflage. It's compact, fireproof, and gives a nice feel that features a nice change of pace compared to heavier mods that have coated the market. The Hugo Vapor Boxer Rader Mod can reach up to 211 watts with the DUO CORE GT211 chip with ramp vaping, it has a minimum resistance of 0.06Ω, and houses two 18650 batteries. Including temperature control, 2A maximum charge rate and a nice design, we're sure this is one you'll enjoy adding to your collection.