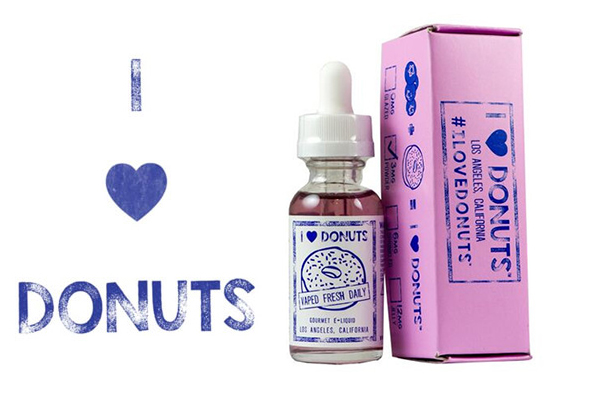 Today, I'm going to be sharing my review of I Love Donuts E-Liquid, which is apart of the Mad Hatter Juice line..  If there's one way to win me over, it's to name your e-liquid flavor "I Love Donuts", so good job Mad Hatter!, you're already ahead of the game!
Quality
When it comes to the quality of this Mad Hatter Juice, it is top-notch.  Everything about the vape you receive from this e-liquid is superb.  It offers a smooth and delicious vape, where the taste of nicotine or a base flavor does not exist.  There not much to share about it, other than it having a clean and flavorful taste.
Packaging:  The packaging is out of this world!  The I Love Donuts bottle of e-liquid comes in this mini pink donut box that ties in with the donuts theme.  The top of the box says "I (heart symbol) DONUTS" and then the hashtag #ILOVEDONUTS.  On the front side of the box shows different illustrations tying in with the theme and the back is filled with cautions.  What's really cool is that on that front side of the box, there is a check box indicating what milligram the bottle of e-liquid is.  To tie in with the theme again, the 0MG is referred to as Glazed, 3MG is Powder, 6MG is Sprinkled, and 12MG is Jelly.  When you open the box, which opens just like a real donut box, it says "Vaped Fresh Daily", which is a nice touch.  To seal the deal, inside the bottle of e-liquid sits on a thin piece of paper, just like donuts do.  This packaging is amazing and really ties in nicely with the name and overall theme.
Bottle Packaging:  The bottle packaging is saweet!  It's a simple white label, but the accent blue is what's making it look good.  I heart donuts is on the front, a big donut in the middle of the label and "vaped fresh daily" slightly over the donut. To the right is a caution and the left says "vaping facts", which is pretty nifty and makes you smile.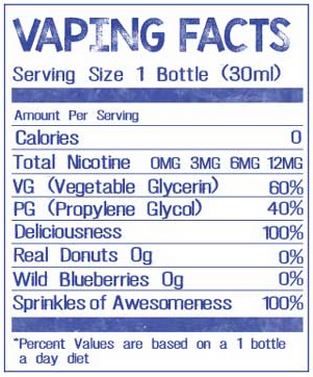 Flavor
The I Love Donuts e-liquid is sweet, delicious and actually tastes like what you would expect the donuts displayed would taste like, or maybe it's the picture that I've seen prior that has influenced my tastes.  Whatever the case may be, it tastes great.  I'm getting a blueberry hint, even a grape taste and it also tastes like there's tons of sugar.  This one is hard to describe, so please don't take my word for it, and just try it for yourself.  Another thing to add is that this e-liquid is very smooth and has a thick, flavorful type taste to it.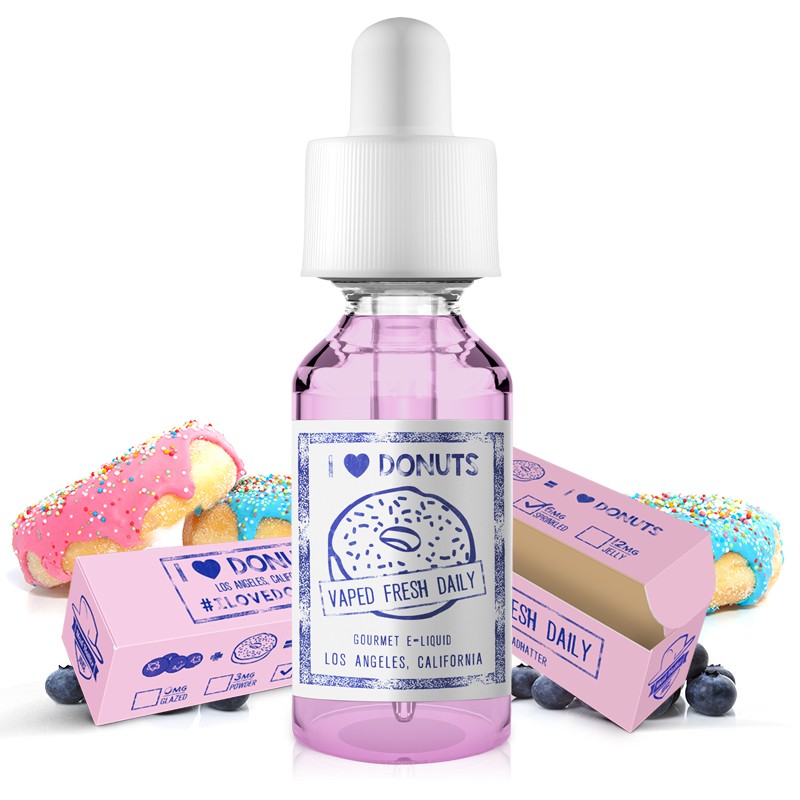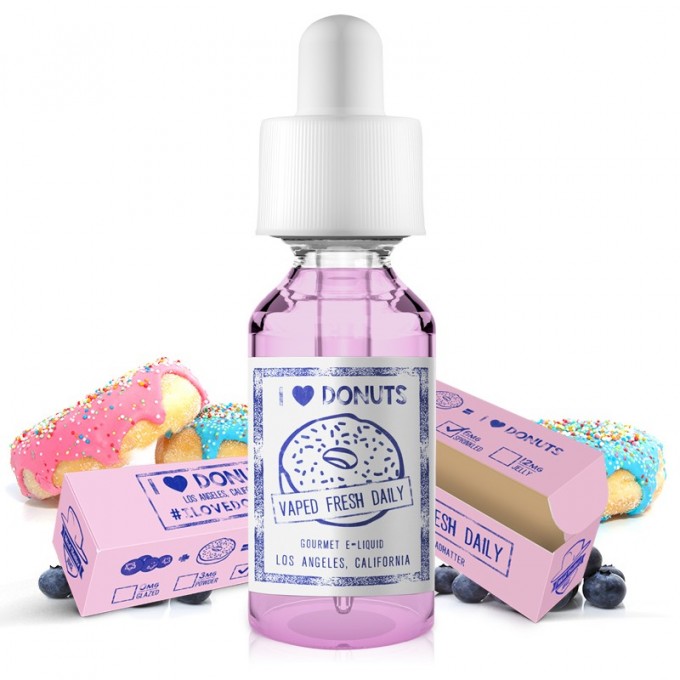 Vapor Production
The I Love Donuts e-liquid is mixed with a higher VG ratio, at 60%.  With that being said, don't expect to throw off super thick clouds, but of course, with their being a higher percentage of VG, you're obviously going to have no problem producing a good amount of vapor.  If you watch the video review I made above, you'll see that I was pushing out pretty decent clouds on my RDA.