The Snow Wolf 200W Box Mod by Asmodus is one of the most appealing devices to hit the market.  It offers a unique design, one of elegance, but also packs quite the punch in its stainless steel body.  If you've been debating if you want to get this beautifully crafted powerhouse, then feel free to continue reading my Snow Wolf 200W Box Mod Review.
Appearance
The Snow Wolf looks remarkably remarkable!  It delivers a sense of calm, class and elegance throughout its stainless steel hard body.  However, what makes this device is its black glass panels that rest on both the front and back of the device.  It has that durable shell for that strong and masculine appearance, but the glass panels give it a more sensitive side that is very fragile.  It's better referred to as more of a bittersweet device.  Interesting, I know!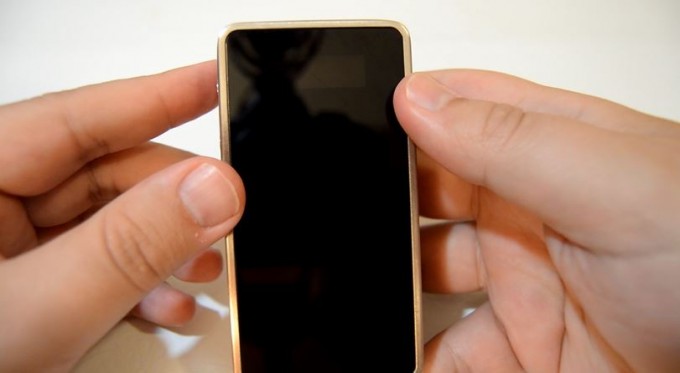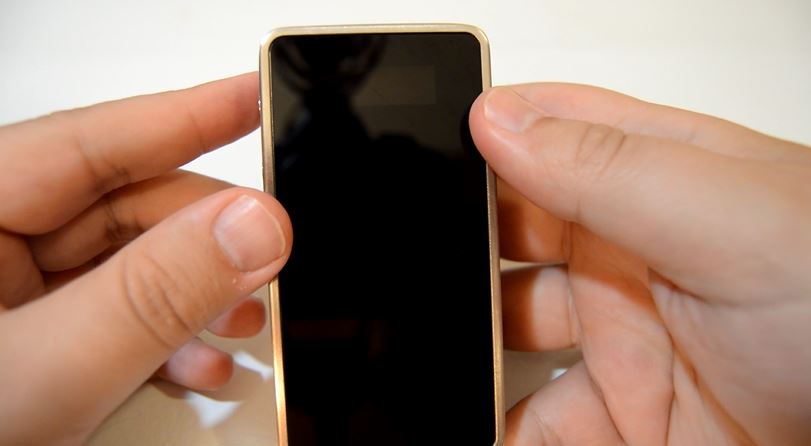 Features
The top of the device has a 510 connection, which sports a spring-loaded center pin.  Across that top portion measures 25mm, making it large enough to hold even those bulky atomizers, but not too much where your 22mm RDA's look too small.  It certainly hits that happy medium.  The bottom of the device has a slew of ventilation holes, while one side of the device reads "Snow Wolf 200W" and the other side sports one larger stainless steel button acts as the fire/activation button, and the other two smaller stainless steel buttons are used as the up and down buttons.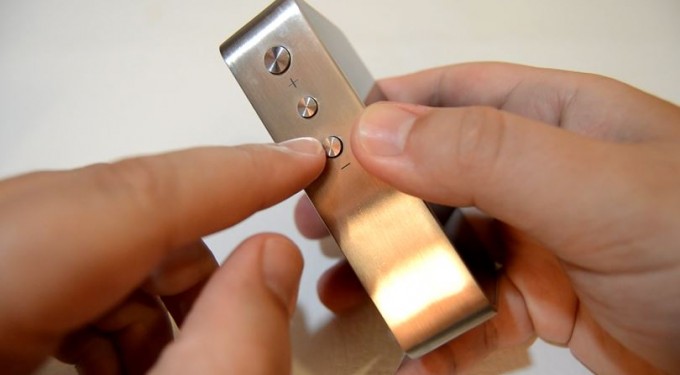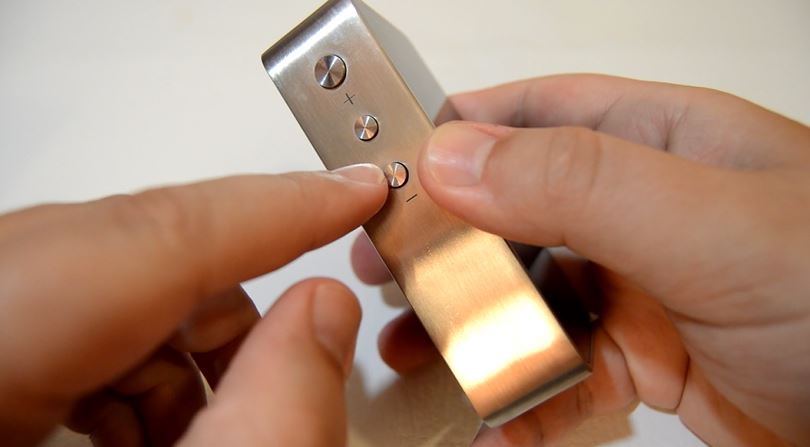 The front of the Snow Wolf 200W has that black glass panel the full length of the body, but at the top there's an OLED screen that is only visible when it's illuminated.  The back panel also sports the same black glass, but it is a battery door that is held down by strong magnets.  Underneath the battery door is a place for two 18650 batteries.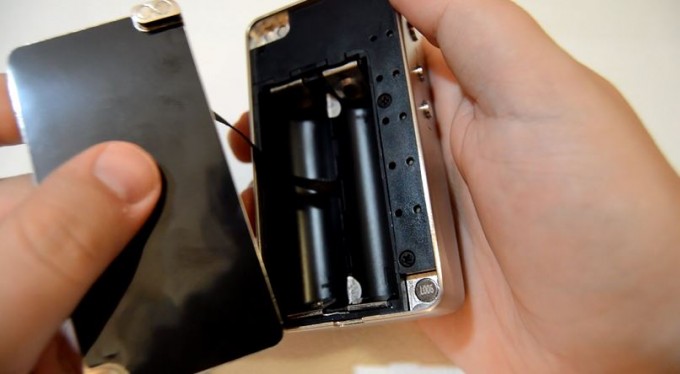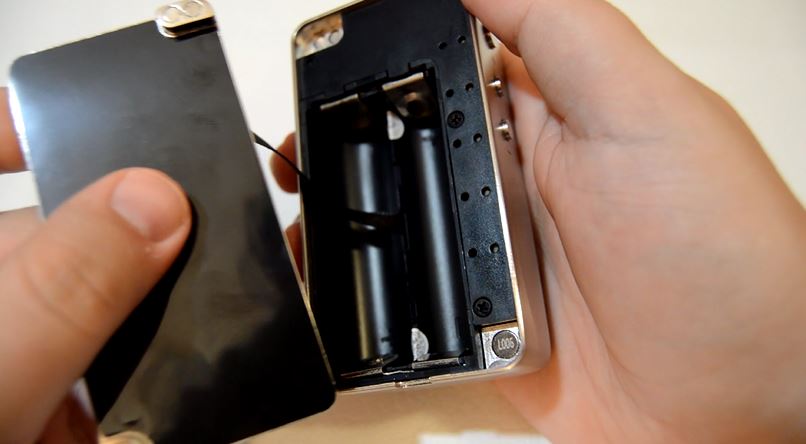 The most prominent part to this device is that it can fire all the way up to 200W and has the market's highly popular temperature control function.  Another notable feature to mention is that the Snow Wolf can fire resistances as low as 0.05Ω, which should be enough to peak your interest in itself.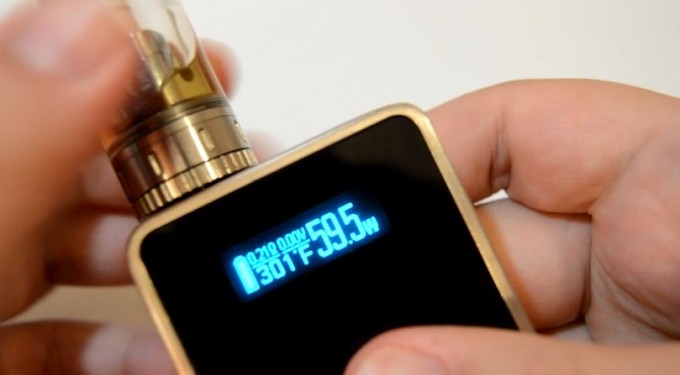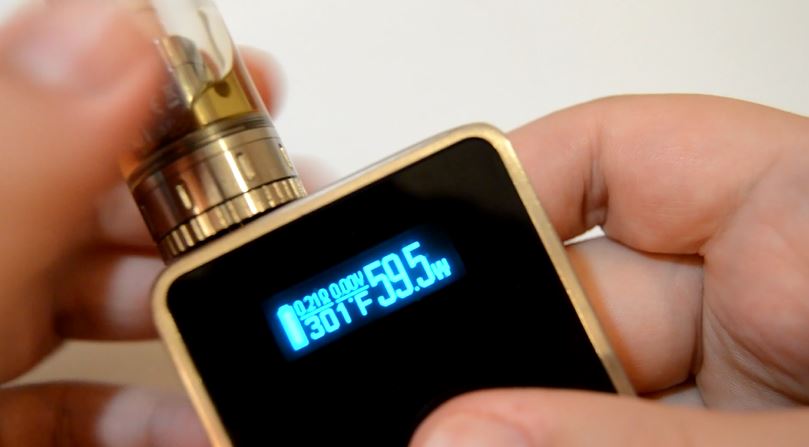 There is one thing I want to complain about with the Snow Wolf Box Mod, and that's its ability to read new atomizers.  Sometimes when I turn the device on and use a Kanthal coil, it will think that I'm using a temperature sensing coil and won't switch.  With that being said, the only solution I've found is to slap on a temperature coil, pull that off, then screw the Kanthal coil back on.  After all that, it'll finally ask me if what I just screwed on is a new coil.  I would have enjoyed this device much more if I could have just manually told the device what I'm using, or the device could have just worked as it should in the first place.  If you watch the video I've provided at the top of this post, you'll see the trouble I was having.  I eventually gave up as it was becoming more of a frustration device.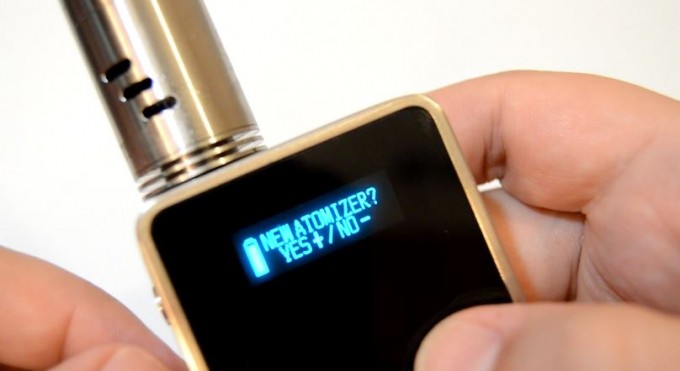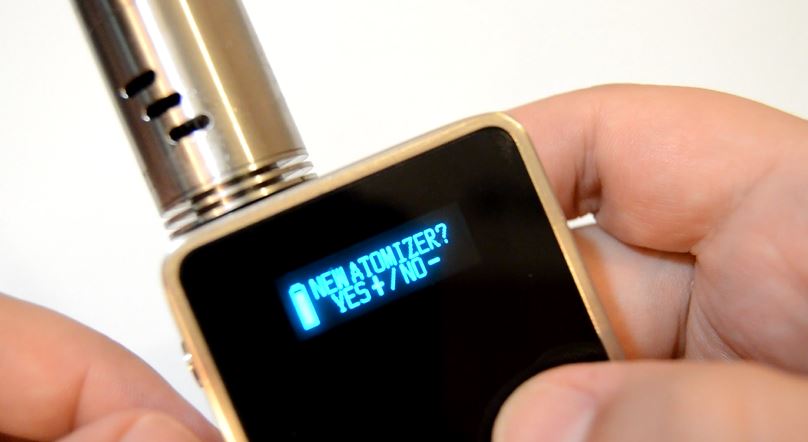 Note: When using a Kanthal coil, you'll know you're not using the temperature control function when the temperature cuts out of the screen after you press the fire button.
Note: I watched reviews on this device and it seems everything is working fine for others.  However, I am having issues with this particular unit, and I wanted to share that with you as a heads up.
Additional Features Include
Temperature Control (adjustable): 100 – 350°C / 212 – 662°F
Output wattage: 5W – 200W
Output voltage: 0.5V – 7.0V
Atomizer resistance: 0.05ohm – 2.5ohm
Low voltage protection
High voltage protection
Low resistance protection
Overheating protection
Short circuit protection
Reverse battery protection
Performance
When it comes to performance, the Snow Wolf is a beast!  This thing can climb all the way up to 200 watts, however, once it hits 150 watts it uses pulse width modulation.  I've personally never liked "PWM", but I have no worries with this device as I'll never make my way up to 200 watts – I'm just not that into hot vapes.
Being that I have the flexibility to throw on super low resistance coils, and I can ramp the wattage pretty high, producing big clouds is easy.  The temperature control function works flawlessly; it feels very consistent and operates just as it should.