If you've been around vaping for some time, chances are you've heard of the popular I Love Salts brand. It is a vape juice brand that specializes in creating extraordinary flavor concoctions using premium salt nicotine. They were one of the first salt nic brands to hit the market, and now they're finally expanding into the disposable vape category by introducing their own device, the I Love Salts Disposable Vape.
I Love Salts Disposable Vape
Sharing a sleek design that promotes simplified styling, the all-new I Love Salts Disposable Vape is certainly one that will be pleasing to the eyes, yet not draw too much attention. It offers a cylindrical shape, framed perfectly for a comfortable fit, whether it's in your palm or in your pocket. The device features a large integrated battery and sports a hefty 5.5mL vape juice capacity using tobacco-free nicotine (TFN) salt, which comes in a strength of 50mg. This leads to a very giving 2200 puffs per unit, ensuring you enjoy several vape sessions during your time of use.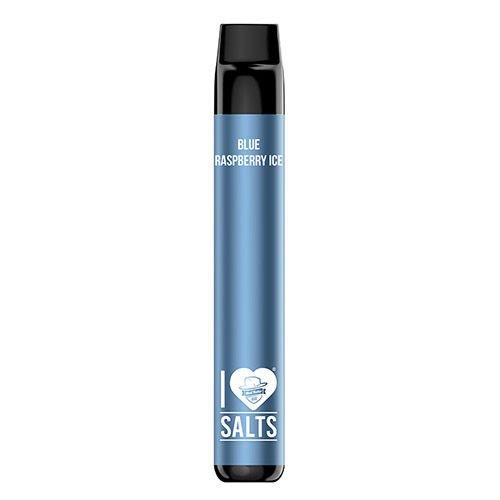 Along with an automatic firing mechanism for the utmost convenience, you'll find that the device also offers great performance, perfectly balancing flavor and vapor with one another. To top it all off and deliver the best satisfaction, you can rest easy knowing that you have a choice of as many as 16 delicious flavors, all blended precisely to suit your tastes.
I Love Salts Disposable Flavors
Juicy Apples:

Enjoy a sweet and crisp blend of flavors that recreates your favorite apple juice beverage.

Spearmint:

Embark on a flavor journey that refreshes your mouth and cools your airways with a crisp mint flavor that is bombarded by loads of juicy sweetness.

Strawberry Guava:

Partake in this perfect pairing of strawberry and guava flavor, as the two linger in your mouth and invites you to explore even more.

Strawberry Ice:

A simple duo of flavors that will easily become an all-time favorite. It is a delicious mix of strawberries and bone-chilling menthol.

Grappleberry:

There isn't anything quite like this extraordinary blend that combines juicy grapes, crisp tasting apples, and a balanced blueberry flavor.

Tropical Mango:

If you're looking for an all-out mango flavor that will do the trick, you've definitely met your match with this perfectly crafted tropical mango flavor.

Sweet Strawberry:

Everyone knows that strawberry is a universally loved flavor. If you're one that enjoys strawberries, this is a potent one that is sure to linger.

Blue Strawberry:

Whether you're looking for a complex blend or not, this one is sure to please. It consists of blueberries, strawberries, pineapples, and coconut.

Blue Raspberry Ice:

It is a cool mixture of blue raspberry and ice-cold menthol, which we're sure will leave you with a delicious and refreshing taste for each puff.

Pink Lemonade:

There isn't any flavor out there that tastes so authentic. It is a tasty recreation that provides a recreated pink lemonade flavor.

Blue Raspberry:

Boasting an amazingly sweet taste, this tarty blue raspberry flavor is sure to become one of your all-time favorite vape flavors.

Watermelon Ice:

Easily one of the best watermelon flavors on the market, this tasty duo that consists of watermelon and cool menthol will leave you perfectly refreshed.

Rainbow Lush:

Embark on a flavorsome journey, this tasty yet complex mixture will be your go-to vape. It is a sugary candy mix that will be extremely familiar.

Gummy Ice:

Welcome to the most satisfying candy flavor you've ever encountered. It is a sugary candy gummy flavor that's combined with a cold menthol.

Aloe Grape:

Ready yourself for a light and crisp taste that brings together aloe and grape flavor, leaving you thoroughly pleased from beginning to end.

Banana Ice: Creating the best experience, you'll love this vape juice blend that recreates that cool banana popsicle flavor you've always loved.