iJoy is changing the game with its newly introduced iJoy Capo Squonk SRDA Kit, the industry's first squonk mod that houses dual 20700 batteries for powerful, lengthened vape sessions. This brand has built a name for itself due to innovative mods and atomizers, and it continues to gain both popularity and success by offering a mod that's fueled by ease of use and performance. While we could go on about iJoy's accomplishments throughout the years as a brand and manufacturer, it's best if we get straight to their latest development, the iJoy Capo Squonk SRDA Kit.
About The iJoy Capo Squonk SRDA Kit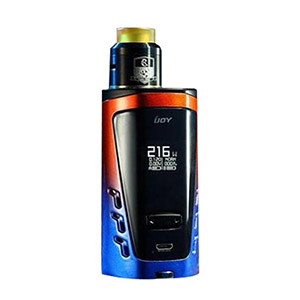 Featuring durable materials that promote exceptional quality and class, the new iJoy Capo Squonk SRDA Kit offers a giant leap into the world of squonking. Its appearance is sleek and sports a custom type of look marked with great appeal throughout its many color options, which includes a Matte Gold, Orange/Blue, Matte Green, Matte Orange, Matte White, Mirror Rainbow, Mirror SS, Matte Black/Orange, Camouflage, and Mirror Gunmetal. The outside of the iJoy Capo 216 Squonk Box Mod has a dazzling OLED display with rich data feedback and perfect placement. While the front offers features like an OLED display, rocker style adjustment buttons, a micro-USB port and and accented ventilation holes on each side of the device. The backside is curved outstandingly well to fit nicely in the palm, while the upper portion of the iJoy Capo 216 Squonk Box Mod offers a custom large fire button.
Equipped with a chipset designed by IWEPAL, the iJoy Capo 216 Squonk Mod is capable of delivering up to 216 watts and a slew of additional features, such as temperature control with support of Ni200 Nickel, Titanium, Stainless Steel and TCR adjustments. There are also three power settings to truly define your vaping experience, which includes Normal, Soft, and Hard. Things don't become as exciting until you realize that the Capo 216 Squonk Mod is capable of housing either dual 20700 batteries or dual 18650 batteries with the included 18650 battery adapter. This mod is the first and only dual 20700 squonk mod, and it stills maintains a compact design of 45mm by 51mm by 83mm.
Where this mod differs from the rest, besides the great looks, high power and use of dual 20700 batteries, is it being a squonk mod. There are very few regulated squonk mods that are this capable. The squonk bottle used features an environmentally friendly silicone + transparent hard and soft combination, allowing users to easily squeeze it and it prevents accidental squeeze leaks when disassembling. There's a hard part to hold and a soft part to squonk — it provides a more solid structure, more durable, and ten times the lifespan of an ordinary silicone bottle.
Lastly, we have to mention the Combo SRDA, a semi-rebuildable dripping atomizer that allows you to change between pre-made coils and rebuildable decks with ease. Have options between up to 4 rebuildable decks and two types of coils for an incredible experience in any which way you prefer. Along with an Ultem top cap and adjustable airflow control, with the addition of a squonk pin, you'll love this pairing of the SRDA and Capo 216 Squonk Mod.