In this vaping guide, we share a complete guide to the Innokin Bastion LIFT Box Mod, sharing an in-depth look into this innovative addition to the vaping market. Innokin has been left behind for years as other brands took charge of the market, creating some heavy-hitter mods that captured the hearts… and pockets of many. However, times have changed and Innokin, one of the most iconic brands in the industry is striking back to reclaim its spot with the new Innokin Bastion LIFT Box and its integrated Siphon Tank System.
In this multi-page guide, we're going to explore its features, specifications, and provide both instructional tips while the guide is also acting as a complete user manual. The user manual for the Bastion LIFT Mod lacks content greatly and many users will struggle with understanding how to properly use it. Furthermore, there are many questions that have gone unanswered and trust us, even a Google search turned up very little information.
Follow along and learn all there is to know about the Innokin Bastion LIFT Box Mod and if this guide helped you in any way, all that we ask is that you share it with your friends and family across the various social networks. It helps us a lot and motivates us, even more, to continue helping vapers. 7 years strong, baby!
---
About The Innokin Bastion LIFT Mod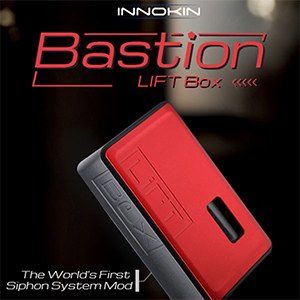 Constructed of aluminum alloy for a durable and lightweight design, the Innokin Bastion LIFT Box Mod is a mod that will continue to surprise you. Aside from its fantastic quality and featherweight feel, you'll find that it's compact, coming in at just 3-1/4″ by 2″ by 1″. It's fairly small, rather capable, yet still functions phenomenally. Starting from the top there is a 510 threaded connection that uses 303 stainless steel for its thread material. The front side of the LIFT Mod features a front panel with a sight window for e-liquid level indication. When you remove the panel, the battery compartment will be on the right and the tank will be on the upper left. The battery bay holds a single 18650 battery and the tank holds a large 8ML e-liquid capacity. What's incredibly fascinating about this mod is that the equipped LIFT Siphon Tank features a siphon design, where all it takes is taking a draw on your atomizer when your atomizer's airflow is closed off, creating a suction. When the suction is made, e-liquid will be pulled from the tank and through the bottom of an attach BF atomizer. As for power, the LIFT Box is an unregulated mod, so power is based on the battery's current state. Although the Bastion LIFT Box Mod is unregulated it still comes chipped with protection features, such as short circuit protection, low voltage protection, and reverse polarity protection.