Industry leaders have begun to manufacture products designed to be compliant with the European Union's Tobacco Product Directive (T.P.D.), and some of those products have landed on the shores of the United States.
As our European vaping counterparts prepare for the first serious regulation of our blossoming industry (that doesn't involve an outright ban), we get our first real look at the tanks released by Kangertech and Joyetech.  These product releases will give us a visual, allowing us to see exactly what we can expect from a government designed system.
While I understand that these companies wish to continue to generate sales from the western world, I have to take a second to state that rather than attempting to comply with these onerous laws, they should be joining in the fight to abolish these and future regulations to ensure that vaping remains free for everyone today and for future vapers who have not yet found their products.  Under the laws that will take effect in May of this year, as far as Europe is concerned, vaping and smoking are exactly the same thing and no one will be allowed to make any statements to the contrary.
After looking at the tanks, we will look at the law and you can see how bad things really are over there.
Let's Look At The Tanks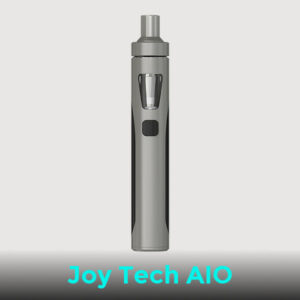 Joyetech's AIO has started on the path to compliance, but is nowhere near the final products that will be sanctioned for use.  Under the T.P.D., tanks are allowed to contain no more than 2ml of e-liquid at a time.  The manufacturer has ensured that the max fill level on this tank is clearly labeled, although it can hold more.  The tank is equipped with cap mounted adjustable airflow and is refilled by removing the top cap.  It comes with 2 separate drip tips, one of which has a swirled channel to reduce airflow, while the a glass drip to is more designed for "lung hits".  A nice feature of this tank is the fact that it has an indicator LED light built into the juice well, so you can see how much of that 2ml you have left.
Seen here in the USA as a nice little starter kit, this is a step towards the future of vaping under European rule.  It comes as part of a complete starter kit, which includes a 1500mAh base unit, charger, and a ton of required paperwork.  The unit is not a complete let down though,  the 2.0Ω coil can be replaced with the 0.5Ω coil from the Cubis for a better vaping experience.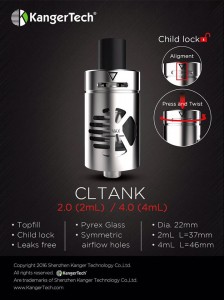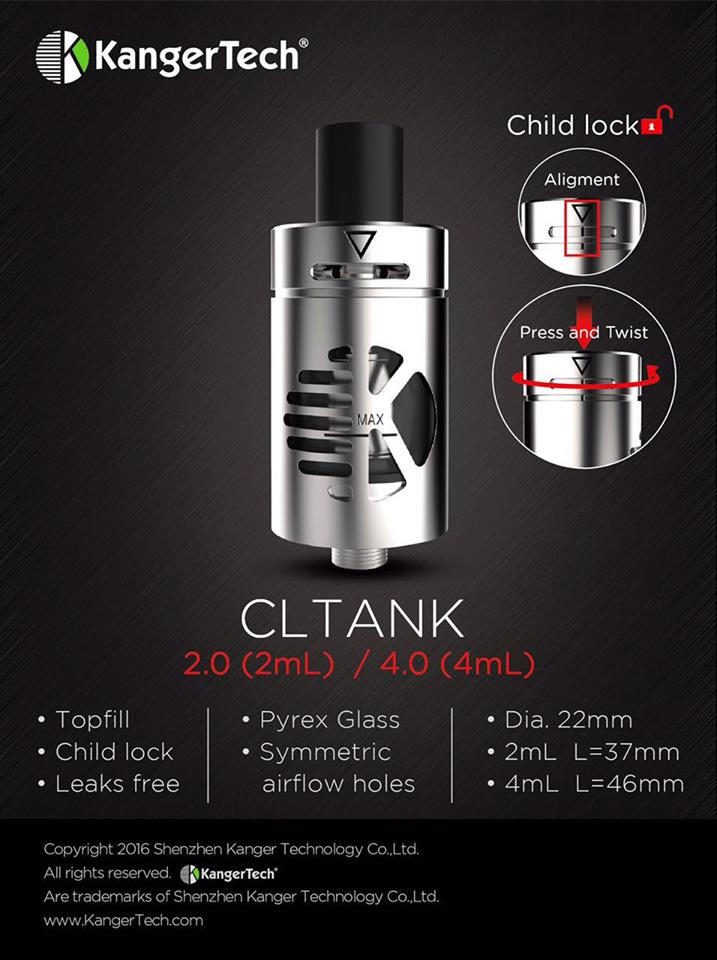 KangerTech's CL Tank is a little closer to the European Unions dream tank, although if I am being honest, the only thing they really want in the marketplace are cigalikes from Big Tobacco or licensed medical devices from their Pharmaceutical friends. 
While there are 2 on offer, we will be focusing on the smaller tank.  It holds 2ml of e-liquid and is clearly labeled for its maximum capacity.  The tank is designed to be leak proof and child proof.  They have made sure that the tank is filled from the top and as with the AIO, they have placed the adjustable airflow at the top.  The top cap is interchangeable and the design on the outside screams Kanger.
From a consumer standpoint, (under the T.P.D.) after using the 2ml of e-liquid that is in the tank, you will have to navigate around the childproof cap to refill it from the maximum 10ml bottle (with a childproof cap) that you have on your person.  Using that logic, I would have to fight with this device approximately 15 times every day and go to the store twice for a refill.
What Is The T.P.D.
If you aren't sure what the Tobacco Productive Directive is, more to the point article 20 of that document, I will give you a brief run down of it here with a lot of help from Clive Bates:
No open vaping systems; say good-bye to your RDA's, only closed systems, either single use or sealed refillable tanks are allowed.
Tanks that hold no more than 2ml of e-liquid.
Tanks must be leak proof.
Tanks must be childproof.
Tanks must produce a consistent measurable dose of nicotine.  Which is impossible due to variables such as the users lungs.
Nicotine is not allowed to be sold over 20 mg/ml unless to a pharmaceutical distributor or licensed manufacturer. Good luck if you vape 24 mg/ml or want to DIY.
No health claims are allowed that differentiate vaping from smoking.
No advertising of products on any medium, be it social or traditional.
Any e-liquid sold must contain required health warnings. None of which are valid because they are the same health warnings found on cigarette packs in europe.
The list goes on, for a full rundown of the Tobacco Product Directive, please visit CliveBates.com as he has done great work in trying to combat this insane regulation.  The actual text for the regulations can be found here.
Summary
Unlike the United States, where we still have a chance to beat the Government and their corporate cronies, these are not proposed regulations.  These are going into effect in less than 3 months time.  The industry is about to be decimated by bureaucracy and laid to waste because idiots  politicians think they know what is best for our industry and everyone else in the world.  I want you to take a long hard look at the tanks I posted above, and the next time you see an advocacy post and decide to say that the industry is too big or that you will make your own juice at home, this is happening right now across the Atlantic, and they WILL be coming for your right to vape next.
As always, enjoy your vaporizer (while you can) and vape safe!