On the arrival of my package of e-liquid from TexasSelectVapor.com, I immediately noticed how the packaging differed from other e-liquid vendors.  The packaging was like the normal, a resealable clear poly zip-lock storage bag, but there was more to it than that.  On the outside of the bag and covering the zip lock was a warning label which in my opinion was a very professional addition.  If you've ever read any of my other reviews, you'll notice that I pay close attention to detail.  Sometimes vendors will grow very large and lose sight on the detail and from the looks of it, TexasSelectVapor hasn't lost sight one bit. Props to them.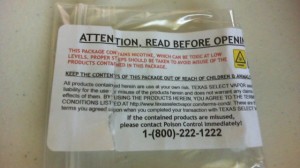 Using my 5v box mod passthrough and a 510 2.8ohm bauway atomizer, I dripped my first 2 drops of Jolly Green Apple, took a quick toot and instantly fell in love.  Let me just state this before hand that I'm a sucker for the jolly rancher taste and a sucker for green apple, so I think TexasSelectVapor hit the right spot for me and in all honesty, this will be added to my list of all day vapes, yes… it's just that good.  All of TexasSelectVapor's e-liquid is a 70pg/30vg mix and my order is at 18MG, so the throat hit was perfect for me not  being too harsh, but at the same time not too light. I usually vape at a 50/50 mix, therefore meaning I'm used to producing a lot of vapor.  The only down side I can see in this review is that they don't offer other types of PG/VG mixes.  This isn't necessarily a bad thing, but more options would be great.  Aside from the lack of options, the e-liquid itself tasted phenomenal and that's what sold me.
Overall, the packaging was nice and well prepared, the e-liquid tasted great and the throat hit was dead on.  If you're looking for a candy or fruit type tasting e-liquid, then Jolly Green Apple would be a great investment to try and could very possibly become your next all day vape.
If you would like to make a purchase at TexasSelectVapor.com, click this link for a discount code to get you started https://guidetovaping.com/2011/10/texasselectvapor-discount-code/