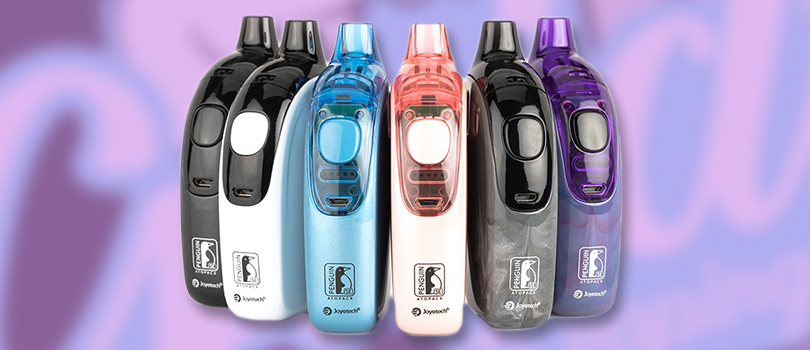 The Joyetech ATOPACK Penguin SE is a special edition of the all-in-one pod system many beginner and advanced vapers have come to love. It still delivers all the great features of the original ATOPACK Penguin, such as a direct voltage output, a built-in 2000mAh battery and the use of the JVIC Coil System, but it now sports new colorful finishes to express yourself and a side-cut e-liquid viewing window to constantly indicate your current e-liquid level. I've expressed time and time again that the ATOPACK Penguin is one of the best products on the market that often goes overlooked. Take it from me, someone who has been vaping since 2011, do not judge the Joyetech ATOPACK Penguin until you try it yourself.
---
[mks_button size="large" title="GET THE JOYETECH ATOPACK PENGUIN SE HERE" style="rounded" url="https://www.vapordna.com/Joyetech-ATOPACK-Penguin-Special-Edition-p/jpngsp.htm?Click=34105″ target="_blank" bg_color="#000000″ txt_color="#FFFFFF" icon="" icon_type="" nofollow="1″]
---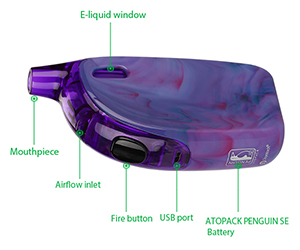 The ATOPACK Penguin SE by Joyetech comes at a time when vapor pod systems are gaining quite the attention. Not long ago vaping was all about big clouds, high wattage, and tons of battery life. However, there has been a shift that's taken over the market. Vapers now enjoy an ample amount of vapor (nothing too much or too little), wattage isn't as much of a concern as long as they're satisfied with the vapor and flavor output, and battery life is being sacrificed for the greater good of convenience. This doesn't necessarily mean you'll have to give up your SMOK T-Priv or similar high wattage mod, but it is a smart move to start using the Joyetech ATOPACK Penguin SE to your advantage. Going on runs, hikes, shopping, and other mobile tasks are great examples for using the ATOPACK Penguin SE. You'll consume less e-liquid, you'll have a device that isn't heavy and more pocket friendly, yet you'll continue to enjoy plenty of vapor, flavor, and it's all possible in this compact and convenient all-in-one pod system. Still not sold? Let me tell you more about it in this official Joyetech ATOPACK Penguin SE Preview.
The Joyetech ATOPACK Penguin SE features a stylish and unique body that now features new colorful finishes. From the outside you won't see fancy colorful lights and elaborate screens to achieve something so simple as a good vape. Instead, you'll see a new side-cut e-liquid viewing window, a fillable pod system that's housed into the device, a micro-USB port for charging, an over-sized firing button, and a five LED battery life indicator. Along with a few safety features, such as low battery protection, atomizer short protection, and temperature protection, the Joyetech ATOPACK Penguin SE also boasts a direct voltage output that's backed by a built-in 2000mAh rechargeable battery. Charging this battery through the micro-USB port is super quick with a 2.0A charge rate. The fillable pod system is very convenient as filling the pod and switching coils is very easy. The pod offers an 8.8ML e-liquid capacity, it is replaceable, and it uses the JVIC Coil System, which uses a ceramic housing, organic cotton wicking, and there are two coil options of 0.6 ohm for mouth-to-lung (MTL) users and 0.25 ohm for direct-lung (DL) users. I only use the 0.25 ohm coil as if offers great airflow, great wicking, and plenty of vapor output.