The latest mod release comes from one of the most legendary brands in the industry and features an incredible combination of appearance, power, and performance. The Espion Kit by Joyetech delivers a striking design, incorporating remarkable craftsmanship and the latest technology to bring you a blistering duo of the Espion Box Mod and the ProCore X Atomizer. The two compliment each other in both design and power, revealing a performance like no other.
Meet The Joyetech Espion Kit
The Joyetech Espion Kit marks the latest and greatest release from Joyetech, a brand that's become a household name for vapers nearly a decade now. While the Espion Kit includes the ProCore X Atomizer, it's vital to reveal specifications on the Espion Mod above all else due to it being the brains behind the whole operation.
GET THE JOYETECH ESPION KIT HERE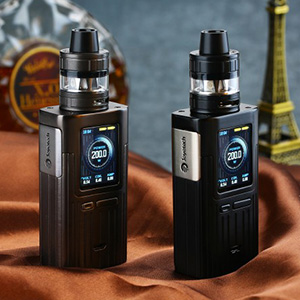 The Espion Mod by Joyetech delivers a striking appearance filled with solid lines, an ergonomic design, and overall appeal that gives off a timeless representation. When you combine a 1.45 inch TFT color display screen that offers both date, time and intelligent feedback on the Espion Box Mod's already great looks, you'll notice quickly that Joyetech's R&D department achieved nothing short of perfection. Calculated perfectly, the Espion Mod houses two 18650 batteries and comes equipped with a micro-USB port capable of 2A quick charging. Looks, long battery life and quick charging isn't all there is to the Espion Mod. In fact, this guy has the capability of delivering up to 200 watts of vaping power and features the industry's latest tech, such as temperature control. The temp feature allows for support of Ni200 Nickel, Titanium, and Stainless Steel 316. In addition, there is a TCR mode, memory modes, and RTC.
When it comes to its trusty companion, the Joyetech ProCore X Atomizer, you'll find that its small size doesn't quite reflect the performance that it offers. For instance, the ProCore X Atomizer is 25mm in diameter, but only 40mm in height. With a small size you can expect a small capacity, except that the ProCore X Atomizer comes with an extra glass tube that allows users to extend the capacity from 2ML to a 4.5ML e-liquid capacity. Towards the top of the atomizer you'll find a convenient top fill design, while the bottom offers two adjustable airflow slots for superior control. To deliver the best performance possible, the ProCore X Atomizer utilizes the ProC Series coil heads that are designed for both MTL and DL vapers. The ProC1 coil head is 0.4ohm and was designed for DL users, while the ProC1-S coil head is 0.25ohm and designed for MTL users. The ProC1 allows up to 80W and the ProC1 allows up to 55W.