If you're looking for help or instructions for your Vandy Vape Pulse BF Box Mod then you'll want to scroll through these pages of our complete guide to the Pulse BF Box Mod. The Pulse BF has become the talk of the vaping market as soon as Vandy Vape announced its release. Since then vapers have flocked to its remarkable appeal, design, and performance. Quickly making its way to the top, the Vandy Vape Pulse BF Mod received more than 200 votes from the vaping community as the Best Vape Mod in Guide To Vaping's Best of 2017.
There is simply no denying the Pulse BF Box Mod's ability to perform and the articulate design process that went into creating this miraculous device. However, even though it's a pretty straightforward device as far as how it functions, not everyone knows how to use it or run it correctly due to it being a squonk mod. For this reason, it's our pleasure to provide a clear and precise instruction manual filled with tips on how to use the Pulse BF Box Mod, how it functions, and everything about it including its features and specifications.
NOTE: There are 3 pages in this guide. Please visit each page to learn everything about the Vandy Vape Pulse BF Box Mod. In return for this helpful content, we would highly appreciate it if you can share this guide with your friends on social networks — it helps a lot!
---
About The Pulse BF Box Mod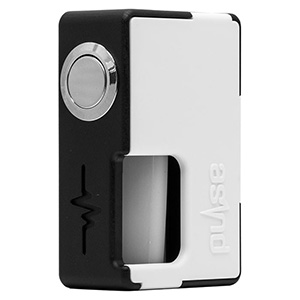 Constructed of nylon and ABS mixed material, the Pulse BF Box Mod features great quality and delivers a lightweight feel. It stands only 77mm tall, 51.5mm wide, and 27.5mm in depth to complete a very compact and pocket-friendly size and design. As many are aware, the Pulse BF Box Mod is a bottom-feeding mod or also known as a squonk mod. The top features a 510 adapter with a hole through the center, the left has an oversized fire button, while the front and back of the device feature removable and replaceable magnetic panels to hide both the battery and e-liquid compartments. The panels are available in several color options, including Blue, White, Purple, Black Grey, Red, and Cyan.
On the inside, you'll find that the Pulse BF Box Mod houses both an e-liquid compartment on the left and a battery compartment on the right. The e-liquid bottle is a soft silicone bottle that features an 8ML e-liquid capacity, stainless steel caps, and it's very easy to squeeze. The battery compartment allows for the use of a single 20700 battery or a 18650 battery with the provided 18650 battery adapter. Being a mechanical mod, the Pulse Mod uses no wiring and is directly connected. An ON/OFF switch is also equipped with this mod as a safety feature, allowing you to toggle the connection — enabling or breaking the circuit.