Exceeding all expectations, the new Joyetech Exceed D19 Kit is the latest convenient vaping platform that's both fantastic on performance and simplicity. Joyetech has always been known for its quality products, and now it's becoming even more known for its easy-to-use vaporizers. The Joyetech Exceed D19 Kit, in particular, uses a highly advanced but simply designed Exceed D19 Battery and combines it with convenient driven Exceed D19 Atomizer. The pairing of these two fascinating products yields an enjoyable vaping experience for new and experienced vapers.
The Joyetech Exceed D19 Kit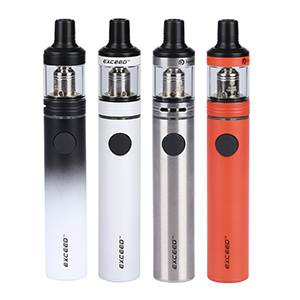 Taking a compact structure and combining it with a sleek outer appearance that's gifted with optional colors, gradients, and an overall marvelous look, it's easy to fall in love with the beauty of this simply crafted device. Those who use it will not only see but feel the incredible taste from the precisely machined body. While standing just 118mm in height with the Exceed Tank attached, 19mm in diameter, and features a built-in 1500mAh battery, you'll begin to realize just how compact and efficient the Exceed D19 Kit really is. It uses a single button for its operation and allows the user to choose between two different output modes, direct output, and constant voltage output. While the device is off, long-pressing the fire button for 5 sections will allow the user to switch between modes with ease. A battery display function also comes equipped, indicating with a ring LED light by flashing or staying lit to show the current battery level. Also included within the internal structure of the Exceed D19 housing is a dual circuit protection system, incorporating safety features such as over-charging, over-current, and over-discharging protection. I am convinced the Joyetech Exceed D19 Battery is small, yet powerful and fully equipped.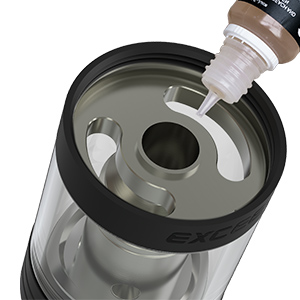 The matching tank known as the Joyetech Exceed D19 Atomizer sports an incredible design to match its companion. However, good looks won't be all that's offered. With the Exceed D19 Atomizer you'll be able to take advantage of a 2ML e-liquid capacity, a refined airflow control system that's adjustable for both mouth-to-lung and direct-lung users, and a convenient e-liquid filling system positioned at the top of the tank. It's as simple as unscrewing the top cap and injecting the e-liquid directly into the holes from both sides. Another notable feature is its detachable structure, making the tank easy to clean. The top cap, filling component, glass tube, atomizer head, airflow ring, and atomizer base can all be broken down into separate pieces to clean individually. Lastly, the Exceed D19 Atomizer uses EX Series coil heads. The new EX Series heads are specially designed to perfectly fit the Exceed Atomizer, delivering great flavor and vapor production. These heads come available in two different types, one for direct-lung or another for mouth-to-lung. The EX 0.5Ω coil head uses Nichrome wire, has a rating of 20-35W, andi made for direct-lung users. The EX 1.2Ω coil head also uses Nichrome wire, has a rating of 8-12W, andi made for mouth-to-lung users.
JOYETECH EXCEED D19 KIT: Get It At VapeSourcing.com Here