Hot on the heels of the Kanger PANGU tank system's release, the company has dropped yet another bombshell.  Why buy just a tank when you can get a whole new system?  This week the company announced the release of the KONE starter kit, pairing the PANGU with a brand new base unit.  Over the course of the next couple of minutes, we'll take a look at the details Kanger has provided and see if their latest all inclusive package is going to hit the mark.
Let's Look At The KONE Kit
In the age of variable wattage, temperature control, and fine tuning your vaping experience, at first glance the KONE kit may appear to fall short on many levels.
When we saw the PANGU, we realised that Kanger was going back to basics and a box that fires up to 60 watts with coils with resistances as low as 0.1Ω in what has been dubbed the KBox Smart.  Measuring in at 119mm by 43mm by 22mm this set-up is significant in size and power, but simplistic in its approach to the vaping world.  Where a lot of manufacturers are catering to the needs of advanced vaper's and high powered cloud chasing needs, new vapers can get confused by so many options.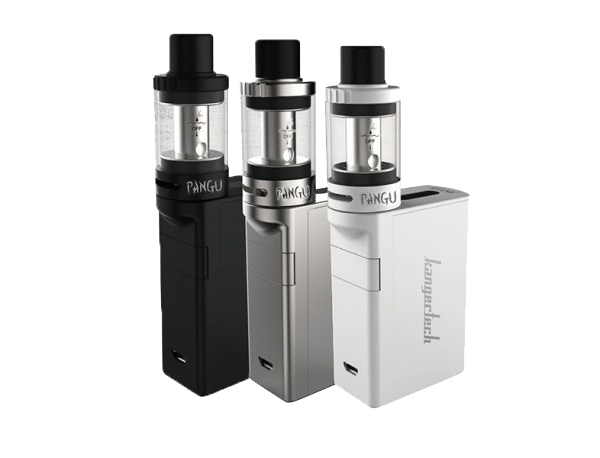 Designed to be rock solid, the 3000 mAh internal power supply should keep most vapers happy all day long, especially if its being used with the PANGU.  Charging isn't a problem with the built-in micro usb port and the price of this kit makes this a perfect backup device for anyone.  5 LEDS show you exactly how much power is left on the device so you should never be caught by surprise.  It isn't entirely without internal function however, Kanger have made sure that the system comes with on-board protection to keep the device and the user safe.
When you combine the KBox Smart with the PANGU, you literally have a system that can be picked up by anyone and used in a matter of seconds.  the top filling mechanics of this tank are like nothing we have ever seen, as is the PGOCC (coil) replacement system.  Holding 3.5ml of e-liquid is a major plus point for the PANGU as when used with either the 1.5Ω NiChrome coil or 0.5Ω Stainless Steel coil, that reservoir should last quite a while.
As an advanced vaper this kit may not immediately appeal to you, but as far as new comers to the market I would recommend this as a great starting point.  If you consider what most of us started out with, this is a massive step forward in simplistic vaping.