Feast your eyes upon this awesome deal where you can get the Limitless Arms Race Box Mod V2 for $56.99 plus free shipping using coupon code VTN69J. The original Arms Race Mod delivered a unique appearance and great power, but this second version delivers an even greater performance backed with an appeal that's hard to ignore.
GET THE LIMITLESS ARMS RACE BOX MOD HERE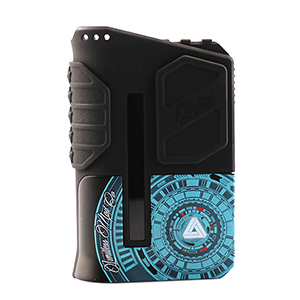 Featuring a remarkable design that's more than pleasing to look at, the Limitless Arms Race Box Mod is certainly a choice that you should consider. It offers a rubberized top chassis, a picatinny style top plate, while its bottom chassis is constructed of zinc alloy. Towards the top expect stainless steel 510 threading and a gold-plated spring-loaded 510 pin. Additionally, its 0.91 inch OLED display makes for great appeal and visual indication of the device's adjustments and settings. The Arms Race Mod also features a three button control face, utilizing a textured oversized button and square adjustment buttons. This incredible mod supports dual 18650 batteries and features access to its battery compartment via a sliding and locking chassis battery bay where the bottom sleeve separates. The Limitless Arms Race Box Mod by LMC uses a proprietary chipset capable of reaching up to 220 watts, along with temperature control, TCR adjustments, and an auto-sensing/auto adjusting Joule mode. Lastly, a micro-USB port is also equipped on this stellar device, delivering a 1A max charge rate and passthrough technology.