Today, I'll be reviewing Longhorn Vapor's Forbidden Fruit E-Liquid.  For those of you who aren't aware of this company, they're a manufacturer of some of the finest U.S. Premium made e-liquid and a retailer for various vaping products.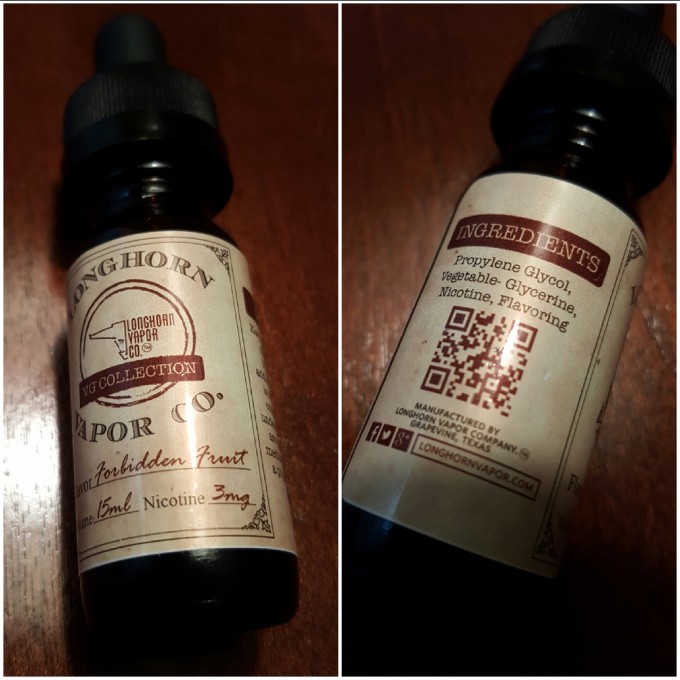 Quality
Quality for this e-liquid seems to be okay, but I'll know more once I try more flavors from this company.  There is no foul taste or anything out of the normal and I seem to be only getting the intended flavor.  Forbidden Fruit is good in my book in the quality category.
Flavor
The description for Forbidden Fruit on the Longhorn Vapor website is that this flavor is a "vine ripened blackberry with a grape undertone".  That's exactly what I'm getting.  However, to me it's more of an overall fruit mix where you can't define exactly which flavor you're tasting at once.  It's a nice smooth fruit flavor with a pretty unique taste despite the two common flavors used.
Vapor Production
Forbidden Fruit is mixed at 90% VG (Vegetable Glycerin), so you can expect to create some huge vapor production no matter what type of atomizer you pair it with.  With a decent build and some Forbidden Fruit, satisfactory vapor production is easily achievable.