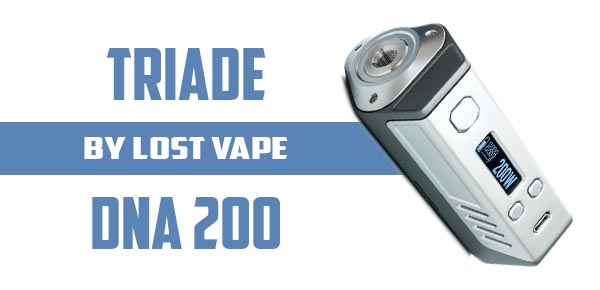 Lost Vape has quickly become one of the most recognized mod manufacturers within the vaping market.  Though they aren't considered a mod manufacturing giant like some, they do offer a short list of mods within a series that has given them a hefty amount of popularity.  

Lost Vape isn't known for pumping out a continuous stream of devices, they're more known for offering up sleek devices that promote quality, class, and plenty of power to back it.
You may be familiar with their past products, such as the E-Square, the Tan Plus, the Efusion DNA200 and the Efusion Mini DNA200, but their latest offering will blow your mind.  Imagine the Reuleaux DNA200 with a more sleeker appearance, better quality, as well as better materials — that's what you get with the Triade DNA200 Mod by Lost Vape.
The Lost Vape Triade DNA200 offers up a triangular structure, which holds three 18650 batteries.  Though the architecture may be similar to the Reuleaux, you must first understand the difference in how everything was implemented.  For starters, the modernized poly-angular frame comes equipped with genuine leather on its battery cover… this gives the Triade class and a sense of sophistication.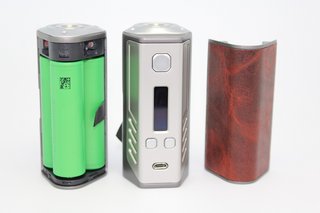 As you may know the shape of this device was designed in a way where it fits comfortably in the palm, plus making it easy to handle.
The front facing looks remarkable, as it holds precision milled stainless steel buttons, and there's also ventilation stripes to give the device some flair, as well as safety enhancements.  In addition, the front facing also offers up a strikingly bright OLED display and a micro-USB port that can be used for charging the device or upgrading its firmware.
Besides its incredible looks and superb quality, the Triade also comes packed with the Evol DNA200 chipset, which delivers an amazing 97% output efficiency rating, and allows you to scale from as low as 1 watt and up to 200 watts.  If you've been in the game for even a few months, there's a big chance you've heard of the highly popular DNA200 chip that's being used in most of today's advanced mods.
Triade DNA200 Features
Triple 18650 Battery Configuration
Variable Wattage: 1W – 200W
Temperature Control: 200F – 600F
Minimum Resistance (VW): 0.1Ω
Minimum Resistance (TC): 0.08Ω
Evolv DNA200 Chipset
Intuitive OLED Display
Poly-Angular Frame
Genuine Leather
Magnetized Battery Cover
Ventilation Stripes
Upgradeable w/ Escribe Software
510 Connection
Micro-USB Port (Charging/Upgrade)
The Triade is yet another DNA200 equipped device, so what makes it so special or worth your hard-earned money?  For starters, it offers a sleek overall appearance that is definitely worth being discussed.  But what sets this device above the rest is the premium materials used to make this an elegant and 'high-end' mod.