If you thought the original Orion by Lost Vape was an outstanding device, wait until you get your hands on the all-new Lost Vape Orion Plus DNA Kit! It's an improved upon and upgraded version of the original, boasting a slew of features, an incredible appearance, and now with the ability to use changeable coils. It's the Orion you've come to know and love, just better!
Lost Vape Orion Plus DNA Kit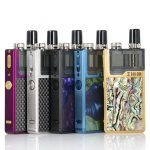 The device is constructed of a zinc alloy material that is incredibly durable and designed to withstand the course of time and your everyday beating. Aside from its hard-bodied casing, the Lost Vape Orion Plus Pod System also introduces Stabwood panels and carbon fiber designs that make this device something worthy to not only use but to view as well. Its appearance is certainly over the top for a pod system and will easily remind you of a high-end vaping device that you'll appreciate for some time to come.
Powering this 93mm by 37mm by 13.5mm compact pod system is an integrated 950mAh rechargeable battery, which is capable of delivering up to 22W. With the help of its advanced DNA Go Chipset by Evolv, you'll have the opportunity to reach up to 40W using a Boost through the Escribe software. In addition, there are several high-performance features that make the Lost Vape Orion Plus DNA Kit a must-have, such as the 5-level power outputs, temperature limiting technology, REPLAY functionality, and more. Equipped with a full protection suite, there is so much to this device that makes it a few steps above anything else on the market.
The Lost Vape Orion Plus Pod is something special as well. It features a proprietary pod cartridge installation, along with now boasting changeable coils with threaded coil installation. You have an option of the 0.25-ohm Orion Plus Mesh Coil or the 0.5-ohm Orion Plus Regular Coil. You can alter your experience and cater to Mouth-To-Lung (MTL) vaping or Direct-Lung (DL) vaping by adjusting the airflow control ring on the drip tip to further fine-tune the vape to your liking.
The Lost Vape Orion has become the high-end version of the pod system since its original release. With this improved upon version known as the Lost Vape Orion Plus DNA Kit, you can expect even better. Everything about this device has been geared towards providing performance and technology for those who prefer the more compact devices and salt nicotine e-liquid, while at the same time keeping the experience as hassle-free as possible so that even the average vaper can use without retaining a full handbook of knowledge. Lost Vape once again delivers one of the best vapor pod systems on the market and you're one of the first to know about it.