Lost Vape has certainly come a long way from the days of its past, and the new Lost Vape Orion Q-Pro Vape Pod is a testament to that. The device is just another part of the entire Lost Vape Orion series, which has gained extraordinary success. The Orion series has become such a hit that it has shaped a new category of vape pod systems where other manufacturers are trying to create similar devices. However, there can only be one Lost Vape Orion, and this is the Q-Pro.
Lost Vape Orion Q-Pro Vape Pod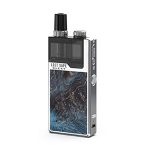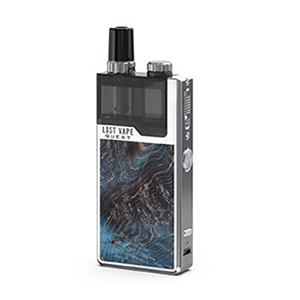 The Lost Vape Orion Q-Pro Vape Pod delivers an incredible design, taking on the shape of its past successors. It stands just 93mm by 37mm by 13.5mm, so it's very compact and very comfortable in the palm. It's such a small device that is can easily be concealed in a pocket or handbag with ease. Aside from its remarkable design that is available in several unique stabwood color options, the device looks beautiful and sophisticated overall.
Using an integrated 950mAh rechargeable battery, there Orion Q-Pro is capable of delivering some incredible power. You can range from 8W to 24W with a simple adjustment, and there are 5 output levels to choose from to fit your desired experience. You can easily adjust this power depending on the coil you're using or to alter the performance. Cycling through the different power levels is made super easy. Simply press the button 3 times and you will be able to choose each power level with each 3-press cycle.
The Orion Q-Pro Cartridge (Pod) has a 2ML e-liquid capacity and drip tip that features an adjustable airflow control ring. With a simple turn of the ring, you can adjust the airflow to suit your preference or balance it perfectly depending on the coil you're using. You can also change the airflow to receive a mouth-to-lung (MTL) or direct-lung (DL) experience. What is most extraordinary about this device is that it is compatible with a variety of coils, including the Q-Pro 1.0-ohm Coil, Q-Pro 0.5-ohm Coil, Orion Plus DNA 0.25-ohm Coil, Orion Plus DNA 0.5-ohm Coil, as well as the Orion Q Cartridges and Orion DNA Go Cartridges. Included in the kit is an Orion Q-Pro Cartridge with a pre-installed 1.0-ohm Coil, along with an extra Q-Pro 0.5-ohm regular Coil.
Conclusion
What's so great about the new Lost Vape Orion Q Pro Vape Pod is that you no longer need the help of the DNA chipset to enjoy multiple outputs. You can now use selectable wattage with 5 output levels and up to 24W. With the Orion Q-Pro being compatible with a handful of coil options, there are many experiences to gain from this compact, powerhouse of a device.