Federal Flavor Ban
All prefilled vape pods and cartridges that are not tobacco or menthol-flavored will be going the way of the dodo at the end of the month. Provided you do not live in a state with even harsher restrictions, an adult vaper is left with only two options: a refillable vaping device or a disposable vape. 
Advances in technology and form have made refillable vaping devices extremely simple to maintain and operate. But it turns out that most adult vapers are looking for something even easier to use. Disposable vapes fit the bill perfectly. They are auto draw devices, still available in the flavors adults prefer and are fueled by smooth nic salt ejuices. Satisfying and flavorful, it is easy to see why so many adult vapers and former smokers have transitioned to disposable vapes.  
Puff Bar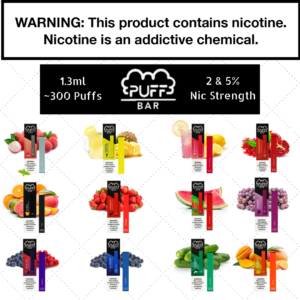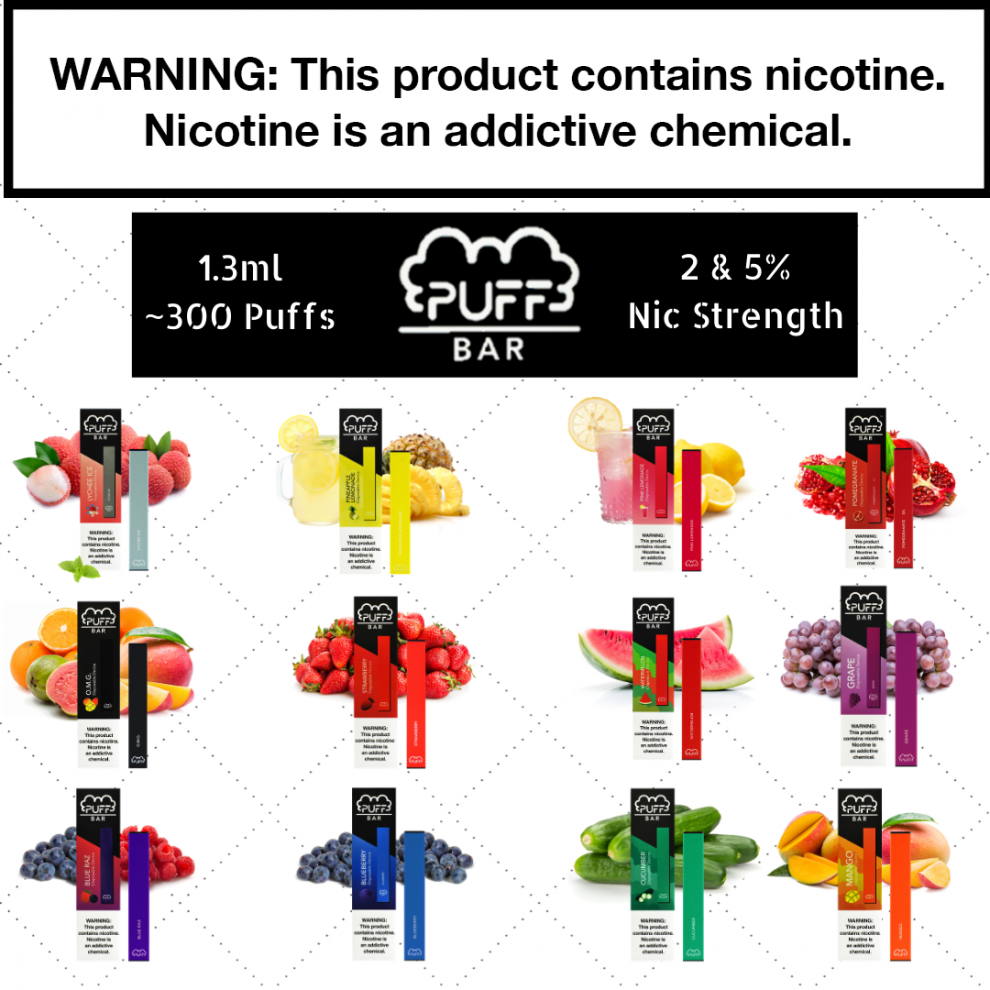 The easy to use Puff Bar Disposable Vape is one of the hottest vaping products on the market today. It is available in the bright, enjoyable flavors that adult vapers prefer. Despite being a one-time-use device, it is priced competitively with the leading prefilled vape pod kits. Each Puff Bar contains 1.3ml of nic salt ejuice, this is nearly twice as large as the 0.7ml Juul pod. 
The number of puffs you get out of Puff Bar will vary, it depends on how long of drags you take. The original Puff Bar had a nic strength of 5 percent, making it about equivalent to a pack of cigarettes. You should be able to get a couple of hundred puffs out of your Puff Bar disposable. 
There are a number of comparable stick style disposables on the market. What makes the Puff Bar stand out is an amazing selection of well-executed flavors. There are over a dozen to choose from. These flavors range from an exotic Lychee Ice to their commendably authentic Tobacco. There is not one weak link in the Puff Bar flavor lineup. 
Puff Bar Lush Ice easily competes with the heavy hitters in the crowded watermelon and menthol-flavored vape arena. Puff Bar adopted a more fruit centric approach than some of their esteemed Lush Ice rivals. If pure ice is your thing, Puff Bar Menthol and a classic Peach Ice give even more depth to their menthol lineup. 
A few of Puff Bar's other top flavors include a rich Grape Puff Bar, a candied Blu Razz, the sweet and airy Puff Bar Watermelon, and a complex Sour Apple. 
Low Nicotine Puff Bar Disposables
The usual knock on the new breed of disposable vapes is a lack of nicotine strength options. The most popular disposable vapes lean heavily on potent nic salts to bring life to their high resistance coils and smallish batteries. It is for this reason that stick style disposables like the Puff Bar typically boast a nic strength of between 5 and 6 percent. 
This is great for heavy smokers and adults making the switch to vaping. This potency allows for a discreet vaping experience and has made compact disposables a viable option. But for some vapers, a strength of 5 or 6 percent is a bit stiff. In the past, this lack of flexibility was a glaring drawback. Refillable vaping devices are available in myriad nic strengths and flavors.
Puff Bar has addressed this issue head-on and their popular disposable is now available in both 2 and 5 percent nic strengths. This is equivalent to the nic strength options available for either the Vuse Alto or Juul prefilled vape pod kits, which come in 2.4 and 5 percent nic strength.  
Lower Nic Disposable Vapes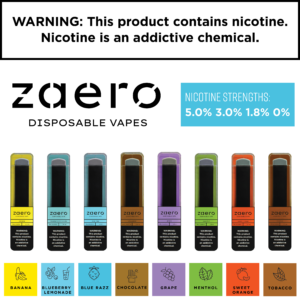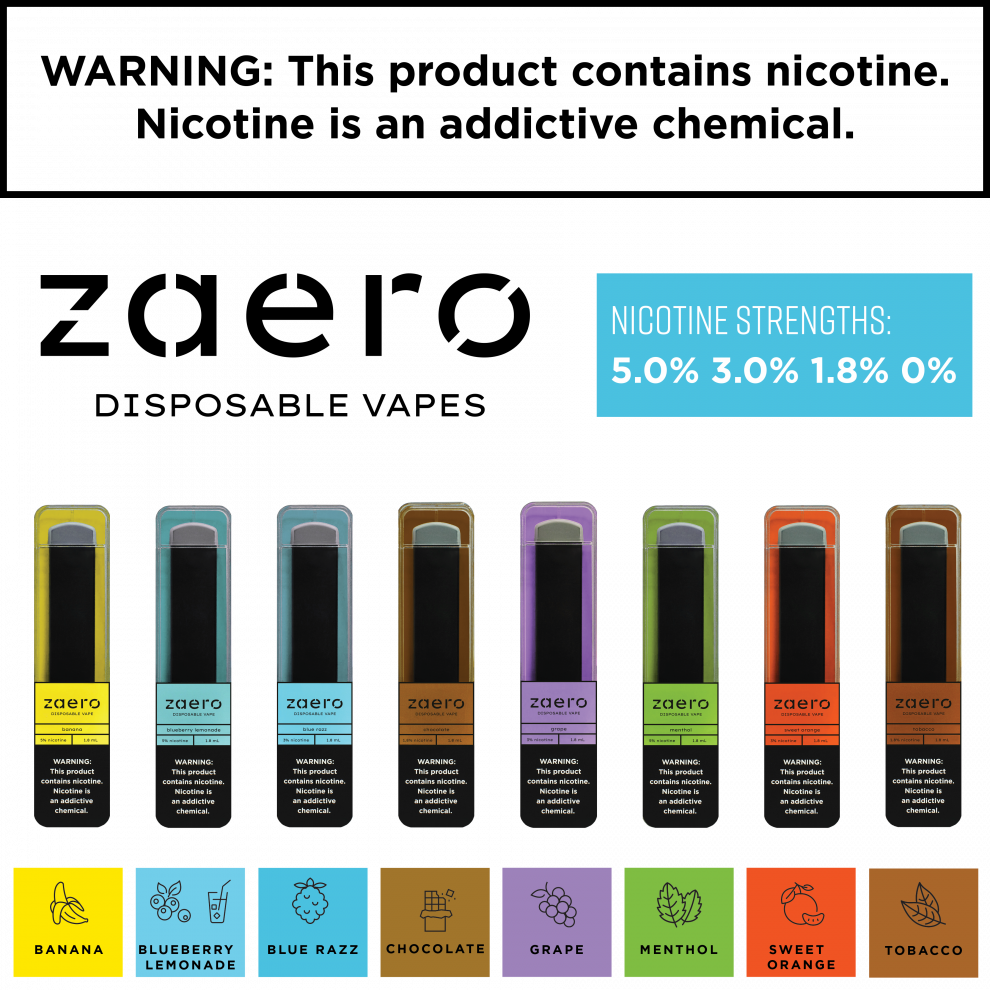 If you are looking for other lower nicotine disposables, there are several other choices but only one provides a zero-nicotine option. The Zaero Disposable Vape provides the most flexibility of any disposable. It is available in four nicotine strengths: 0, 1.8, 3.0 and 5 percent. Even bottled nic salts aren't available in this range of strengths.  This makes the Zaero Disposable the ideal choice for anyone looking to reduce their nicotine intake with the goal of achieving a vaping free lifestyle. 
Cali Bar Disposables match the Puff Bar in flexibility and are also offered in 2 and 5 percent nic strength. ZPods by Ziip Vapes come closer to matching the Zaero, with nic strength options of 1.8, 3.0 and 5 percent nicotine. Ziip ZPods are available in a wide range of popular and unique flavors.