Introducing the Modefined Sirius Mod, a highly appealing advanced box mod that has the capability of performing just as good as it looks. It's a serious mod that's poised with class to tackle the market head on, crafted with superior materials to avoid compromising durability, and designed to perfection with precise lines for enhanced appeal. Viewing this miraculous creation is certainly interesting but owning it will take your vaping experience to new heights. Meet the all new Sirius 200W Mod by Modefined.
---
CHECK OUT THE SIRIUS 200W MOD HERE
---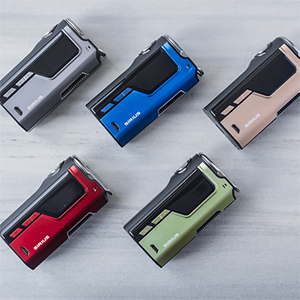 Classy, professional, elegant, and beautiful are all words that are best used to describe the Sirius 200W Mod. It unleashes an appearance that can be expressed in so many ways due to its remarkably designed chassis. Constructed of die cast zinc alloy and using the most superb materials such as a solid stainless steel 510 connector, a nickel-plated brass spring-loaded center pin, and anodized aluminum face-plates that are available in five visually appealing colors, it's certain that the Modefined Sirius Mod stands above others in its class. Pushing forward with its appeal, it has a 4-button configuration, making use of operating the device very easy. A TFT color screen mounts on the side of its body to deliver a unique appearance that features compelling feedback. Though it sports an affordable price, it isn't quite reflected in its features since you receive a high-end feel when looking at and using the Sirius Mod. Simply put, you're getting more than what you pay for.
The Modefined Sirius Mod carries quite the hefty list of features, all being equipped to deliver yet another high-end experience. For starters, it's capable of reaching up to 200 watts of vaping power and accepts nearly any atomizer or tank attached due to its solid connection and the incredibly low minimum resistance supported. In addition to plenty of power, the Sirius Mod also features the latest tech, such as temperature control that supports Ni200 Nickel, Stainless Steel, Titanium, as well as utilizing TCR and ranging in temperature from 200 to 600 degrees Fahrenheit. To power this marvelous masterpiece the Siruis Mod houses two high amperage 18650 batteries that's concealed with a bottom battery door and charged via a 1A micro-USB port.
It's a serious mod with serious looks, serious features, and serious performance. It's the all new Sirius 200W Mod by Modefined.
---
NOTE: Modefined is a new brand that rests under the umbrella of the popular Lost Vape company. The brand was designed in such a way to be more budget friendly, offering high-end products to those who seek more affordable pricing.