The Fuchai 213 created the path and now the new Sigelei Fuchai Squonk 213 Mod will lead the way for this highly innovative series of mods. Sigelei has taken a leading role in the market for years and its Fuchai series propelled the brand even further due to its sleek design and high performance output. Taking advantage of a concept that simply works, Sigelei integrated a squonk bottle at a time where squonk mods are growing in popularity. It's a new device definitely worth learning about, so here's a quick preview of the all new Sigelei Fuchai Squonk 213 Mod.
---
CHECK OUT THE FUCHAI SQUONK 213 MOD HERE
---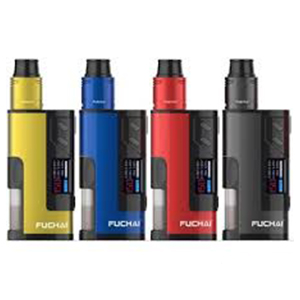 The Fuchai Squonk 213 Mod by Sigelei is the latest in its series to hit the market, maintaining the same concept with its design, yet allowing for a squonk bottle with a large 7ML e-liquid capacity. Due to a lack in space, Sigelei has made the Fuchai Squonk 213 Mod compatible with a single 18650, 20700 or 21700 battery that is bottom loaded. By using the 21700 battery users will have the capability of reaching up to 150 watts with a minimum resistance of 0.1Ω. Along with a reasonable amount of power, the Fuchai Squonk 213 also features a full temperature control suite, supporting Ni200 Nickel, Titanium and Stainless Steel with a minimum resistance of 0.05Ω. As a kit, the Fuchai Squonk 213 also includes a squonk ready RDA, which features a velocity style build deck, one of the most popular and easy to use decks on the market. There are other features included with this device that are very similar to past Sigelei products, such as the three-button setup, a vertically mounted 0.96″ RGB color TFT display screen, and a spring-loaded 510 connection.
This addition to the Fuchai series is still very much new with a lack in its full features being announced. However, we can assume that it will take on many of the same great features found being used in its processors, such as a preheat power function, TCR, TFR, a five coil memory bank, and the capability of reaching up to 570 degrees Fahrenheit using its TC feature. Furthermore, we can safely assume that the Fuchai Squonk 213 Mod is constructed of zinc alloy and aluminum alloy like the 213 Plus, as well as coming equipped with a 2.5A micro-USB port for both charging and future firmware upgrades.