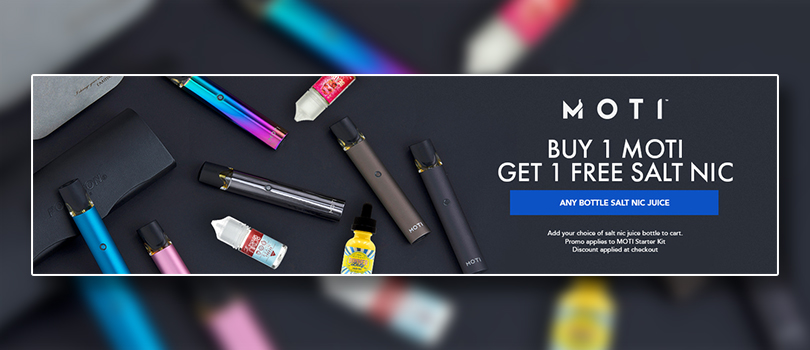 In the world of vaporizers, vape pod systems are the latest craze, and manufacturing brands are in a skurry to release the latest and greatest devices to steal your attention. With just a couple years that these compact devices have been on the market, now it's all about who can create the best design and performance in one single unit, and it looks like MOTI Vape has set itself up to take the lead with the all-new MOTI Vape Pod Starter Kit. It's a device that features a striking design, a cylindrical shape for greater portability, and worthy performance that will deliver an impact with each vape session. What's most pleasing about the MOTI Vape Pod device is that it's compatible with both salt nicotine e-liquid and CBD e-liquid, making it a very versatile option for the modern vaper.
About MOTI Vape
Headquartered in the world famous city of Las Vegas, MOTI Vape is changing the way we look at vaping with the MOTI Vape Pod. Ultimately, MOTI Vape has set out to create a device that boasts a fascinating design that is slim, powerful, and offers a feel of luxury. The brand, though just now making its big splash on the vapor products market, has extensive knowledge of the vaping industry and product device engineering industry that dates as far back as 2010. MOTI Vape was started by two young men, co-founders that were ex-smokers themselves. Now, they're on a mission to produce positive change with cigarette smokers in thought.
MOTI Vape Pod Starter Kit Preview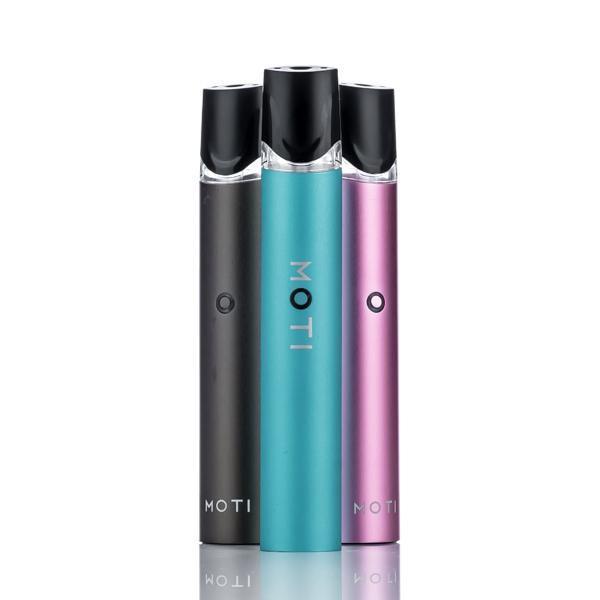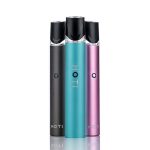 Boasting a stunning design that offers a feel of luxury, the MOTI Vape Pod Starter Kit is definitely a device that catches your attention, in a positive way. It isn't big nor flashy, yet its sleek design will surely make ex-smokers and experienced vapers feel more at ease that they're using and carrying a device that was designed to enhance their style and personality. Though it looks stunning with the MOTI name printed at the bottom of the device and an LED light indicator in the center, the device is extremely compact and very portable, allowing you to holster it with ease in your pocket or handbag.
Inside its housing, there is an integrated 500mAh rechargeable battery that will allow you to vape throughout the day without hassle. The device also contains a USB charging port, and it charges within just 50 minutes, giving upwards of 600 puffs per charge. The LED indicator light not only activates during use, but blinks when the battery is running low, it's steady when charging, and blinks three times and shuts off when the charging is complete. Like many pod systems on the market, the MOTIVape has an all-in-one design and features a plug-and-play connection with a magnetic gold-plated proprietary connection. For its performance, it has a voltage based output, where the current state of the battery determines the performance. There is no need to press any buttons or deal with any confusing gadgets with this device since it features draw-activated firing and buttonless design.
The MOTI Replacement Pod is a huge part of the device's design, as it features a 1.8ML e-liquid capacity and utilizes a 1.2 to 1.5-ohm honeycomb ceramic coil to generate the best performance possible combined with its voltage output. Filling the pod is an absolute breeze with the removable mouthpiece that is designed for a quick refill. It's as simple as removing the mouthpiece, removing the silicone tab, and filling the pod with your favorite e-liquid.
Conclusion
With so many vape pod choices on the market, the MOTI Vape manages to still stand out in a saturated market by delivering a comfortable, compact, sleek device that is also capable of putting on a good performance. If you're looking for a solid vape pod system, West Coast Vape Supply is currently running a promotion, which gives you a FREE bottle of salt nicotine e-liquid with your purchase of the MOTI Vape Pod Starter Kit. Visit West Coast Vape Supply and take advantage of the deal on a new MOTI Vape Pod Starter Kit and a FREE bottle of Salt Nic Juice!