Billowing with clouds of flavor, Naked 100 Salts has always been a name that is recognized for its delicious tastes. It utilizes expert mixologists to construct the perfect recipes, adding just the right amount of complex flavors to create the ultimate taste experience in each one of its juices. However, Naked 100 has also changed the name of its salt nicotine vape juice flavors for several reasons, and we're wanting to share those updated flavor names with you all.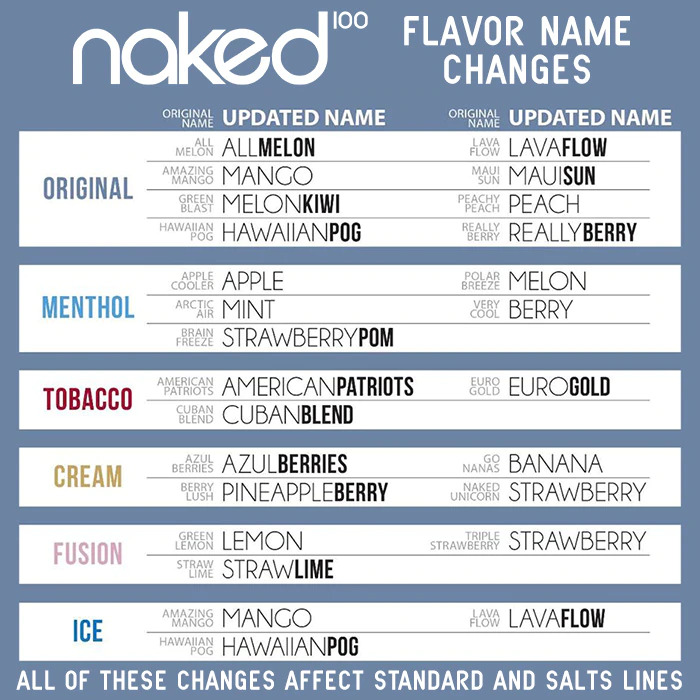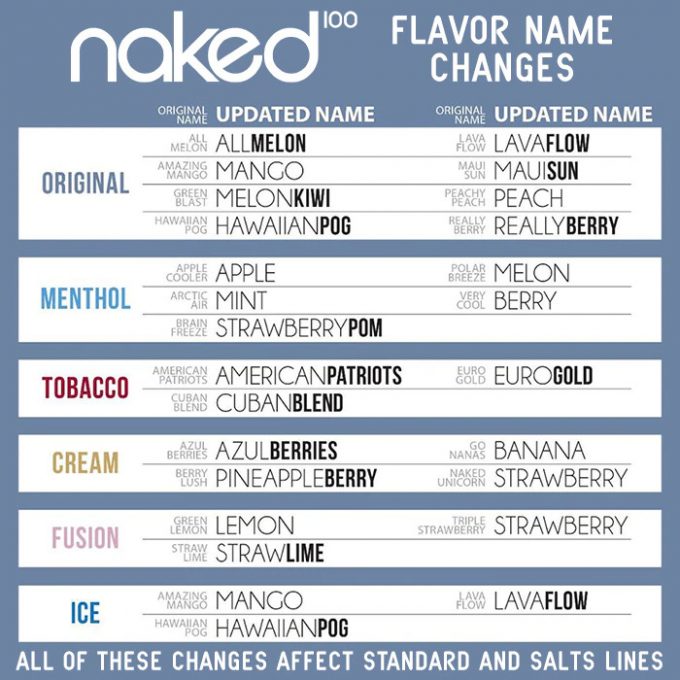 NKD 100 Salts Updated Flavor Names
While Naked 100 has definitely changed these names several times, the flavors always remain the same. From Apple to Strawberry POM, what we've enjoyed most over the years is the unique and very delicious tastes that NKD 100 has become known for throughout its existence. No one does it better than this brand, and that is the reason why, no matter the name, Naked 100 is the industry's top-selling vape juice brand.
Apple
Formally known as "Apple Cooler", the Naked 100 Salts Apple flavor is one that you are sure to recognize from its delicious taste. It provides a lingering taste of crisp apples, while a hint of grapes slowly makes its way into the mix to create an exciting first taste experience. The experience continues as you exhale, tasting juicy watermelons to bring the entire trio of flavors together as one. From inhale to exhale, there is nothing quite like Naked 100's Apple salt nicotine vape juice.
Peach
Formally known as "Peachy Peach", vapers all over cannot get enough of this exciting flavor. If you are a true fan of peach, you will love this uniquely crafted flavor that tastes of simplicity. Imagine fresh, soft peaches that coat your taste buds on the inhale and leave you with tart and sweet notes on the exhale. It is the ultimate craving killer that is sure to leave you pleased.
Formally known as "Brain Freeze", Strawberry POM is a menthol vaper's dream vape juice. It offers an exciting punch of menthol that is enough to knock your socks back if you aren't quite ready for it. From the moment you take your first draw, your taste buds are immediately put in their place. You'll taste a blend of strawberries, kiwis, and pomegranate, all mixed into one deliciously, mentholated vape.
Formally known as "Very Cool", this new Berry name doesn't quite give this flavor the attention it deserves. Sure, it is a wildly exotic mixture of berries, including blackberries, blueberries, and raspberries, but your tastes are then overhauled by a cool menthol that refreshes your tastes like never before. If you enjoy a 'berry' delicious vape experience, you have got to try Berry from Naked 100 Salts.
Formally known as "Polar Breeze", Melon is an outstanding vape juice flavor that many of you call one of your favorites. This flavor has seen several name changes over time, Frost Bite being one of them, but no matter the name, the flavor is what everyone is attracted to most. It boasts a smooth and creamy first impression, delivering the perfect concoction that consists of sweet honeydew melons, cantaloupes, tangy pineapple, and an icy cool menthol is the kick at the end that will deliver the thrilling taste you've come to know and love.
Formally known as "Green Blast", Melon Kiwi is a savory fruity blend everyone can enjoy. It delivers a succulent taste that is sure to have your taste buds overjoyed with excitement. Melon Kiwi is a complex flavor that is constructed of crisp green apples, tangy kiwis, and a juicy honeydew that all combine perfectly with one another. This combination of flavors deliver delicious taste and you are sure to revisit it time and time again.
Formally known as "Amazing Mango", this Mango flavor has been one that has been a top seller since the start of this amazing brand. Naked 100 Salts consists of many flavors and Mango has been one of the most popular. For those vapers that enjoy mango flavor that has been fused with mouthwatering peaches, you are going to go nuts over this perfectly executed blend of flavors.
Formally known as "Arctic Air", Mint is a flavor that isn't so overly complex, doesn't puzzle the taste buds, and ultimately delivers a classic mint flavor that menthol vapers will love. This Mint salt nicotine vape juice will coat your taste buds and will leave your mouth refreshed. From the inhale to exhale, you will taste every bit of this mint flavor, and you will think you simply couldn't get enough of it.