You heard it right, Avail Vapor, one of the industry's most iconic vapor retail stores that operate both online and off, as agreed to buy one of the largest eCommerce vapor company's in the world, Giant Vapes.
As it stands, Avail Vapor is one of the largest retail stores with more than 98 retail locations, spanning as many as 12 states. They also manufacture e-liquid in Richmond, Virginia, so you can say they are a big deal. However, Avail Vapor is about to expand its portfolio greatly as it is set to buy Giant Vapes, one of the largest, if not the largest eCommerce vapor company to exist.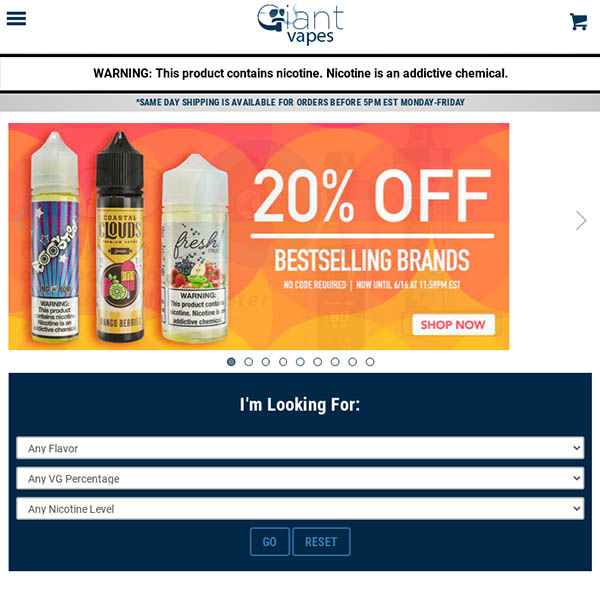 Giant Vapes started its humble beginnings in September of 2013 and now has an extensive eCommerce platform that would make the duo a behemoth. There aren't any reports made available yet of how much Avail will pay for the acquisition, however, Avail did share that the acquisition would "create a global, omnichannel organization with a clear mission to bring value to customers wherever they choose to shop."
By combining the strengths of Avail's broad brick-and-mortar footprint and Giant Vapes' extensive e-commerce platform, the combined company will deliver unique value to its customers both in the U.S. and abroad.
Once the acquisition is finalized, Avail Chairman and CEO James Xu will lead both companies while its vice president of retail and marketing, Just Murphy, will oversee the day-to-day operations of the two companies.
This all comes as a "giant" shock to many in the vaping community. Avail Vapor is the industry's legendary brand that has a portfolio of many brick-and-mortar locations, while Giant Vapes has always been the online eCommerce… well, giant, in the online space. Often times with these big acquisitions, there are some dirty details about who is buying, why, and for how much. In this one, there isn't anything dirty, just huge news that comes as a shocker.