Eleaf has just announced the release of the all new Eleaf iStick 100W TC Box Mod.  Just when you thought they've lost their touch, they're back at it again!
Not long ago Eleaf ruled the market with its highly affordable, compact mods that delivered a step up in wattage for beginner and intermediate users, while also including a built-in battery that made vaping even easier for users.  These devices were selling like quickly, sometimes before the seller even had them in stock.  However, they began slipping as they tried to make their way into the higher wattage devices.  It seems as if they lost their touch, such as the designs that truly made the iStick devices stand out.  With great news, this new iStick 100W TC has reverted back to that "iStick 50W" design we all loved due to its simplicity.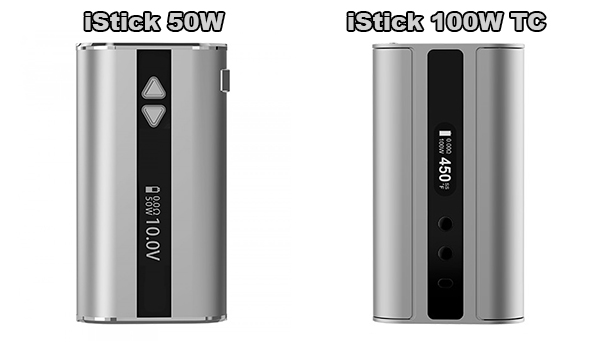 Not only has Eleaf brought back that beloved design, but they've also made some hefty improvements to the screen, buttons, and structure.    For example, the iStick 100W TC now features a brightly lit OLED screen, small and stealthy buttons, and even holds two 18650 batteries – one on each side of the device.  The dual 18650 batteries are ran in parallel.  Even though it houses two 18650 batteries, you have the ability to use only one 18650 battery, which will then make the maximum output power up to 75 watts.  When using dual 18650 batteries, you'll get the full 100 watts of vaping power.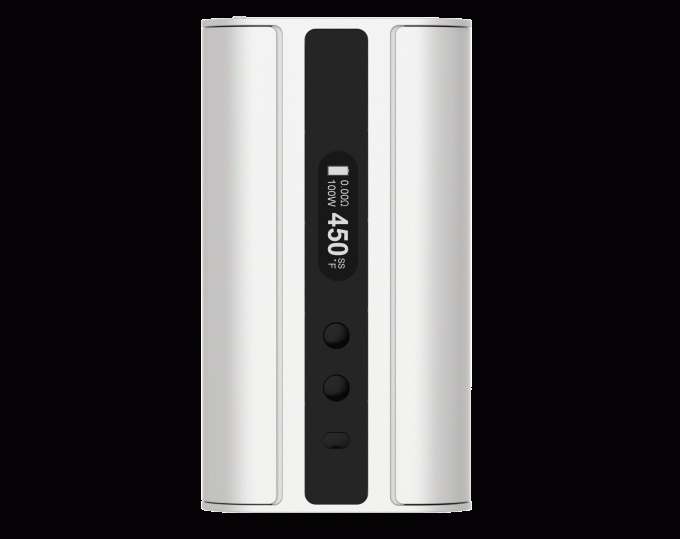 Those dual 18650 batteries are covered by a magnetic battery door that sits on each side, meaning there's two doors per device.  The cool thing is, one of those doors will also act as your firing button.  The hidden button is easy to press in and comfortable to use, and even sports a locking switch at the top of the device to lock the button where it doesn't accidentally fire without your knowledge.  In addition, you can obtain the iStick 100W TC in a choice of three colors: grey, black and white.  But, to add a bit of personalization to your device, the magnetic battery covers can be switched to different color devices to give it an awesome look!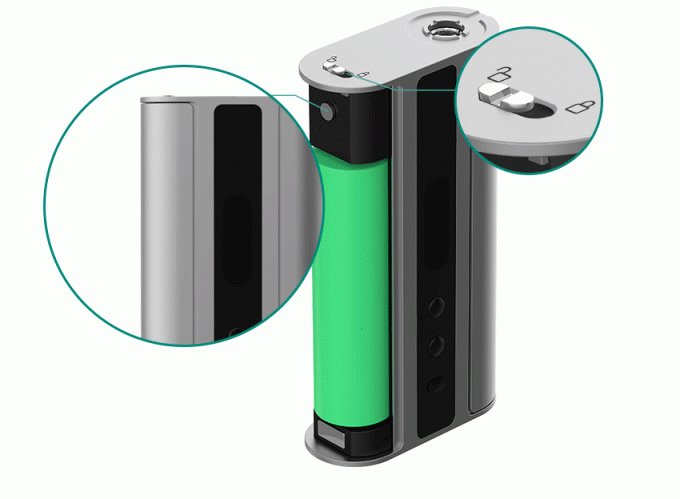 I know, you're already ready to get this device in your hands, but wait and let me finish the damn description!  This bad boy also comes with a temperature control feature, giving you the ability to use a new TC-SS and TCR Mode, which supports 316 stainless steel coils and the TCR mode can support various coils at different TCR values.  Moreover, you ultimately have optional Temperature Control (ability to use Ni, Ti, SS, TCR), Variable Wattage and Bypass Modes.  You can range in temperature from 200F to 600F, and fire down as low as 0.05Ω while in TC mode, and fire down to 0.1Ω in VW/Bypass mode.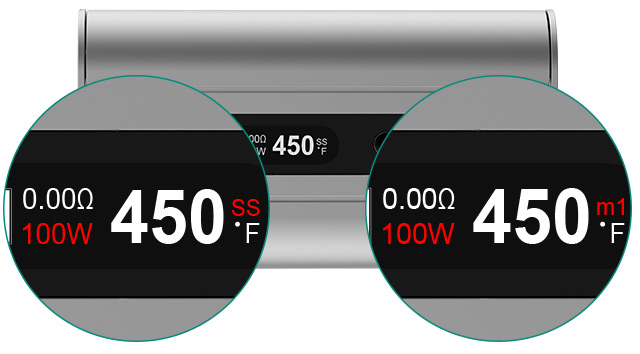 We're not done just yet… expect to see other features, such as its micro-USB charging port, a stainless steel spring-loaded 510 connector, and the ability to receive firmware upgrades by connecting the device to a computer via the micro-USB port.
Eleaf iStick 100W Features:
Stainless Steel Spring-Loaded 510 Threaded Connection
Dimensions: 52mm x 23mm x 94mm
Requires (2) 18650 High Drain Batteries (Sold Separately)
Magnetic Battery Doors
Unique "Hidden" Firing Button
New Stealth Adjustment Buttons
OLED Display Screen
Micro-USB Port
Firmware Upgradeable
Output Modes: Variable Wattage, Bypass and Temperature Control (Ni/Ti/SS/TCR) Modes
Output Wattage: 1W – 100W
Temperature Range: 200F – 600F / 100C – 315C
Resistance Range (VW): 0.1 – 3.5Ω
Resistance Range (TC): 0.05 – 1.5Ω
Color Availability: Grey, Black, White
Eleaf iStick 100W Includes:
1x iStick 100W TC Mod (Batteries Sold Separately)
1x Micro-USB Cable
1x User Manual
Authors Thoughts:  I honestly didn't believe anyone would come close to Kanger when it comes to appearance, but I must say, the iStick 100W TC looks fantastic, especially when you change-up its battery doors.  They're now offering consumers everything they want, yet again, but this time everything is up-to-date with the direction of the vaping market, offering high wattage, temperature control, holds two 18650 batteries, OLED screen, magnetic battery doors, unique firing button, stealthy adjustment buttons,  and even firmware upgradable!  Yep, Eleaf is definitely back with another device that stores won't be able to keep on the shelves.
Eleaf iStick 100W TC: Purchase Link Coming Soon…