Our nu-x® CBD Disposable Vape Pens Review takes a closer look into one of the industry's best vapor products that utilize cannabidiol and all of the powerful benefits that come along with it. We'll be writing an in-depth review to share information on the brand and product, along with our personal thoughts on the two. If you are looking for a disposable vape pen that harnesses the power of CBD, we urge you to explore all five of the CBD Disposable Vape Pens by nu-x® CBD.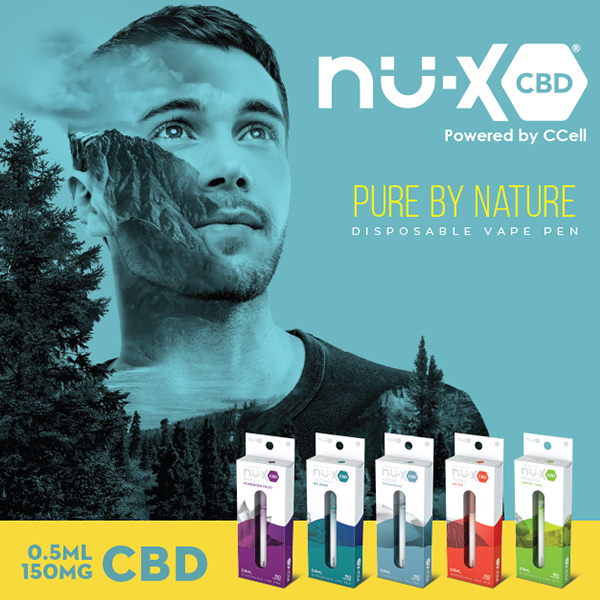 About nu-x® CBD
The nu-x® CBD brand is a fascinating manufacturing brand based out of Louisville, KY. The brand was founded in 2019 and quickly became one of the most popular manufacturing brands for premium CBD products. With little time to spare in a market that has caught fire, nu-x® CBD leaped onto the market with an outstanding display of products, ranging from CBD Disposable Pens to Tinctures to Gummies, and everything in between. Due to its exceptional product quality and remarkable selection of beneficial CBD-infused products, the Kentucky-native brand is making great strides to become an industry leader in all things CBD, CBG, CBN, and Nutraceuticals.
We feel that the nu-x® CBD brand delivers an exceptionally professional appearance, spanning from its online storefront to its products, you can't ask for a crisper design. It has an outstanding collection of CBD products, and even focuses on the detail parts of products that consumers look for, yet struggle to find, such as CBG and CBN tinctures and Sativa disposable vape pens. We even enjoy the fact that there are many other optional products besides CBD, like the Caffeine Inhaler with B12. Overall, it's an outstanding product selection backed by an incredible brand.
nu-x® CBD Disposable Vape Pens Review
The nu-x® CBD Disposable Vape Pens feature an incredible design, delivering a compact size, portability at its finest, and superior comfort. The vape pens have a disposable design, meaning you will never have to worry about recharging the device or refilling it. The devices are slim, easy to stow away and offer outstanding convenience and comfort since you only have to worry about picking the device up, inhaling, and tossing when you're finishing using the device.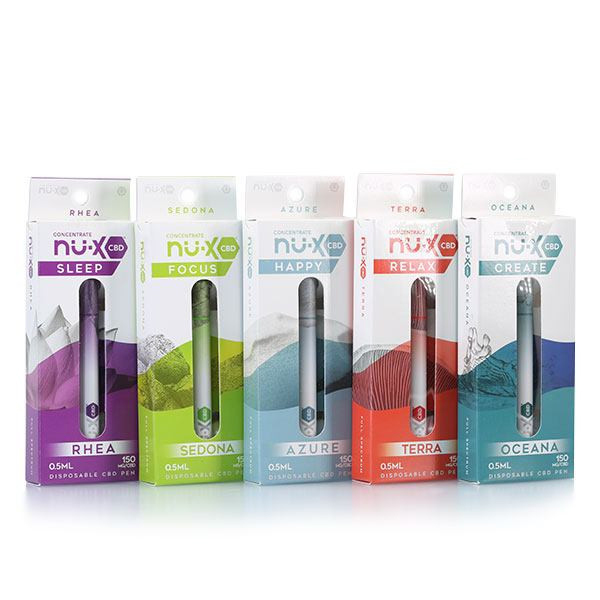 Filled with 0.5ML of concentrate, each nu-x® CBD Disposable Vape Pen offers delicious flavors that are possible due to the natural terpene profile that is infused into each device. The flavor consists of Azure (Strawberry Banana), Sativa (Terra), Tropical Cherry Fruit (Rhea), Lemon Cake (Sedona), and OG Kush (Oceana). It utilizes full-spectrum CBD that is derived from Hemp, which is sourced and grown in the U.S. Each disposable vape pen boasts 150MG of CBD and has been third-party tested showing that THC is not detected. To provide a disposable vape pen that lasts, each one is CCELL powered and averages roughly 200 puffs per unit, allowing you to receive as much as 0.75MG per puff on average.
Conclusion
nu-x® CBD is an extraordinary brand but its products are even better. They deliver a consistent quality experience throughout use, which is a noticeable inconvenience, taste, performance, and from the beneficial effects of its CBD. If you are looking for a range of CBD products or just want a nice disposable vape with CBD, we urge you to check out the nu-x® CBD Disposable Vape Pens.