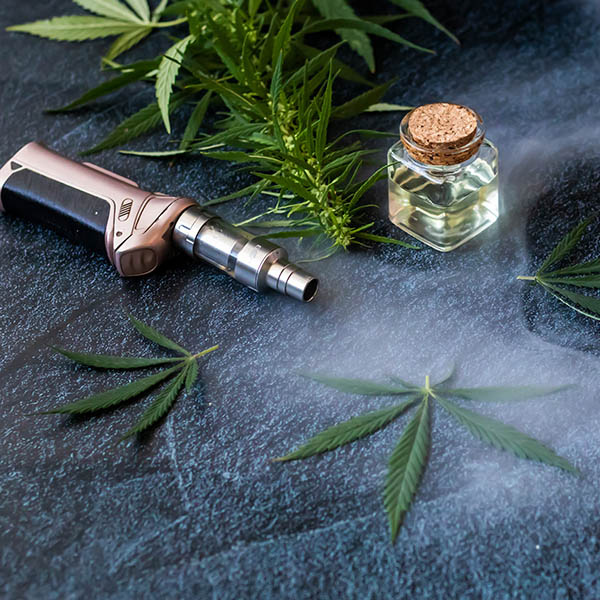 Vaping CBD and CBD oil is a trend that is spreading quickly throughout the world, and the legalization of marijuana in various states has opened the eyes to a large majority of the public to accept the green 'sticky icky'. However, there are still a handful of states where it is fully illegal, quite a few of them are medical or decriminalized, or both. And, just 12 states that it is legalized. Due to restrictions still looming people are still wanting to take advantage of the medicinal properties of CBD, so the hemp product market has been booming with success.
One of the most fascinating parts about CBD is one specific method of delivery, vaping. Vaping CBD and CBD oil have grown tremendously ever since the legalization of industrial hemp. While there are other methods of CBD delivery, vaping has become one of the most popular due to its potent effects and rapid absorption into the bloodstream. In our Guide To Vaping CBD and CBD Oil, we are wanting to provide information so you know all there is to know about it, how it works, and how to do it.
---
What Is CBD?
We can share a lot of information about it but the first thing you need to learn is what CBD is. CBD, short for Cannabidiol, is a compound that naturally occurs in the hemp plant. It is just one of the more than 60 different cannabinoids in the plant, with cannabidiol being one of the most beneficial. Opposite of marijuana, hemp has a high amount of CBD and a low amount of THC, making it the perfect solution for those seeking medicinal benefits of CBD without the high. Though CBD is also present in marijuana, the plants do not yield a large amount. THC, the psychoactive compound marijuana is known for is also present in hemp, however, it has a very low percentage, 0.3% or less to be exact.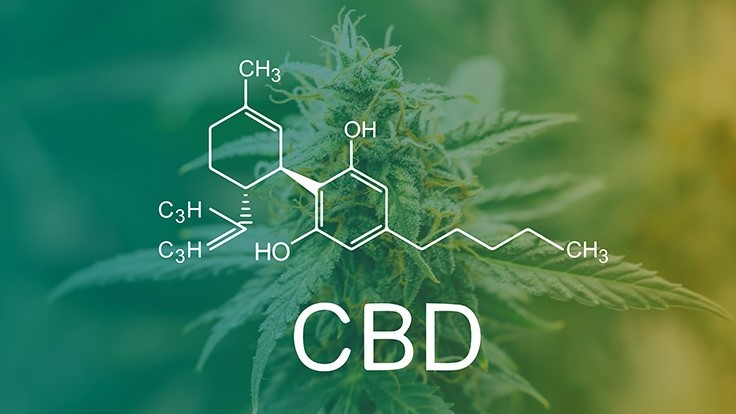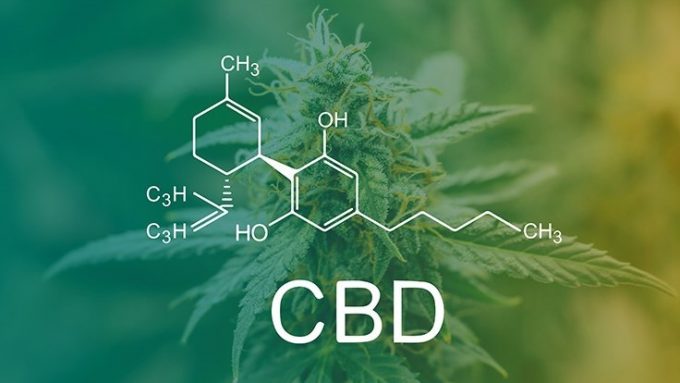 Don't let that scare you away though. There are many CBD products that do not contain THC. In fact, there are three types of CBD products to choose from:
Full Spectrum
When CBD is extracted, it includes all of the additional cannabinoid compounds that naturally occur in the hemp plant. Nothing is left behind, including THC (which has to be 0.3% or less).
Broad Spectrum
During the extraction process, all of the cannabinoids are being extracted as well, except THC. A Broad-Spectrum CBD allows you to enjoy all of the cannabinoids and terpenes without THC being present.
Isolate
CBD Isolate is where they are extracting only CBD, leaving all of the additional cannabinoids behind. The processors 'isolate' the CBD from all of the compounds. Most CBD vape juice that is available on the market is typically made using isolate.
---
Why Is Vaping CBD and CBD Oil So Popular?
Vaping CBD and CBD Oil have become extremely popular as of late. Just like vaping THC and THC oil, the effects are significantly enhanced, which increases the medicinal benefits it has to offer. Another big reason why so many people are drawn to CBD is that it does not get you high. While other delivery methods work well, vaping CBD offers the best absorption rate. This means minutes or even seconds have you begin vaping, you can start feeling its effects and enjoying the benefits of the cannabinoid.
---
What Is A CBD Vaping Device?
A CBD vaping device is any vaporizer that will allow you to vape CBD flower, concentrate or vape juice. To vape CBD hemp flower, you will need an herbal vaporizer. To vape concentrate, you will need something like a dab rig or any concentrate vaporizer that is specific to the material you are using. When you use CBD vape juice, you have almost endless options. Any vaping mod, pod system, or vape pen that uses nicotine vape juice will allow you to also use CBD vape juice.
---
Devices For Vaping CBD and CBD Oil
There are several devices to choose from for vaping CBD. It is wise to learn about these devices and figure out which one is best for the material you are using.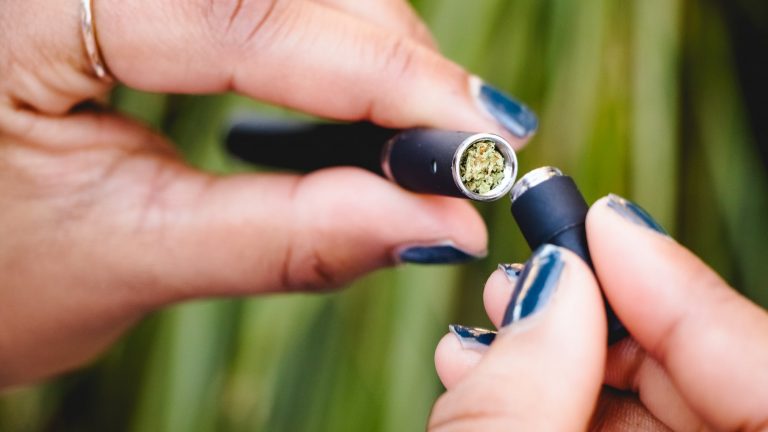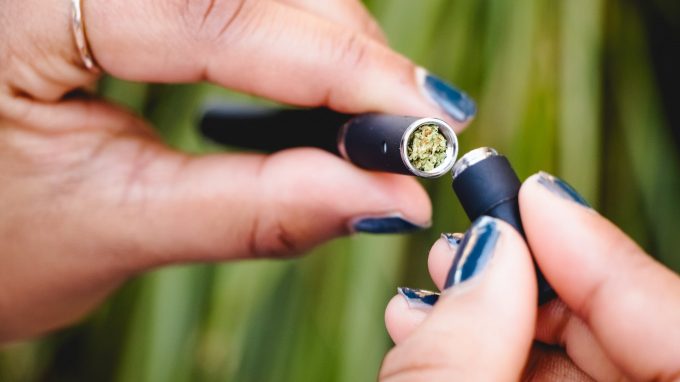 Herbal Vaporizers
Herbal vaping is definitely popular but comes in the form of raw flower. With an herbal vaporizer, you want to use a device that is designed to house flower material. This type of vaporizer can be stationary or portable, as long as it has a heating chamber for the flower. An herbal vaporizer consists of a body that houses a battery and heating element, which heats the material in a heating chamber. Most herbal vaporizers offer temperature control so that you can adjust the temperature, and others do not. The device has been programmed to never reach the point of combustion.
Dab Rigs
A dab rig is a glass water pipe that functions similarly to a bong. The nail, which is a chamber often made of ceramic, titanium, or quartz can be heated to vaporize the concentrate. To trap the vapor, a dome is placed on top of the nail. However, not all dab rigs require you to use a dome. Some dab rigs use what is called an e-nail.
Vape Mods
A mod is a device that offers advanced features, beyond that of a traditional e-cigarette. You will find that they have temperature adjustments, wattage adjustments, larger battery sizes, and more. These types of devices can be used to vaporizer CBD vape juice, and with the right coil or atomizer setup, you can also vaporize some concentrates. Any mod that is used to vaporize traditional nicotine e-liquid will also allow you to vaporize CBD vape juice. The device consists of a shell, battery, and tank.
Vape Pods
A vape pod is a device that utilizes a pod to house a coil and CBD vape juice. It consists of the shell which makes up the body of the device, an internal or externally charged rechargeable battery, and the pod. Vape pods are often small in size, more portable, and allow you to house more CBD vape juice than vape pens and disposables. These devices also allow you to use regular vape juice, salt nicotine vape juice, and CBD vape juice.
Vape Pens
Vape pens have a cylindrical shape, they are very compact, which makes them very portable. Vape pens can vaporize CBD vape juice with the right coil but are often designed to allow you to vape CBD oil concentrates that have a thicker consistency. Like other vaping devices, vape pens utilize a built-in rechargeable battery, a draw-activated mechanism, or push button to activate the battery, a coil, and a tank or cartridge.
Wax Pens
Although wax pens come in different sizes, they are commonly the smallest type of portable vaporizers on the market. A wax pen consists of a rechargeable battery, a coil or ceramic rod, a wax chamber, and you will use a dab tool to help with putting the concentrate on the coil.
Disposable Vapes
A disposable CBD vape pen is one of the easiest to use devices available. It is an all-in-one unit that doesn't require any refilling or recharging. It utilizes a draw-activated mechanism that will automatically activate the battery once you take a draw. When you take a draw, the battery activates, heating a coil and vaporizing the CBD vape juice. The device comes pre-filled, pre-charged, and ready to use from the moment you receive it. However, once the battery dies or it runs out of vape juice, it is time to toss it and buy another.
---
The Different Types of Vapeable CBD Products
Vaping CBD the same way as one would vaporize THC hasn't always been a thing. In fact, until recently there haven't been any studies on vaporizing CBD. That is until a group of researchers at the University of Wollongong in Australia conducted the first-ever study, investigating the process of vaporizing CBD. The study proves vaping CBD is more beneficial than ingesting CBD orally, as it poses several drawbacks, including "inconsistent absorption and a delayed effect."
With this information, you can see why we are more than thrilled to share vapeable CBD products. The benefits of vaping CBD products are through the roof.
CBD Hemp Flower
CBD Hemp Flower is a raw industrial hemp flower that is rich in CBD. Just like marijuana, it contains naturally occurring cannabinoids and terpenes, and that includes THC. However, it has a very low amount of THC, below 0.3% to be exact, which is not enough to get you high. There are several different strains of CBD hemp flower, all containing different percentages of cannabinoids and terpenes.
CBD Oil Concentrate
Like many other concentrates, a CBD oil concentrate is simply a more concentrated substance than the raw flower. Cannabinoids and terpenes are extracted from the hemp plant. When vaped, it offers greater effects and potency. It is a liquid oil substance that can be made to be used orally, topically, or vaporized.
CBD Vape Juice
CBD vape juice is nearly identical to regular vape juice, except that instead of using nicotine, it uses CBD. It still contains propylene glycol, vegetable glycerin, and flavoring. It is a thinner, liquid substance that offers great flavor and vapor production like traditional e-liquids.
CBD Wax
Similar to CBD oil concentrate, CBD Wax is yet another form of concentrate, except that it isn't a liquid, it instead looks like wax and has the same consistency due to the CBD being purified and extracted from the hemp plant. CBD Wax has become very popular because of its increased concentration, allowing the user to receive a high dose of CBD than other forms available.