Pioneer4You has become a staple within the vaping market because of its wide selection of vaping devices and its non-stop release of new and innovative products.  For those who enjoy the smaller devices, Pioneer4You released the iPV Mini, which was another addition into its growing iPV Series.  The Mini was a success, but vapers demanded more power, which was added in its updated upon second version.  Today, we're going to review that device, the iPV Mini V2 Mod.
Appearance
The Pioneer4You iPV Mini V2 Mod looks exactly like its 30w little brother, so not much has changed when it comes to appearance, and I honestly didn't feel that it needed it.  The iPV Mini 2 looks great, it's rather simple and not much that you can complain about.  It has rounded edges, one side is curved for a comfortable feel and it's "mini" name doesn't strand from it being short, but more-so from it not being very wide.  The iPV Mini V2 stands 85mm tall and only 52.5mm wide, but has a very small depth of only 15mm.  The iPV Mini V2 I received from Longhorn Vapor happens to be the Black "Stealth" version, which is the iPV Mini V2 completely blacked out, including the device itself, the lens over the screen and even the buttons that control the device.  It looks beautiful and very sharp.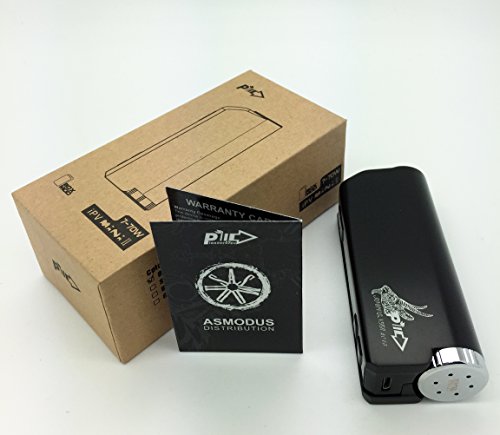 Features
The iPV Mini V2 is powered by a Yihi SX330 V2C Chip, it's able to deliver a whopping 70 watts of power and can fire down as low as 0.2Ω.  The Mini V2 takes 1 replaceable 18650 battery, it has pass-through capabilities and has a micro-USB charging port.  Just like with out Yihi Chips, the iPV Mini V2 also comes with the 5 memory slots which allows you to store set wattage's.  Other features includes a 510 spring-loaded center pin, an auto ohm resistance meter, an OLED screen that displays battery life left, volts, ohms and current wattage.
This device has minimal features, nothing to in-depth, but there honestly isn't much more that is needed.  Its main features are for basic operation, to let you fire down low in resistance and to provide a high wattage.  I really don't think you could require much more from such a cost-friendly device.
Performance
With the ability to go as low as 0.2Ω and the ability to raise the wattage all the way up to 70, receiving great performance from the iPV Mini V2 isn't an issue at all.  What's great about this device is that the power is there if needed, but a decent 0.5Ω coil and around 40 watts will easily have you boiling out big vapor.  I've been nothing short of pleased with this device and its performance.  If I had to throw out a complaint about anything, it would definitely be that when you begin to get low on the battery life, a "CHECK BAT" warning will pop up, and I believe that is a step down feature to provide additional safety.  Not one of my favorite features on this device and it sometimes hinders the performance, but it can easily be overlooked.