Let me ask you this; what if I told you that you could remove all the hassle of having to build coils yourself, your coils would last more than a month –maybe even more than two months, you would only need to re-wick the coils when you felt the need, and you could experience the superiority of using of using a rebuildable dripping atomizer (RDA); would you be interested in this product?
The product I'm speaking of here are Pre-Built coils for your rebuildable atomizer (RBA).  Truth be told I'm not someone who enjoys dripping, but I enjoy the perks to dripping, such as having the ability to quickly change out flavors, the great vapor production, and of course the incredible flavor production.  What annoys me about using an RDA is that I'm having to re-drip every few pulls, as easy as it is I hate building coils, and I don't like to take the time to learn how to build the coils that deliver the best performance.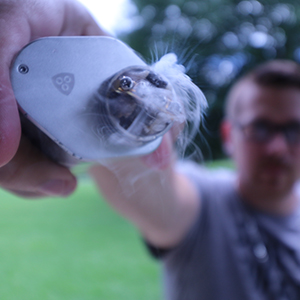 See the truth here is, I'm a guy that has run a blog about vaping for nearly 6 years, so what does it look like when I'm having to purchase pre-built coils for my dripper?  That's how I used to think, but things have changed since then.  What's changed is that I don't care how it makes me look, and instead I'm only worried about what I get out of my experience with vaping.  Let's be honest, I didn't start vaping for any of you, I started vaping for myself… and if I want to keep this train moving, I have to do what works best for me.
Now, you may be thinking the same thing as I was — having to build coils can become a pain, how you may look in front of your friends that are all as advanced as you are in vaping, but who cares, right?  Seriously, I attended The Vape Exhibit a few weeks back and there were loads of people paying a guy to build their coils, install them, and wick them, and there wasn't any shame in their game.  What turned me onto this was that those people who were getting these high performance coils installed in their RDA said that they were lasting them months on end, the flavor was amazing, and they included that with these coils you don't have to drip near as much.  With that said, I had the guy install the coils, I've been dripping ever since, and everything was accurate — great flavor, coils perform spectacular, and I'm nearly at three weeks with no issues.
With all of this said, let me give you a solution and make using your rebuildable atomizer much easier, just as it has been for myself.  Here's a list of pre-built coils you can purchase, and if you're wanting to speed up your wicking times, I have a solution for that as well!
---
GeekVape Alien Clapton Coil Pack
The Alien Clapton Coil uses Kanthal A1 26 gauge, 16 gauge, and 30 gauge would in a clapton configuration and measures 0.5Ω.
GET IT HERE: Alien Clapton Coil Pack
---
GeekVape Staple Staggered Fuzed Clapton Coil Pack
The Staple Staggered Fuzed Clapton Coil uses five different gauges of Kanthal A1 wire to present an extra large surface area with an incredibly unique heating pattern measuring approximately 0.2Ω.
GET IT HERE: Staple Staggered Fuzed Clapton Coil Pack
---
Comp Wire by Wotofo – Multiple Styles
Hive Wire – Double Pair Twisted
Clapton Wire
Quad Twisted
Tiger Wire – Ribbon and Round Twisted
Clapton Parallel
Caterpillar Clapton
Helix Clapton
The Comp Wire by Wotofo comes in many different styles.  These coils are pre-built and come in a resealable tube that holds 5 pre-built coils.  With these coils you have the option of 3 very distinct styles, from Clapton, Hive Wire, and Quad Twisted in 7 total variations.
GET IT HERE: Comp Wire by Wotofo
---
QuickWick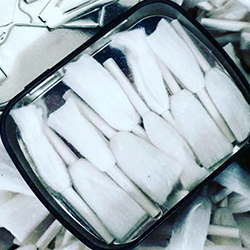 This wicking solution is something I recently found while browsing through a vape magazine.  If you're as lazy of a vaper as me, this should do the trick for you.  By using QuickWick, you won't have to do any measuring, no more cutting, trimming, or pinching.  You simply take one of the quick wicks, slide it through your coil easily, pull off the plastic end piece, and you're done!  For those of you that haven't heard about this, the end of the wick is in a plastic tube, a lot like the plastic on the end of a shoe string.  The plastic is there only to make it easier to stick your wick through your coil.
QuickWick includes 10 individual QuickWicks within the high quality embossed container, approximately the size of a mini-Altoid tin. QuickWick is currently available in a 3mm outer diameter and you can get refill packs in other sizes here when they become available.
GET IT HERE: QuickWick