With disposable vaporizers making a comeback in 2020, everyone is gearing up to stock the industry's latest craze that has been resurrected from the dead. Disposable vapes were in when the industry was first born, and slowly began fazing out as new devices with greater technology were introduced. If you've ever heard the term "history repeats itself", you'll believe it even more now with the return of these simplistic devices.
At the moment, there is a current race to see who will come out on top of the disposables category, and so far it is the Puff Bar Disposable. It's a disposable device that comes packed with many puff bar flavors to choose from that will make the experience that much more worth it. Not only is the Puff Bar very appealing with its design, but it is also built with outstanding quality to ensure that it can withstand the conditions you put it through, throughout your time of using it. No longer are you required to pay big prices for yet another device to fail you in the long run. To make it even better, the device comes with a 250mAh battery, along with a 1.3ML e-liquid capacity to last you throughout the day. Each Puff Bar Disposable contains 5% (50mg) salt nicotine for a good mouth-to-lung draw that is perfectly smooth. Each pod that is built into the device is capable of 200+ puffs, making those lengthy vape sessions no problem for the Puff Bar.
Throughout the entire line of Puff Bar flavors, you receive a delicious and soothing taste that is smooth and enjoyable. Every draw is satisfying, so expect nothing different. We urge you to keep a heads up though because of this brand's popularity. There have been many fake puff bars, so be sure to purchase from a valid source. While many people are searching puff bar near me, obtaining the authentic Puff Bar brand is best when you visit West Coast Vape Supply, as they carry all of the Puff Bar flavors and have a heavy stock for when you need more.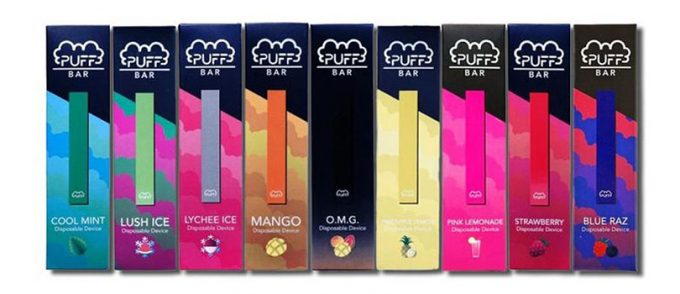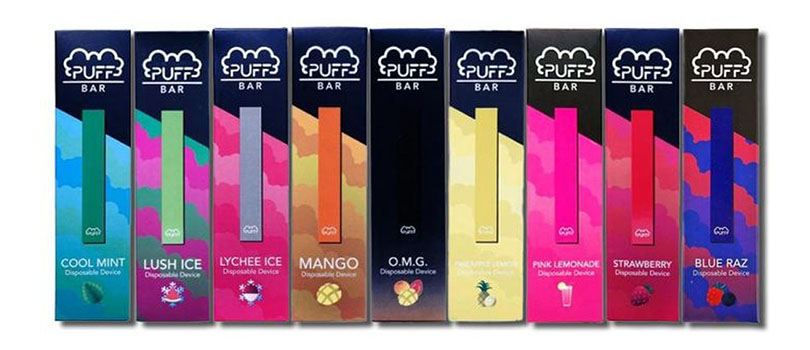 Puff Bar Flavor Collection: Strawberry, Pink Lemonade, Cool Mint, Lush Ice, OMG, Lychee Ice, Sour Apple, Pomegranate, Grape, Cucumber, Peach Ice, Pineapple Lemonade, Cafe Latte, Watermelon, Blueberry, Blue Razz, Mango.
If you are hunting for a great vaping experience, the Puff Bar Disposable Device may be the best option for you. It offers great battery life, a hefty e-liquid capacity, and you don't have to fool with charging the device or refilling the pod. Everything is simplified and made to be comfortable, delicious, and super satisfying.