Believe it or not but disposable vaping devices are on the rise. There was a recent event that took place where several of the industry's top players were involved in sharing information and market trends, and the word is that they're all investing heavily in disposables. One of those top players is DripMore, the highly popular manufacturer behind brands such as Candy King, Cookie King, Milk King, Tobac King and more. DripMore recently announced its entry into the disposable sector, sharing that it is releasing the DripMore Switch Stick Disposable, which is available in 15 different flavors.
This may be quite the surprise since DripMore has only been involved in the e-liquid market up until now, creating some of the industry's finest quality e-liquid and the best tasting flavors. Its many brands have seen a quick rise to fame due to its selection of flavors, which are packed on nearly every store shelf both online and off. As a result of this product being just announced, the information is mild, though we expect to see more in the coming weeks leading up to its official launch. To get more information regarding the DripMore Switch Stick Disposable, feel free to check back on this page as the details will be updated in the future as the company releases more information on its new device. Until then, please enjoy our preview of the new Switch Disposable by DripMore.
DripMore Switch Stick Disposable
Embodying a slender design of a traditional vapor pod system, the new DripMore Switch Stick Disposable by DripMore looks comfortable, sleek, and impressive to say the least. While it resembles many of the popular open and closed system stick devices, it is disposable, allowing you to enjoy the device, its flavor, and the incredible satisfaction it delivers temporarily. Though a temporary vape may not sound that intriguing, not having to refill or recharge the device makes its hassle-free functionality totally worth it. When you take into account the incredible satisfaction of nicotine and deliciously crafted flavors, you'll know you made the DripMore Switch!
DripMore Switch Stick Disposable Flavors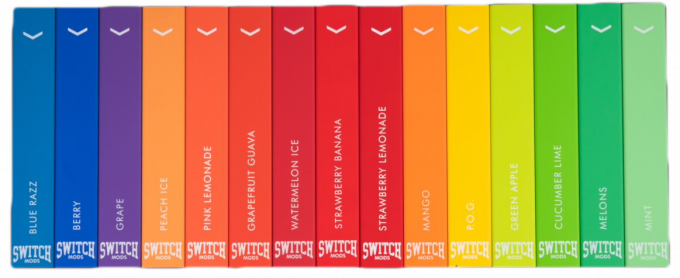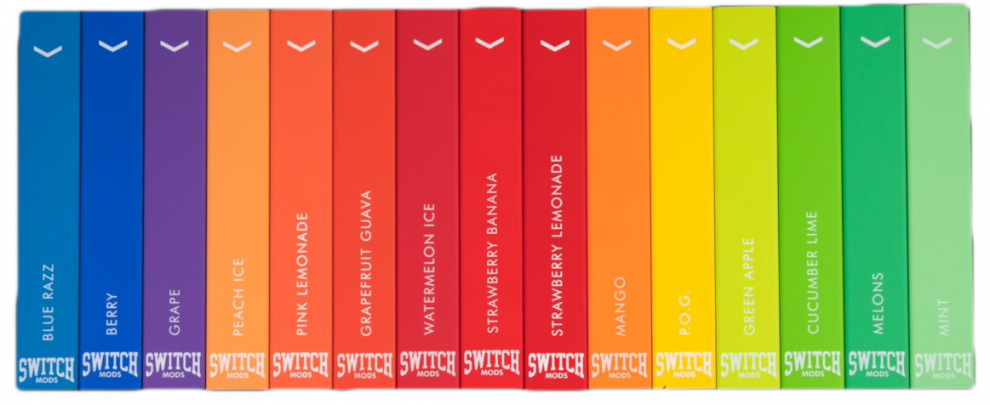 There are several flavors out of the gate to choose from, including Blue Razz, Berry, Grape, Peach Ice, Pink Lemonade, Grapefruit Guava, Watermelon Ice, Strawberry Banana, Strawberry Lemonade, POG, Mint, Green Apple, Cucumber Lime, Melons, and Mango. The line of devices is based on fruit flavors. There are are two menthol flavors and mint, for those who enjoy the cooler side of vaping.