In the world of vaporizers, Puffco has become an industry leader. What started as a small company quickly turned into one of the industry's premier brands for concentrate consumption. It has now developed several fascinating products and its collection is perceived as the world's best due to the team of developers incorporating an outstanding design, solid engineering, brilliant technology, and performance to the highest degree. Introducing Puffco's success story, the Puffco Peak Dab Rig!
Puffco Peak Dab Rig Review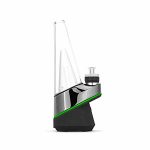 The Peak Dab Rig by Puffco is a very portable device, though it was designed to be more stationary. However, due to its compact size of 7-inches by 2.75-inches, users can pass around the Peak from person to person with ease. Simply doubling tapping it will activate the reheating process, which is quick. It makes it feel as if it's a bong or pipe session due to its size and the little effort that goes into it.
What's most spectacular about this device isn't just its size though, it's that it was designed to replace the traditional torch and rig system, yet maintaining both quality and the functionality. With the Puffco Peak Dab Rig, you'll find that everything is easier, faster, and the performance is perfected due to greater engineering and technology.
The Peak Dab Rig features an integrated rechargeable battery, which has a 2-hour fast charge time so that you're spending more time using the vaporizer, rather than charging it. You get a 30 dab average battery life, making sessions even longer and allowing you to enjoy more of the concentrate, instead of focusing on recharging the device. The device has been created without an outstanding design, boasting a fascinating appearance with the help of a rugged silicone base and LED light band. Additional features to keep in mind is the haptic feedback, the hand-blown borosilicate glass, and water filtration, which makes the Puffco Peak Dab Rig even more interesting.
What you wouldn't expect from this battery-powered vaporizer are the performance capabilities it offers. It's rather hard to believe that such a device can replace a regular torch and rig setup and even outperform it, yet it again with a slew of tech-infused features, such as 4 unique user heat settings that are designed for beginners to experts, small to big loads. It allows you to focus on flavor or vapor production by dialing in the perfect setting. It even has a 'sesh-mode' that will help extend your session, creating a social dab experience. It only takes 20-seconds to heat up on average and boasts intelligent temperature calibration by automatically adjusting heat times if the bowl is still hot. What this does is provide a more consistent experience, no matter if you're undergoing repeated use or in its very own sesh-mode.
Conclusion
With the Puffco Peak Dab Rig, you're ultimately getting nothing but the best of the best. The electronic dab rig system has been designed to perfection, delivering the perfect experience each time you take a rip. With great battery life, fast charging, tech-infused features like its haptic feedback that keeps your timing spot on so you're getting the perfect hit, and tons of features to explore to further your experience, its evident that the Peak Dab Rig by Puffco is the better choice.