With pod systems still on the rise in popularity, manufacturers continue to create and develop some of the most unique devices imaginable. The latest to join this list is the Starss Romeo Pod System Kit, which sports a rather attractive design and outstanding ergonomics.
About The Brand
Starss Vape is an up-and-coming brand that still has somewhat of a new face in the industry. If we were to tell you to go scour a vape shop to find one of their creations, you may not come back with much. However, the brand is slowly gaining momentum and it's ramping up to be another manufacturing success with each release. Don't get it twisted though, Starss Vape has created some noteworthy devices that are gaining some attention, such as the Starss Vape Blazer Starter Kit, the Starss Vape Icon Pod Kit, which has gained the most attention, and now the Starss Vape Romeo Pod System Kit.
Starss Technology, short for Shenzhen Starss Technology Co., Ltd., is a manufacturer that specializes in the manufacturing of high-quality electronic cigarette products, along with research, development, sales, and broad operation. Its production is completely independent, its focus is recyclable high-end fashion e-cigarette products, including pod systems, temperature-controlled mods, pressure regulated mods, and atomizers. The company has many independent innovative innovation patents under its belt, and it's now gaining the spotlight it deserves.
Starss Romeo Pod System Kit Preview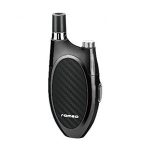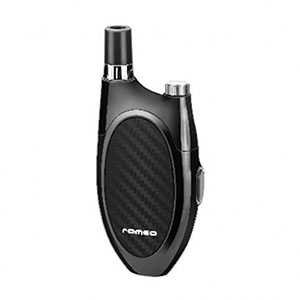 Sporting a unique design that's constructed of durable material, the result of this fascinating device is nothing more than spectacular. It has a rather compact stature, standing just 46mm by 20mm by 105mm, and is constructed of a zinc alloy material to deliver incredible strength. Even its pod material features a high quality using PCTG material.
The device is available in several colors/styles to fit your preference. Aside from appearance, you'll be able to enjoy the Starss Romeo Pod System for quite a while because of the integrated 1200mAh rechargeable battery. With its voltage-based output, combining both a large battery and either a 0.6-ohm coil or 1.4-ohm coil, you can expect to range between 8 to 25W in power output. Charging the hefty built-in battery is made easy with an equipped micro-USB port and the ability to fully charge the battery is just 90 minutes. As for the pod itself, it is refillable and can hold a hefty 2ML e-liquid capacity, stretching your vape sessions even further than before.
Where To Buy The New Romeo Pod System Kit
If you take a look at the ProVape.com store, you'll find many items that spark interest. Notably, they're one of the stores on the web that have taken great interest in the brand, as they immediately spotted the quality and performance the Starss Vape products deliver. ProVape has a whole Starss Vape category where they stock several devices and accessories. While you're there, take a look around the site and take advantage of the many sales and clearance deals they have available on devices, accessories, and e-liquids.