It's common for new vapers to think about which vape is best for them, either refillable or disposable. It takes some time to become acquainted with how these devices operate and the benefits and drawbacks of each variant.
Both refillable and disposable vapes have advantages and disadvantages. However, your choice will likely depend on your personal preference, among other factors. Hopefully, at the end of this article, you'll have enough information to make an informed decision.
Refillable Vapes
These vapes differ from disposable ones because they contain rechargeable batteries and can be replenished with your preferred e juice Australia.
They are more suitable for experienced vapers since they provide a more personalized experience. There are various flavors, mod types, and colors to choose from, and some of the mods allow you to change power and airflow. Refillable vapes come in three varieties: pod vapes, vape pens, and vape mods.
Advantages
Tailored – Refillable vapes have the facility to adjust airflow and power. They also have varying coil resistances. So, you can essentially modify the vape to suit your preferences.   
User Friendly – They are generally easy to use. Plus, refilling vape juice is also quite easy. They usually have one button which you press to operate the device.
Flavor Choice – You can choose from a wide variety of flavor options. You even have the option of mixing different flavors from manufacturers so you can have a tailored experience.
Replaceable Pods – It's possible to have several pods with different flavors. So you can easily interchange them when you're on the go.
Rechargeable – They have rechargeable batteries. Most of these devices will have screens that allow you to gauge the battery status percentage.
Disadvantages
Maintenance – A fair amount of maintenance is required to keep refillable vapes in good working order. So, you have to be prepared for this when you buy one.
Inconvenience – You have to charge and replace pods repeatedly may be an inconvenience.
Harder To Carry Around – If you're mobile, you'll have to bring extra vape juice and maybe extra pods. So refillable vapes are generally heftier to move around with.
Generally Expensive – They're generally more expensive than disposable vapes. The higher quality brands may even command slightly higher prices too.
Disposable Vapes
Disposable vapes are great for new and seasoned vapers because they are convenient. They're ready to use and include everything you need to start vaping. It's a simple device to operate. It requires relatively little upkeep. You purchase it, use it till it is done, and then carefully dispose of it.
They have an inbuilt battery and e-liquid that you will vape. Battery sizes vary depending on the type or brand you choose. You may also get one with variable nicotine levels and puff counts. Nonetheless, all disposable vapes are just for one use. Once the vape juice inside is finished, you'll have to buy another one.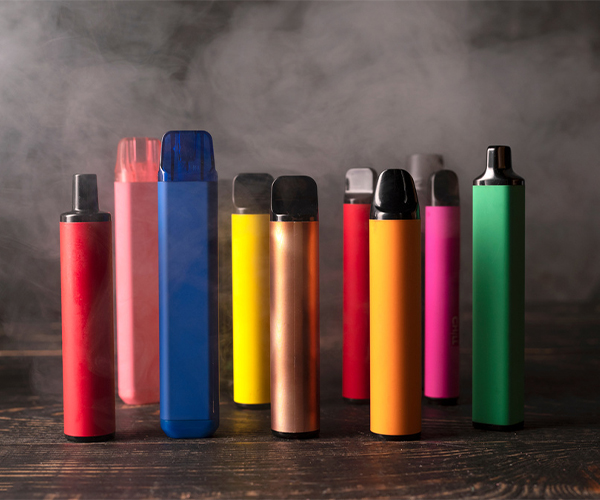 Advantages
No Maintenance Required – You don't have to worry about replacing parts because disposables are made ready for use.
Easy to Use – For those people who want a hassle-free vaping experience, disposable vapes are the better option. There are no buttons or any confusing jargon.
Cost Effective – Disposable vapes are considerably more affordable than refillable ones. But this cost-effectiveness may be worthwhile only in the short term. If you're a regular vaper, this won't be as cost-effective since you'll have to buy disposable vapes constantly.
Great Flavor – They usually have great flavors because they're covered units.
Cleaner To Use – You don't have to worry about making a mess because they come with pre-filled vape juice.
Disadvantages
Limited Flavor Options – You only get to enjoy the flavor profiles provided by a brand.
Reliability – There's a higher probability of disposable vapes failing. Plus, the battery may die even before the vape juice is finished.
Lack of Control – You can't control the airflow or power of the vape. Therefore, you're stuck with the vapor production profile at which the manufacturer has preset the vape.
No Juice Window – It's impossible to assess when you're running low on vape juice because there's no juice window.
Bad For the Environment – You'll have to throw this away at some point, and it may end up in a landfill. It's not good for the environment.
Conclusion
Disposable vapes are preferable for novices, while refillable vapes are ideal for experienced vapers. That's because disposable vapes require little maintenance and are simple to use. However, refillable ones require more expertise to get the most out of them. Nevertheless, personal preference will determine the one best for you. What matters is that you only purchase high-quality brands or products. Whether you choose a disposable or refillable vape, this will ensure you get the best experience possible.