Introducing the new Shanlaan 40W Pod Mod, which features a traditional cigar appearance but offers great quality, durability, and performance. It's certainly one of the most unique and capable pod mods on the market, while also incorporating many of today's features found in advanced mods. For example, the inclusion of the built-in sub-ohm tank, the all-in-one design, as well as the top airflow and top fill design. Allow us to tell you more!
Meet The Laan Pod Mod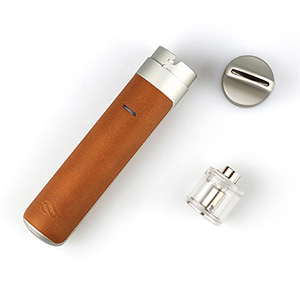 Constructed of a clear-cut metal tube and dressed in premium leather, you'll find that the Laan Pod Mod introduces durability, quality, and premium materials. Though offering a traditional cigar type appearance, you'll find that the simplistic design looks rather appealing. Many manufacturers have attempted this appearance in the past, and while many offered similar looks, none of them could quite perform. That's until the Lann Pod Mod was released.
The Shanlaan Laan 40W Pod Mod offers an abundant amount of features, especially for its size. It starts off with a top cap, then just below is a built-in sub-ohm tank. On top of being portable and lightweight, you'll enjoy features like the poco pin connection, a top airflow design to prevent potential leakage, and a top fill design for superior convenience. Towards the bottom you'll find a flip-open USB port for charging. What's most interesting about this device is that it's button-free and has a child-lock feature. As a battery indicator, a small light is equipped so that you're aware of your battery life at all times. And it doesn't just stop there… in fact, the Laan Pod Mod is also compatible with iOS and Android via a Bluetooth connection. By simply downloading and launching the Laan App, you monitor and adjust the Laan Pod Mod's power output, temperature settings, and activate the child-lock system. It features a MTL or DL mode, the tank has a 2ML e-liquid capacity, and features a built-in 1300mAh battery.