While SMOK continues to dominate in a market that presents consistent growth, the staple vape brand isn't seeming to let up even for a moment by producing some of the most innovative mods to date, such as the new SMOK Devilkin Kit. In this Devilkin Kit Preview, we're going to share all of the information on the brilliantly designed mod, including its quality, design, its features, and of course its performance.
Welcome The New SMOK Devilkin Kit
Pairing the SMOK Devilkin 225W Box Mod with the SMOK TFV12 Prince Sub-Ohm Tank is an incredible combination of two of the best performing products on the market, not to mention their remarkably innovative design. Both the mod and tank are a great duo to join one another because of their large power outputs working seamlessly. For instance, the Devilkin Mod is capable of up to 225W, while the TFV12 Prince Tank can withstand up to 120W using the V12 Prince-T10 Decuple Coil that comes included in the kit. It's a fascinating duo of power and capability.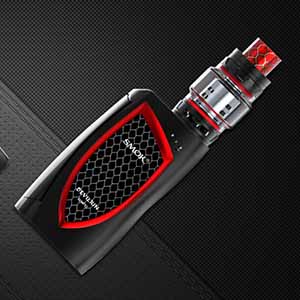 Constructed of a premium zinc alloy material, the Devilkin Mod offers stunning quality and an outstanding durability. In addition to a great structure, the Devilkin Mod presents a highly appealing design that offers a classy and sleek overall look with several finishes, including Black, Rainbow Prism, Gold, Chrome, Blue, and Gunmetal. Based upon a 3-button control, you'll find that it's very easy to operate. There are two adjustment buttons on the front facing, while a hidden firing bar mechanism rests on the side of the device. Just above the adjustment button is a fascinating layout, featuring a shield-like design that surrounds a 1.3-inch OLED display. The display provides an incredible layout for precise readout, giving users the ability to easily monitor the device and make adjustments. Aside from its appearance, the Devilkin Box Mod delivers a whopping 225 watts and a minimum resistance of 0.05ohm. To deliver this much power, there's a hinged bottom battery access door that has the ability to house dual 18650 batteries. As with most SMOK mods, or mods in general in today's market, this beauty also sports temp control with support for Ni200 Nickel, Titanium, Stainless Steel, and TCR adjustments. To finish this brilliantly crafted mod off, a micro-USB port is equipped with the capability of firmware upgrades.
The marvelously combined SMOK TFV12 Prince Tank is just as durable as its partner. It boasts a stainless steel and glass constructed, gifting great quality and durability. Its appearance is very impressive as well, sporting an 810 Cobra Resin Ultra-Wide Drip Tip at the top, and a high-grade bubble glass in its mid-section. The tank portion of the unit features a large 8ML e-liquid capacity, and filling it is made super easy using the convenient top-fill rotary design that uses a lock button mechanism. Keep in mind, all of this is based on a 25mm diameter base, so the footprint isn't that large compared to the amount of e-liquid it can house. The bottom presents a massive dual adjustable airflow control, directly on its base. For its amazing performance, the Prince Tank makes use of the performance-grade V12 Prince Coil Structure. The kit includes both the 0.12ohm V12 Prince-T10 Decuple Coil rated up to 120 watts, and the 0.4ohm V12 Prince-Q4 Quadruple Coil rated up to 100 watts.