Ready yourself for the next advancement in vaping technology with the new SMOK I-Priv Voice-Controlled Mod. It's the latest addition to the Priv Series and features SMOK's new voice control system. What has become the world's largest vape brand is now pushing the boundaries of current vaping technology, stepping even further above what's available today, such as touchscreen capabilities and oriented adjustments, by introducing a device that can be controlled by your voice. Whether this is something that will become popular or a huge failure, no one really knows just yet. However, what we can take from this, so far, is that SMOK is continuing to develop tech-inspired products for vapers to ensure a healthy stack of options.
Voice commands have certainly been around for some time, take for instance the voice-activated assistant available in vehicles, in phones, computers, gaming systems, and now they're very popular with devices like the echo from Amazon, which was developed strictly for the case of using voice commands. SMOK is now using that same technology and taking advantage of this sudden rise in popularity of voice-activated devices. While some may feel as if this is a new gimmick soon turned failure, there are other tech-interested vapers that may feel this is the next big thing in vaping history.
Meet The SMOK I-Priv Box Mod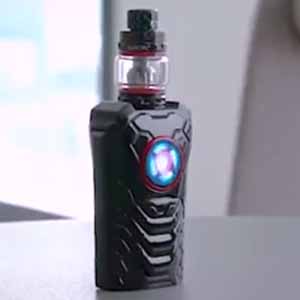 Featuring a durable and solid construction using a very sophisticated structural design, the SMOK I-Priv Box Mod is most definitely something that's sure to withstand the course of time — referring to its outer casing, of course. It has an interesting and very futuristic shape that makes it very appealing. The frontal view reveals a screen, which will display all of your traditional data, such as modes, wattage, temperature, and battery life. However, when speaking to the I-Priv Mod, a new animated display appears to indicate the device is listening to your voice. To power the I-Priv Mod, you can use two 18650, 20700, or 21700 batteries.
Due to the early announcement of this device, there's very little information to share. SMOK has just announced the I-Priv Mod and its release date, so if anything else, we wanted to at least share that this is happening, the mod is coming, and this is what we know so far. The SMOK I-Priv Voice Controlled Mod is set to officially launch at IECIE Shenzhen China sometime in April and more details will be revealed then. Here's a short video to see the I-Priv Mod in action: