High powered innovation with data selection at your finger tips;  it's the quickest and easiest way to describe the all new G-Priv from Smok.  Always at the cutting edge of the technological curve, Smok has never been afraid to push out devices that stand out from the pack, and the G-Priv looks to be no exception.  Although they already have several 220 watt boxes on the market, at first glance this one seriously stands out from its competitors.  Over the next couple of minutes we will peruse the specifications, look at the mod, and decide if this is one to watch out for in the future.
What Makes The G-Priv Stand Out From The Pack?
In the past, Smok has been accused of looking for gimmicks with some of the mods it released, but in the end every single one has developed a fan base of its own.  Whether it is a million choice LED combination behind the firing button or a trigger mechanism that spans the entire length of the device, for some reason when Smok puts out a crazy ide,a the public loves it.  Jumping to hit the August 8th deadline, several 200 and 220 watt devices were dropped into the market by Smok, and the G-Priv is by far the most futuristic looking dual 18650 mods we have seen in a while.
Sleek, slick, and designed to be dropped on the set of a sci-fi movie, the G-Priv is not to far removed from its H-Priv predecessor as far as functionality goes.  Over sized firing mechanism that sits along one side, pivoted at the base for a comfortable grip and a simple operation.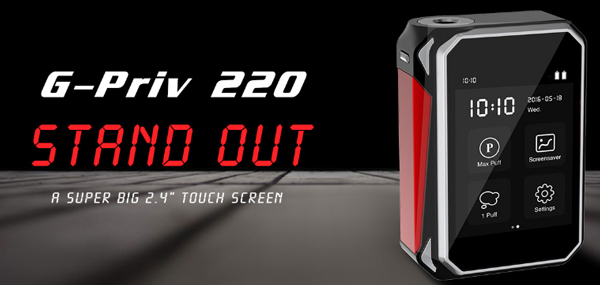 Constructed from Zinc Alloy and measuring in at 28mm by 85mm by 58.5mm, Smok's G-Priv is built to last, even with its 2.4 inch OLED touch screen.  The angular design, colored in red and black, is perfectly adorned with a carbon fiber battery door held in place with magnets for quick and easy changes.  Designed for simplicity and usability, this mod was created to make life easy for everyone.  Firing between 1 watt and 220 in regular power mode, any 22mm tank fits perfectly on the flush mounted, spring-loaded Stainless Steel 510 connector.  Switch out the Kanthal coils for Stainless Steel, Nickel or Titanium, and the G_Priv will work flawlessly in Temperature Control mode.  Working with resistances as low as 0.1 Ω in variable wattage mode and 0.06Ω in temperature control, the G-Priv has the ability to keep the high volume, low resistance vapers happy all day long and still cater to low volume vapers with resistance up to 3Ω (VW) and  2Ω (TC).
The piece that sets this apart from its brothers though is that intuitive touch screen designed to make setting changes as easy as using your smart phone.  The menu system settings will appear familiar to users of other Smok devices, but they have removed the need for extra buttons.
Conclusion
For fans of other Smok devices, the G-Priv has the potential to be the pinnacle of their high wattage box mods as it integrates technology that we have all become accustomed to and pushed it beyond the envelope.  If you have never used a Smok mod in your life, take it from a man who has 4 sitting on his desk, if you treat them right they rarely go wrong.
BUY IT HERE