In its final act before the 8-8 lock-out date, Smok brought forth a powerful weapon into the battle against the FDA and its name was Alien.  Born in Fluidic space and brought to Earth via an intergalactic temporal anomaly, given to the engineers in Shenzhen to protect the people of this planet against tyrannical monsters wearing the skins of humans and posing as those in power.  Some may believe it's a 220 watt temperature control vaping device, but the species who dropped it here know its true potential and will one day return to use it.
Just kidding folks, the Alien 220 is the latest design to ship out from Smoktech and from what we've seen so far it lives up to the companies  long-standing reputation of mods that were created outside of the box.  Kick back, relax and we'll spend the next couple of minutes looking over the specs and getting to grips with this stellar combination.
The Smok Alien 220 Watt TC
Measuring in at 85mm by44mm by 28.4mm, the Smok Alien makes an immediate impression on anyone who see's it.  Sleek, stylish and futuristic in design, it appears simplistic with an undertone of technological genius.  Powered by 2 18650 batteries (sold separately) Smok's latest offering uses a similar chip-set to its other recent 220 watt devices, beneath the surface they all work the same.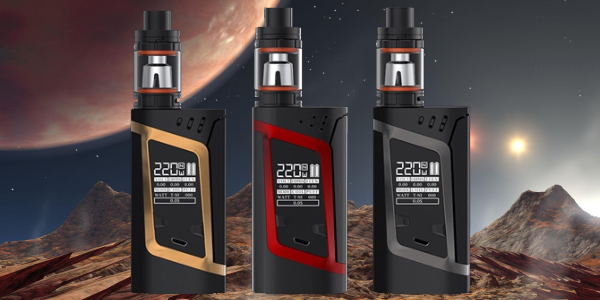 A maximum output of 220 Watts is achievable with the correct coil configuration (steam-engine will help you figure that part out for yourself) and the mod will support coils down to a minimum resistance of 0.1Ω in regular power mode and 0.06Ω in Temperature Control.
A large OLED screen with stacked menu option sits on the front face of the device along side the micro-usb firmware update port and adjustment switches.  Easy to use and simple to understand, Smok have made a device that could be picked up by a brand new vaper and operated within minutes.  In true Smok fashion, an over-sized firing button sits along one side, designed for ergonomic comfort and ease of use.
With a temperature control range of 200° to 600°F (100° to 315°C) and the ability to take advantage of Stainless Steel, Nickel and Titanium coils, the Alien has something to offer everyone.  On its own this high-powered, mid-sized box mod would be an amazing addition to any collection, it's a nice focal point that does what you ask of it but Smok have decided to create a package that also includes the TFV8 Baby.
TFV8 Baby Beast Tank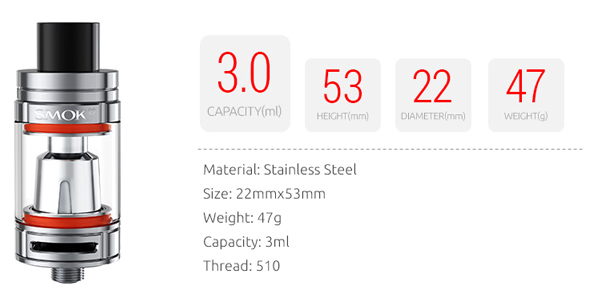 Measuring in at 22mm by 53mm this Stainless Steel and Pyrex Glass tank comes from a long line of vaping greats.  The TFV8 in its name comes from the coil system used in this petite, 3ml tank that has the reputation of putting out some of the densest fog a tank can make.  Massive airflow comes from the adjustable ring in the base and the tank comes with a twist-hinge top fill cap.  If you have never used any member of the TFV line-up, the range of coil systems available for the TFV8 Baby Beast should be more than enough to wet your appetite and get you looking for more.
BUY IT HERE